I'm a voracious reader. Each time I pick up a book, it's an exciting adventure; a chance to learn something new and a chance to add to my knowledge bank. In most cases, I find the author as interesting as the book. I ask myself questions such as: Who is this person? What is their background? Why did they write the book? What was their motivation? How did they formulate their ideas? How much research was required? I turn to the author page to discover anything I can about this person.
Most often, it is not enough.
I was born "before.internet" so when I was growing up and wanted to learn about an author, it required a trip to the library to search for scraps of information. Most of what I found was about dead authors. In my high school AP English class, I was required to choose an author of literary merit; read most of his/her books and compare/contrast the author's life with what he/she wrote about.
I chose Theodore Dreiser—a 19th-century American novelist and author of Sister Carrie, The Financier, An American Tragedy, Jennie Gerhardt, etc.,
It was a fascinating journey and forever whet my appetite to not only read a book but know and understand the author, as well.
I am an author.
Today I want to share with you things I am passionate about—mainly music and how children and people learn and process information through music.
So here is something about me and why I wrote, Good Music Brighter Children
I was born with music in my heart. Growing up, whenever I heard music—either in nature or on the stereo—I always stopped to listen. To this day, birds are my favorite creation—why? Because they sing.
My favorite piece of music is Beethoven's Violin Concerto in D. Although I've listened to this piece of music almost every day for over thirty years, I never tire of it. It has enveloped my being—totally and completely. Thank you, Mr. Beethoven!
I started taking piano lessons at age five. My teacher was Mrs. Robinson. She was not impressed with my musical ability. In fact, she encouraged my parents to find something else for me to do, because she was convinced I would never amount to much musically. They ignored her and found another teacher for me.
In college, I took lessons from Mrs. Beecham and after I was married, I took from Dorothea Alpert—one of the most influential and amazing people in my life. Today she is 105 years old and continues to inspire her students musically. She is a wonder!
In 1977 my husband and I started our family. We played music for our sons when they were in utero. It was not a planned thing—my husband and I listened to classical music each day and so our sons in utero listened to it.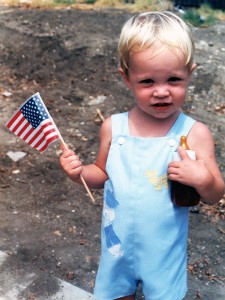 In 1982, our third son, Brandon was born. He had a very traumatic birth (too high in the birth canal and dragged out by forceps). The result was pre-frontal cortex damage leaving him with severe learning disabilities (among other things).
As I studied different ways to help Brandon learn, I discovered that he, like so many children, loved and responded to music. (For an extensive explanation of what I did with Brandon, please refer to my book, Good Music Brighter Children.
In short, music became the catalyst for him to process information.

Seeing how music helped Brandon to learn, I began to seriously research the educational and brain benefits of music. It was a fifteen-year journey. Then I searched for a comprehensive "how-to" book geared to parents on the far-reaching benefits of music.
Finding nothing under one roof, I decided to write this book.
The book was initially published in 1999 and translated into five languages. By 2008, everything was out of print. After gentle nudging and another ten+ year of research under my belt, I updated and revised the book which was recently published (Jan. 2014) with 63.75% new material.
Kirkus, the largest independent book reviewer in the nation described it as: "A magnum opus, fact-filled and inspiring, on the benefits of music."
So, that is me in a nutshell. Now, I want to hear about you—what motivated you to play a musical instrument or choose to listen to classical music? What has been YOUR musical journey?
Music Suggestion: Listen to Beethoven, Violin Concerto in D (start with the Third Movement)