Today I'm going to talk about another one of my favorite children's books that incorporates music: Miss Mary Mack by Mary Ann Hoberman.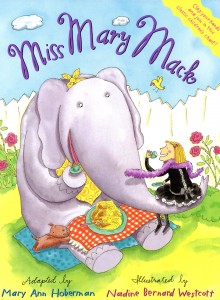 This is such a fun book! I'm sure you have heard of this nonsense rhyme and was probably proficient in the hand-movements as a child. In this book, Hoberman has elaborated on this familiar tune to create an absurdly funny story that will have kids chanting and jumping, laughing and cheering for more!
If you have forgotten the words—here they are:
Miss Mary Mack, Mack, Mack,
All dressed in black, black, black,
With silver buttons, buttons, buttons,
All down her back, back, back.
She asked her mother, mother, mother,
For fifty cents, cents, cents,
To see the elephant, elephant, elephant
Jump the fence, fence, fence.
He jumped so high, high, high,
He reached the sky, sky, sky,
And didn't come back, back, back,
Till the fourth of July, July, July.
These are just part of the verses penned by Hoberman and if you get the book you will see the rest of the clever story she has created from this sing-song verse.
The hand movements that go along with the chant are a "must" and can be done with two people facing each other. Included in the front of the book are the hand movements and they are easy and quick to learn. The hand movements can also be done with two children or a child and adult. Each time you do the hand movements and sing the rhyme try to go faster and faster–it just makes it more fun!
So what can this simple exercise do for your child?
Well…
Distract them from electronic devices, devices, devices

To play with friends, friends, friends,

And learn some hand movements, movements, movements

And sing this tune, tune, tune.

They will learn to memorize, memorize, memorize

And see patterns, patterns, patterns,

And be more focused, focused, focused

In their little brains, brains, brains!

So, get the book, book, book

At your local store, store, store,

And see how much fun, fun, fun

You can have with this silly rhyme, rhyme, rhyme!!
 
Be sure and check out my book, Good Music Brighter Children for more information on Miss Mary Mack.