The holidays are upon us and the frenzied gift-giving chaos is in full swing! Today I want to pass along some great toy ideas for your children that will build their brains. These are toys and games that get your children thinking and moving creatively while building brain cells.  When I was a kid, my favorite toy were my blocks. I spent hours building and creating things with those blocks. Did you know that parents rarely purchase blocks anymore for their kids? In fact, cultural critic Roland Barthes lamented in the 1970s that the wooden blocks children used to play with were in decline, and it was sad because now children were taught to be users and not creators. Childhood is a time to help our children learn to express their inner-self so those creative juices will continue into their adult lives.  How to do this?–supply them with toys that nurture their creativity…
 The toys listed below will stimulate your children's imaginations and teach them to be creators and not just users.
 I talked with educational therapist Alene Villaneda (Integrated Learning Strategies) regarding the best toys for children that will build their brains, enhance their ability to think and encourage interactive play. Here is a list of toys and games that she suggests.
(I would also suggest that you get the CD, Baby Dance to play while your child is engrossed in these toys—it is the perfect musical addition!)
 Note: here are 7 toys and next week I will add another 6 toys to this list
Toy #1:

Kidoozie Super Skipper

(Musical Skipper)
This skipper makes a pretty cool playmate on a day when your child is alone or with a friend. The electronic base has 2 telescoping poles that rotate in 3 different speeds for jumping in tandem. Try to keep up with the spinning poles and accompanying music by jumping in time and avoiding them. It includes an acceleration mode that gradually gets faster. Poles fold up for easy storage.
 Ages: 3 years and up
How it builds the brain:

increases

timing, rhythm, balance, and coordination. Have your child jump over it to a rhythm. You can adjust the bars and the speed (think old-fashioned jump-roping).
Toy #2:

Boomwhackers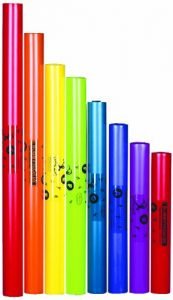 Boomwhackers are eight musically tuned percussion tubes. To play, each person holds one or two of these perfectly tuned percussion tubes and whacks them against his arm, thigh, or any hard surface to produce a sound. The harder the surface, the brighter the sound will be. The tubes are various lengths and will produce various tones. They are available in diatonic and chromatic scales as well as treble extension, bass diatonic, pentatonic, and with octavator caps.
 Ages: Learning to play these instruments is amazingly fun for children of all ages. They can be played individually, but it is recommended that the tubes are played as a group, which means they are great for families and classroom settings.
How it builds the brain: They take some practice, but they are perfect for building a sense of rhythm and timing which in turn organizes the brain.
Toy #3:

Perplexus
Master the challenge of the crazy, fun world of Perplexus! Inside the Perplexus Original you'll face 22 feet worth of challenging twists, turns and obstacles! Flip, twist, and spin Perplexus to move the ball along the numbered path. When you fall off the track, head back to the start and try again. There are multiple levels of difficulty to master! Try the Perplexus Rookie, Perplexus Epic and Perplexus Twist. They're easy to play, but hard to master. It's a bendy, trendy, can't put it down challenge!
 Ages: Recommended for five and up.
How it builds the brain: Helps with visual tracking
Toy #4:

Qwirkle
Qwirkle is as simple as matching colors and shapes, but this game also requires tactical maneuvers and well-planned strategy. Earn points by building rows and columns of blocks that share a common shape or color. Look for opportunities to score big by placing a tile that touches multiple pieces with matching attributes. The player with the most points wins! 108 wooden blocks.
 Ages: Two to four players; ages 6 and up
How it builds the brain: These help with patterning; associating symbols—like scrabble, but rather than using letters, your child connects with shapes and colors
Toy #5:

Ankle Skippe

r (also called: Geospace Sparkler LED Whip 'N Skip Ankle Skip Rope)
An oldie-but-goodie for good reason, the Skipper has kept up with on-the-go kids for generations! This is a fun way to build coordination and balance (and to burn energy). This updated version's built-in revolution counter and six flashing LEDs kick the fun up a notch, so kids can cook up friendly competitions with themselves or other kids. Takes 2 AAA batteries (not included); cord is 30″ long.
 

Ages:

For ages 5 and up
How it builds the brain: About coordination and timing—gross motor
Toy #6:

Infinite

Loop
Grip the two handles to open and close the track; and have the ball run through the tracks without having the ball fall off the track.
 Ages: 4 and up
How it builds the brain: This toy is great for coordination and hand-eye movement—visual tracking—uses the figure 8 to do it
Toy #7:

Picasso Tiles
60 piece set Magnet Building Tiles Clear 3D color Magnetic Building Blocks – Creativity beyond Imagination!
Inspirational: Fun and entertaining, perfect educational presents for school age children that will never go out of style
Recreational: Entertaining for single or multiple parties, great for parent-to-child bonding with hours of fun quality time. Easy to construct and easy to put away for storage.
 Unconventional: Unlike typical toys, each piece of tiles can be replaced and more tiles can always be added to build objects as big as desired.
 Ages: 2 and up
How it builds the brain: Increases the visual/spatial areas of the brain. Picasso Tiles inspire youngsters learning by playing, children will acquire a strong sense of colors, geometrical shapes including 3D forms, number counts, magnetic polars, as well as the creativity which is the key factor to success in today's ever changing environment.
Stay tuned for six more brain-building toy suggestions next Monday
Enjoy!