Best Crockpot Apple Butter: Healthy Smart Kids in the Kitchen!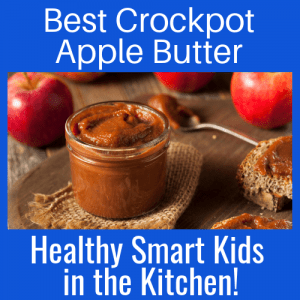 Author:
Sharlene Habermeyer
Recipe type:
Crockpot Apple Butter
6 pounds apples or enough to fill up a large crockpot
2 cups apple cider or apple juice. If you want your apple butter thick, put in 1 cup of juice. The apples make their own juice, too.
1 cup sugar (you can vary this depending on the sweetness of your apples—start with ½ cup—it may be sweet enough)
2 teaspoons cinnamon
½ teaspoon ground cloves
Cut and core the apples. You can leave the skins on or peel them off
Fill the large crockpot to the top with apples
Mix the apple juice/cider, sugar and spices and pour over the apples
Cook on low for 8-10 hours (your house will smell amazing!)
In batches, blend in a blender.
Pour into sterilized jars. Put the band on and screw the metal ring on the jar.
In a canning pot, bring the water to a boil. Carefully put in the jars. Bring the water back to a boil and boil for 15 minutes. Remove and set on the counter to cool
You can eliminate step #7 and just freeze the apple butter. Put in 2-cup plastic freezer containers with lids and freeze.
Recipe by
Good Parenting Brighter Children
at https://goodparentingbrighterchildren.com/crockpot-apple-butter/