Apple Puff Pancake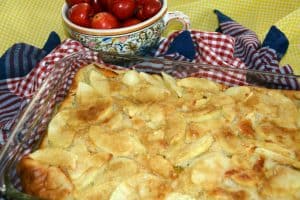 Recipe type:
Egg & Apple Pancake
6 eggs
1½ cups milk
1 cup flour
3 Tablespoons granulated sugar
1 teaspoon vanilla extract
½ teaspoon salt
¼ teaspoon cinnamon (I use more like 1 teaspoon)
¼ pound (or 1 stick) of butter
2 apples, peeled and thinly sliced (Granny Smith apples work great)
2-3 Tablespoons brown sugar
Preheat oven to 425 degrees.
In a blender or large bowl, mix eggs, milk, flour, granulated sugar, vanilla, salt, and cinnamon until blended. If using a mixer, the batter will be slightly lumpy.
Melt the butter in a 12-inch fluted porcelain quiche dish or a 9x13" baking dish in the oven. (I use a 9x13 pan).
Add apple slices to the baking dish.
Return to oven until the butter sizzles. Do not let the butter get brown
Remove dish from oven and immediately pour batter over the apples.
Sprinkle with brown sugar
Bake in the middle of the pan for 20 minutes or until puffed and brown
Serve immediately. Serves 6-8.