Christmas Peppermint Rose Soap w/Goats Milk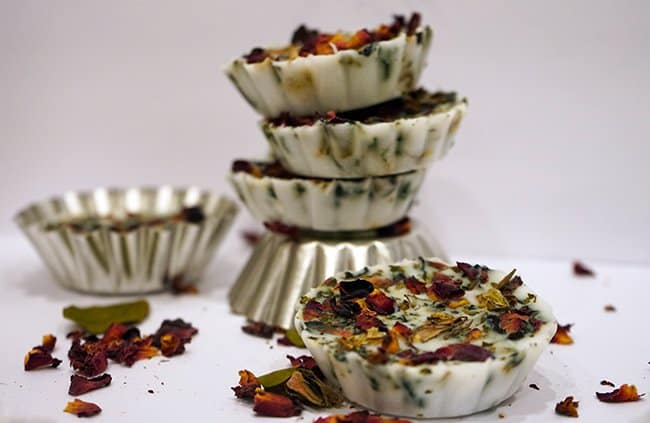 Author:
Sharlene Habermeyer
Recipe type:
Christmas Soaps
1-pound melt and pour soap base
1 teaspoon of titanium dioxide
2 Tablespoons goat's milk or water
½ oz. rose fragrance oil
¼ oz. peppermint essential oil
Rosebud & petals
Peppermint leaf
Combine the goat's milk (or water) with the titanium dioxide. Let sit for 1 hour. Again, the soap base is clear and you want it a white opaque soap. If you are using a white soap base, you can skip this step.
Melt the soap in the microwave at 30-second intervals until it is completely melted. Pour into a bowl
Pour in the titanium dioxide mixture. It will turn a beautiful opaque white
*Add the oils (rose and peppermint)
Pour into prepared tart pans. To prepare the pans, put a very thin coat of Vaseline on the tins OR spray with rubbing alcohol or vodka. This will prevent the soap from sticking to the pan
Sprinkle dried rosebud and peppermint leaf on the soap while it is still a liquid. You cannot add them after the soap has set—they will not stick to the soap.
Let dry out on the counter for 12-24 hours
*Note: Rose oil is amazing. It helps with insomnia, depression, headaches, and allergies.