On Sunday, June 15 people all over the United States will be celebrating Father's Day—the day we honor our fathers for their devotion to their families. Today I want to honor my own father—a man that supported me musically at a very young age and as a result, made a huge impact on my life.
My father, Max C. Peck was born in 1918. He was raised in humble circumstance with very few luxuries, but he was given piano lessons and learned to play the piano—both by reading the notes and playing by "ear." He learned many pieces from the great classical composers, and he always enjoyed listening to classical music. However, I think he loved the big band era most of all. And those were the pieces of music I remember him playing.
My dad did not finish college but was enlisted in the Army Air Force as a radio operator for B-25 bombers during World War II.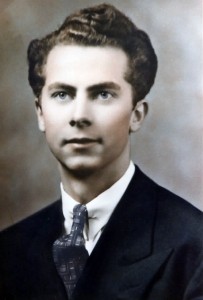 He married my mother, Esther, in 1947 and together they had eight children.
For some reason, my dad instinctively knew that music and children created a great duet. So, he saw to it that all eight of his children had consistent music lessons until they left for college.
This was a pretty big sacrifice because my father was a blue-collar worker (he worked in an open-pit mine) so money was scarce and supplying music lessons for all eight children was a huge financial burden for my parents.
When I started playing the piano at the age of five, my piano teacher, Mrs. Robinson told my parents to stop wasting their money on lessons for me because I was not going to amount to anything musically.
It was my father who, noticing that I loved music, felt that I should continue—with another teacher. And they found that other teacher! I doubt seriously that if my father had not observed my love for music and saw to it that I continued with music lessons; I would not have graduated with an undergraduate degree in the arts, started a community orchestra and written a book on music.
So, today I honor my dad for his consistent encouragement of my musical endeavors, for attending my recitals, and for those steady pats on the back. Thank you, Dad!
Memories of Dad and Music
One memory that stands out in my mind is regarding a certain piece my father always played. We had an old black upright piano that  "lived" in our basement. This is the piano that I learned to play on. Every so often, my father would go downstairs and begin to play the familiar frames of this piece.  Immediately, all of us kids would race downstairs and hover over my dad while he played. We loved watching my father because it was obvious to us that he enjoyed playing by the smile on his face and the laughter in his voice.
Thanks dad for this fun memory–and by the way, I'd really like to know the name of that piece of music!
On October 5, 2013, my father died at the age of 95. He was an example to all of his children for his love of the arts, of kindness, of patience, of love for his country, and most importantly—of love for his family and others.
So, Happy Father's Day, Dad!  I hope heaven is everything you knew it would be and that there is a lot of big band music for you to enjoy!
And Happy Father's Day to dads everywhere! Go hug your kids, tell them how much you love them and then get them involved in music lessons—here is a great book to teach you how: Good Music Brighter Children!
Enjoy!