"Nutcracker" by Peter Ilyich Tchaikovsky should be considered a classic family favorite! The story, similar to a fairytale, is about a young girl named Marie (in some versions her name is Clara) who discovers that the nutcracker she received from her godfather for Christmas is real. Through a series of exciting events, he proves to be a young man who has been put under a spell by an evil mouse king. Throughout the story, Marie and the Nutcracker visit many lands, including the land of the Sugarplum Fairy and Toyland.
I was a young child when I went to my first Nutcracker ballet at Kingsbury Hall at the University of Utah. I had been taking ballet at the University and some of my teachers were in the ballet.  It was mesmerizing and my favorite part was when the tree magically grew onstage to this enormous, reach-the-ceiling Christmas tree.
Years later, when I took my sons to see "Nutcracker" their favorite part was—the Christmas tree that grew! Keep in mind…when you expose your children to this enchanting ballet, it will stick in their memory banks forever.
"Nutcracker" is performed as a ballet usually around Christmas time and it is both visually exciting and beautifully entertaining. Watch for a production in your neighborhood around the holidays.
In preparation for attending "Nutcracker," read one of the many books available. You can choose from a variety of illustrators—each one colorful and enchanting. For older children, check out the book; Dance Me a Story by Jane Rosenberg.
Also, help your children to understand exactly what a ballet is. Ballets are enchanting stories told through colorful dancing and music and can be enjoyed by people of all ages. Many years ago, the dancing was the most important part of the ballet and the music was considered "background." Then famous composers such as Peter Tchaikovsky began writing ballet music that was as beautiful as the dancing.
So, today we go to see a ballet to see both the music and the dancing.
Last, don't limit your family to just enjoying "Nutcracker" at Christmas time—it can be enjoyed all year long by watching the DVD version or listening to the music on a CD. Be creative and have a "Nutcracker" party; have people dress up in costumes; serve fun finger foods; play the music and watch the DVD. Make this a year-around family tradition!
Suggestions: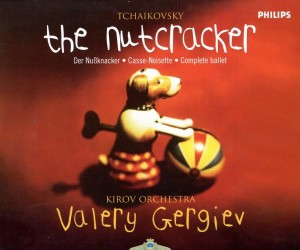 CD: "The Nutcracker," Valery Gergiev, Kirov Orchestra (Philips)
DVD: Nutcracker Mikhail Baryshnikov, American Ballet Theater
Book: The Story of the Nutcracker Ballet by Deborah Hautzig
Book: Nutcracker by E.T.A. Hoffmann
Book: Dance Me a Story by Jane Rosenberg
Nutcracker Costumes: see Music in Motion (800-445-0649)