Have you ever wanted to be able to listen to a piece of music and accurately identify what instruments are being played? Would you also like your children to have this ability?  If so, then "The Young Person's Guide to Instruments of the Orchestra" is a must—for you and your children!
This piece of music by Benjamin Britten is considered the most popular symphonic work of the twentieth century. Using Henry Purcell's "Abdelazer" as the main theme, Britten demonstrates how each instrument of the orchestra plays an important part in a musical score.
The theme is first heard with all the instruments of the orchestra playing, and then each section of winds, strings, brass and percussion instruments are played individually. This way, every instrument has an opportunity to have the "spotlight."
For example, hearing each instrument in the percussion section—kettle drums, bass drums, cymbals, tambourine, triangles, Chinese blocks, xylophone, castanets, gong, and whip—is both an educational and fun experience. In the end, Britten brings all the instruments—strings, winds, brass, and percussion—together for a dramatic climax.
I was first introduced to Britten's "Young Person's Guide" in the seventh grade in music by my teacher, Mr. Quigley. After listening to it many, many times, we [the students] became proficient in the distinctive sound of each instrument. Our final exam was to identify the instruments found in Aaron Copland's Rodeo, "Hoedown"—a challenging task for a seventh grader, but something I will always remember.
Regularly playing this piece of music for your child will also help her with her aural skills (listening skills), and will further develop the auditory cortex—an important step for reading readiness. Plus the music is bombastic and entertaining enough for children of all ages.
Last, give your child a visual as well. Here are some fabulous books that will illustrate to your child what each instrument looks like. And, if you have a music store in your community, take your child and let them actually see and touch, "up close and personal" each instrument of the orchestra.
Suggestions: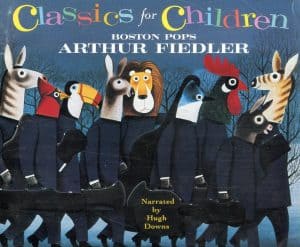 CD: Classics for Children, Arthur Fiedler with Hugh Downs, the narrator.
Book: Can You Hear It? by William Lach
Book: Meet the Orchestra by Ann Hayes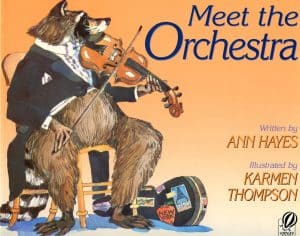 Book: Musical Instruments from A to Z (Alphabasics) by Bobbie Kalman
Book: The Story of the Orchestra: Listen While You Learn About the Instruments, the Music and the Composer Who Wrote the Music! by Robert Levine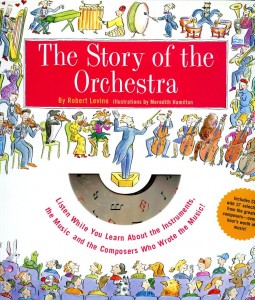 Book: Alligators and Music by Donald Elliott
Posters, Charts, Games about Instruments, Puzzles: Music in Motion (800-445-0649)