When I was writing my book, I interviewed a number of adults who took music lessons as children and who were still involved in music as adults. Each one told me that the reason they didn't quit their lessons revolved around one main thing—their mothers. Their mothers were the catalyst behind their musical success.
What did these mothers do? It was simple—they sat each day with them while they practiced their instruments.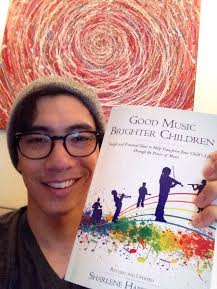 There seems to be something magical about mothers sitting with their children while they practice. This magical "something" keeps children wedded to their instruments.
For instance, Kevin Hsieh is an accomplished violinist from Rancho Palos Verdes, California. As a college graduate, he is still involved with music and when growing up his mother sat with him while he practiced.
Drummer Mikel Poulsen of Wenatchee, Washington had a similar experience. His mother did not read music, but she sat with him while he practiced. Now, he and his wife sit with their children while they practice.
And last, Grammy-nominated violinist Jenny Oaks Baker had a mother who sat with her while she practiced.
In every instance, it was the simple act of "mother presence" that kept these children (now adults) involved in music. Today, Baker has four musically talented children of her own. And her advice to motivate children to practice is the same—sit with them while they practice and offer encouraging words and little incentives along the way.
She is simply passing down the legacy of what her mother did to motivate her.
Her children: Laura June is eleven years old and plays the violin. Hannah Jean is nine and plays the piano; Sarah Noelle is seven and plays the cello and Matthew Dallin is five and plays classical guitar. They accept practicing as part of their daily routine like eating or taking a bath.
Baker looks for ways to keep practicing interesting and offers incentives and fun activities when it is done. And performing together helps her children witness first hand the "fruits of their labors."
The whole act of practicing does more than enable a child to learn a musical instrument. Along the way they learn, perseverance, determination, responsibility, and many other valued traits. So, parents—DO NOT LET YOUR CHILD QUIT THEIR INSTRUMENTS! Sit with them, offer incentives, support them and encourage them. Too many valuable lessons are learned and besides—when they are old, they may not be able to run down the field with a football, but they still can enjoy playing those drums!
Question: What ways do you motivate your children to practice?
Follow this link and watch Laura, Hannah, Sarah and Matthew Baker perform: "It's a Small World."
http://www.youtube.com/watch?v=AO6MdR-romk