Inside: Are you and your kids feeling stressed! Want to do something that is soothing, relaxing and rejuvenating? DIY bath salts to the rescue! Take a peek at these 3 amazing bath salt recipes perfect for stressed-out moms and wired kids.
DIY Bath Salts for Parents and Kids to Relax
If you're a parent, undoubtedly, you're on a 24-7 treadmill! No time off for holidays, summer vacations or weekends. In fact, those times tend to be even busier for stressed moms and dads. But today, kids also feel the stresses of life. In fact, stress levels amongst kids have risen to epidemic proportions.
Parents–think about different activities you and your children and teens can do to unwind, relax and regroup. Suggestion? What about taking a therapeutic bath? It's as easy as putting a cup of Epsom salt in a bath and floating your cares away.
When your family is in need of a break, there are "small" things you can do to recharge batteries. Therapeutic baths can provide soothing relief from stresses, strains, and exhaustion. Even a 15-20-minute bath can revitalize the senses and heal the body. And DIY bath salts are super simple to make and are amazing for a relaxing bath.
Taking baths is also considered a "Hygge" activity–the Danish art of relaxation and coziness. It's something we should all strive to practice.
Your kids will love making these bath salts with you. They can soothe an anxious, overly-active, overly-tired, or unhappy child. Baths also help children who have difficulty sleeping.
Best Time for Bathing
Anytime is a good time for a bath, but here are some basic guidelines
Bathe on an empty stomach.
Adding salt will eliminate feeling light-headed when bathing in hot water
Morning baths are tonic and will stimulate the body; energize and eliminate toxins
Evening baths are relaxing; are good for relieving stress and helping with insomnia
When bathing with salts, the bathwater should be as close to your body temperature as you can get (97 degrees Fahrenheit) for the best results
Bathing after intense exercise helps soothes muscles and joints.
3 DIY Bath Salts Targeting Different Issues
Here are 3 DIY bath salts recipes I concocted that you and your kids can make together. Use them with the entire family. They are easy to make, store well, and target these different needs:
Soothing & Relaxing for Aches, Pains, and Backaches
Energizing, Rejuvenating and Regenerating
Detox the Body
Check out the 1-minute step-by-step videos for the bath salt recipes:
DIY Bath Salts: Aches, Pains & Backache Recipe
The ingredients in this recipe target sore muscles, fatigue, eases back pain and helps kids sleep. Try Young Living or dōTERRA® essential oils.

DIY Bath Salts: Aches, Pains & Backache Recipe
This recipe targets sore muscles and helps kids sleep
Author:
Sharlene Habermeyer
Recipe type:
DIY Bath Salts
Ingredients
1 cup Epsom salt
1 cup Dead Sea Salt
1 cup bicarb soda
5 drops peppermint oil
5 drops lavender oil
5 drops cypress oil
5 drops cinnamon oil
5 drops Eucalyptus oil
5 drops Marjoram oil
2 T lavender buds
Rose Petals (crush some of them)
Instructions
Mix together the Epsom salt, Dead Sea salt and bicarb soda in a large bowl
Add essential oils and mix well
Gently stir in lavender buds and rose petals
Store in an air-tight container (if giving these as a gift--test tubes are fun, or jars)
Use 1 cup of bath salts per bath
Makes enough for 3 baths
DIY Bath Salts: Energizing Bathtub Teabags Recipe
If you like using buds, flowers, leaves, and herbs in your bath–this is a great recipe. However, the disadvantage is cleaning up the bath afterward of the buds, etc. The answer: reusable tea bags. You can fill the bags with citrus peels, buds, and leaves; soak them in your bath and get the same amazing benefits without the hassle of a messy bathtub to clean-up.

DIY Bath Salts: Energizing Bathtub Teabags Recipe
I use spice bags for this recipe and old-fashioned oats, not quick oats. Quick oats do not mix well with the bathwater.
Author:
Sharlene Habermeyer
Recipe type:
DIY Bath Salts
Ingredients
¼ cup whole oats (dissolves oil on the skin)
¼ cup Himalayan bath salts, coarse (helps with acne & dry skin)
¼ cup dry milk (Cleopatra took milk baths—very soothing to the skin)
¼ cup Dead Sea Salts (reasons why below)
1 tsp. whole cloves (great for circulation)
1 Tablespoon dried grapefruit peel (energizing)
1 Tablespoon dried lemon peel (energizing)
1 Tablespoon peppermint leaf (pain-relieving, anti-inflammatory)
Instructions
Mix all the ingredients together in a bowl
Fill each bag with a ¼ cup of the mixture
To use: fill the bath with water, steep the tea bag in the bath for 5-10 minutes before bathing
Put the bag under the faucet and let the water run over it or squeeze the bag gently under running water
The recipe makes 4 teabags
DIY Bath Salts: Gentle Detox Ginger Bath Recipe
This makes a spicy bath! The combination of ginger powder, Epsom salts, and the Dead Sea salts will gently draw out toxins and impurities from the body. It's also energizing and stimulating. Ginger is a spice so it keeps your water toasty warm. If your teens want to give this as a gift, sprinkle chamomile flowers on the top of the jar.

DIY Bath Salts: Gentle Detox Ginger Bath Recipe
Author:
Sharlene Habermeyer
Recipe type:
DIY Bath Salts
Ingredients
1 cup Epsom salt
1 cup Dead Sea Salt
1 cup Bicarb soda
½-3/4 cup ginger root powder
½ cup Himalayan salt
Chamomile flowers (optional)
Instructions
Mix all the ingredients together.
As the bath is running—put the ingredients in
The chamomile flowers are wonderful, but if you don't want to clean them up from the bathtub afterward, either crush them before putting in the mix or just put on top of a jar if giving as a gift.
Soak for 20 minutes
Makes enough for 4 baths using 1 cup per bath
5 Benefits of Epsom Salts
Epsom salt is not actually a salt. It's a compound made up of magnesium, sulfur, and oxygen. It's readily absorbed through the skin and has numerous benefits such as:
1. Soothes sore muscles
Magnesium found in Epsom salts helps the body use glucose and lactic acid which relieves muscle soreness related to exercise.
2. Helps Flush out toxins
The sulfates in Epsom salt are responsible for flushing out toxins and heavy metals from the cells in a process called reverse osmosis which pulls excess salt and harmful substances from the body.
3.  Keeps Feet Healthy
Soaking your feet in Epsom salts helps to treat athlete's foot and toenail fungus; the itching and burning associated with these conditions and helps your feet heal quicker.
4. Reduces stress
Epsom salt baths help to reduce stress. When under stress two things happen: the body is drained of magnesium and adrenaline increases. When taking an Epsom salt bath, magnesium is absorbed through the skin and increases magnesium levels in the body. In turn, magnesium helps to produce serotonin, the mood-elevating chemical that promotes calm and relaxation.
5. Promotes Sleep
The magnesium in Epsom salts promotes sleep by helping the brain produce neurotransmitters that encourage sleep and reduce stress. It also helps the body produce melatonin—a hormone that encourages sleep.
6 Benefits of Dead Sea Salt
Dead Sea Salts are loaded with minerals that heal and support the body, muscles, and skin. Here are some of their benefits:
Magnesium: Promotes healing of skin tissue and is essential for cell metabolism
Bromide: Soothes the skin, relaxes body muscles and calms nerves
Sulfur: An important mineral for the skin and a natural disinfectant
Potassium: Regulates moisture and creates a neutral environment for the skin
Calcium: Acts as a building block for corrective tissue under the skin
Sodium: Helps with stiffness and muscle cramps
5 Benefits of Himalayan Salts
Himalayan salts are what's left from a primordial sea once found in the Himalayan mountains. They are considered the purest of all sea salts and one of the best sources of natural minerals. Here are some benefits:
1. Detoxifies
Himalayan salt draws toxins out of the skin and tissues and feeds the body mineral nutrients which are absorbed through the skin.
2. Soothing & Relaxing
Himalayan salts relax the body, regulate stress hormones, reduce tension and help children and adults regain their concentration.
3. Stimulates Circulation
It will cause your arteries and veins to expand and give more space for blood to flow. Improves circulation and helps with cellulite—caused by poor blood circulation.
4. Mineralizes Our Body
Pink Himalayan salt is loaded with minerals such as calcium, iodine, iron, magnesium copper, potassium, selenium, and zinc. In a process called dermal absorption (meaning absorbed through the skin), these minerals are soaked up from the water and absorbed into our skin.
5. Helps with Insomnia
Did you know that 60+ million Americans have sleep issues of one kind or another? Himalayan salts relax the body and reduce stress. Our body temperature naturally drops at night and a soak in the tub before you go to bed causes a rapid cool-down immediately afterward and helps the body to relax.
6 Essential Oils & Their Benefits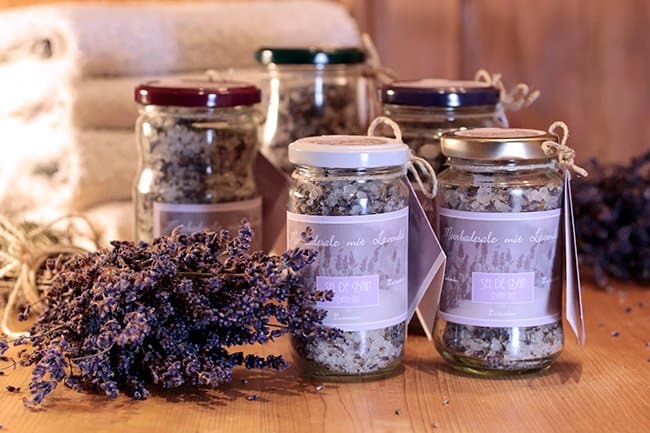 Peppermint: Anti-inflammatory, pain-relieving, antibacterial, antiviral
Lavender: Anti-inflammatory, analgesic, relaxant, and combats excess sebum on the skin
Cypress: Improves circulation and lymphatic drainage; reduces water retention and strengthens the vascular system
Cinnamon: Anti-inflammatory, antibacterial, antiviral, circulatory stimulant
Eucalyptus: Anti-inflammatory, antispasmodic and antibacterial
Marjoram: Assists in relieving spasms, calming to the nerves, relieves headaches
After noticing relaxing results from something so simple you'll want to add a bath to your family's weekly routine. Also, check out a previous blog I wrote about additional ways moms, dads, and kids can relax: Want to Relax? Here are 3 Inspiring Ideas to Help…


Parents: use these ideas as springboards for critical and creative thinking with your kids. Asking questions, comparing and contrasting and learning how to substitute will get your kids thinking on all 4-cylinders.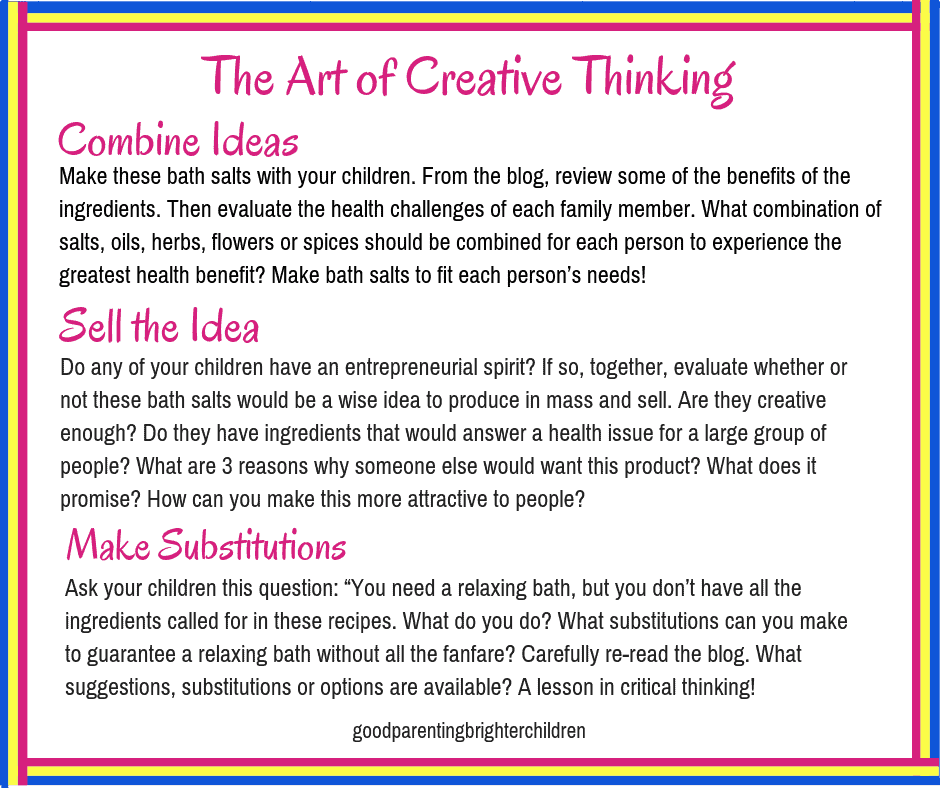 If you have bath salt recipes that you love or want to share an experience with bath salts–please comment in the section below.


Want to remember this? Post, "How to Make Amazing DIY Bath Salts for Stressed-Out Kids," to your favorite Pinterest board!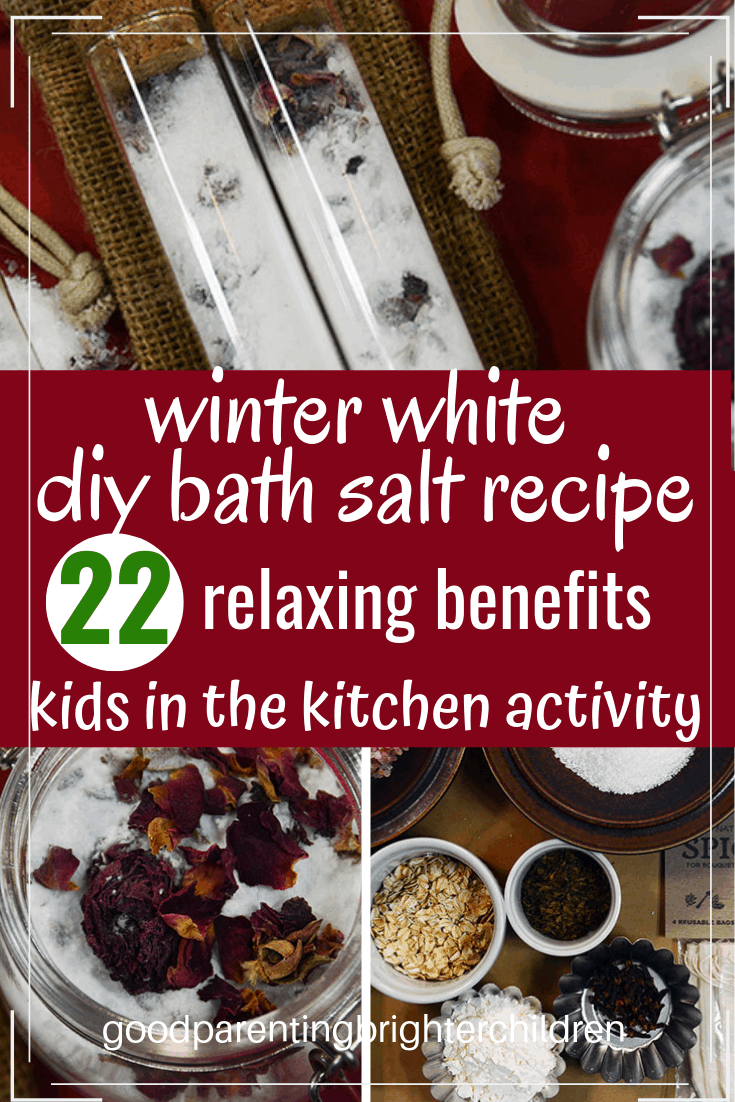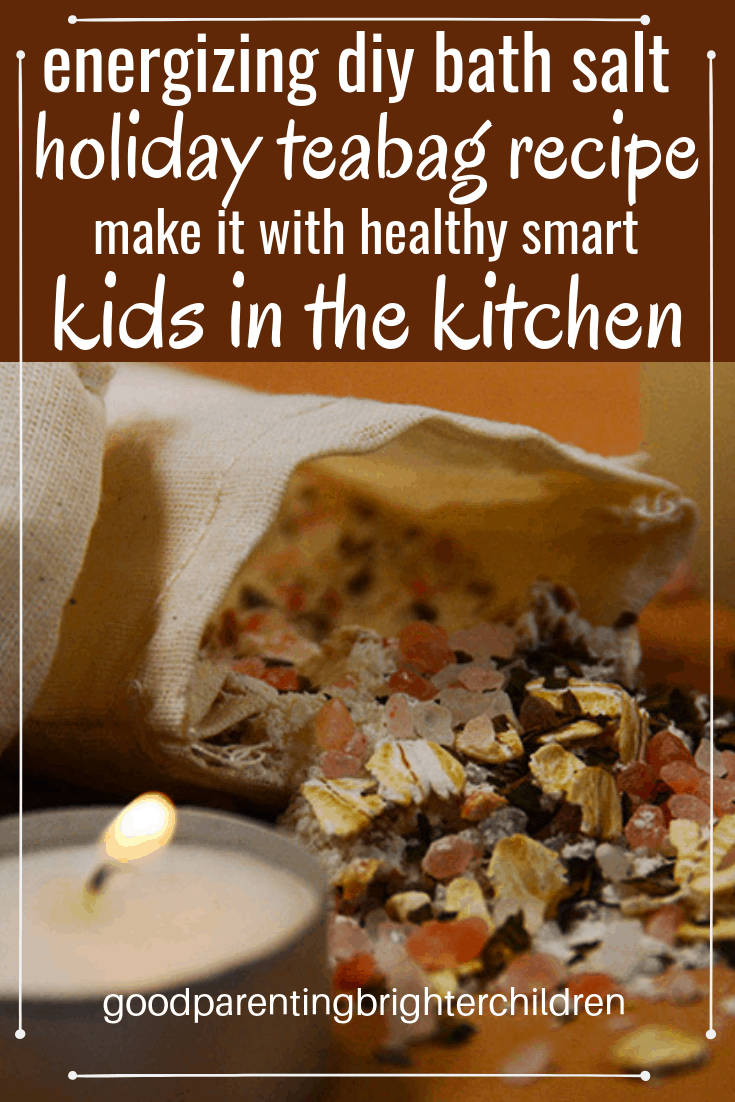 FAQ's
How do you make scented bath salts?
Scented bath salts are easy to make and can be used to alleviate aches and pains, increase relaxation, and are energizing and detoxifying. Most bath salts use Epsom salts and baking soda. Others include Himalayan or Dead Sea salts, dry milk and powdered ginger, and a host of essential oils and dried leaves and fruit peels. Check out these recipes for specific ingredients, measurements, and more.
How do you make bath salts without essential oils?
Adding essential oils to bath salts is optional. Eliminate the essential oils and use different kinds of salts such as Epsom salt or Himalayan salts, bicarb soda, oats, dry milk, and a combination of dried flowers such as chamomile, rosebuds, and lavender buds. Included are 3 recipes for bath salts that target different aches, pains, and relaxation.
How do you make essential oil bath salts?
It's very easy. You can just use the essential oil directly in the bath. However, it would need to be mixed with a little of the Epsom salt before putting in the bath because water and oil don't mix well. Or you can use essential oils as part of a bath salt recipe. Here are several recipes to choose from that use essential oils.
What kind of salt is used in bath salts?
The most popular salts used in bath salts are Epsom salts, Himalayan salts, and Dead sea salts. All of these have health benefits including flushing out toxins from the body, soothing sore muscles, reducing stress, promoting sleep, stimulating circulation, and detoxing the body.