Inside: Grandparents with grandkids at the zoo can be an amazingly fun and exciting experience. Here are 6 preparatory activities you can do with your grandchildren before taking them on a field trip to the zoo!
Grandparents with Grandkids at the Zoo
Have you ever heard of a liger? It's an animal that's a hybrid offspring of a male lion and a female tiger. According to Wikipedia, a liger has parents of the same genus but of different species. There are only about 100 ligers that exist in the world today.
As a little girl, I saw the famous female liger, Shasta who was born at the Hogle Zoo in Salt Lake City, Utah.
When I was 6 years old, my grandmother took me to the zoo to join in the celebration of Shasta's birthday. Children were admitted to the zoo free if they made a birthday card for the famous liger. It seemed like every child in Utah was there as we waited in a long line to gain entrance into the zoo and see Shasta.
Do you have memories going to the zoo with your grandparents?  Grandparents with grandkids at the zoo make a winning combination!
Here are 6 pre-zoo activities to do with your grandkids to celebrate the theme, "Grandparents with Grandkids Having Fun at the Zoo."

#1: Grandparents with Grandkids Doing Yoga, Breathing and Mindfulness Exercises
Each day the first activity we do with our grandchildren is a series of yoga poses and breathing exercises. My favorite book to teach children about mindful breathing is: Breathe Like a Bear by Kira Willey. The exercises involve breathing, physical stretching, shoulder rolls, scrunching, twisting, and clapping.
Each exercise helps your grandkids understand how to breathe which in turn helps them to focus, relax, settle their minds, and feel calm and peaceful. Breathing exercises also help:
improve imaginations
decrease feelings of stress
give sustained focused energy
These exercises really work. When we do them, there is a HUGE difference in how our grandkids respond to the activities we have planned. Their focus is better and they are able to work longer on each project.
Many children are visual learners–in other words, they learn by seeing. I made these zoo animal pictures from clip art and I hold them up prior to doing the exercise. It helps the grandkids know exactly what exercises to get ready for. I also use "props" of candles, cups, and flowers.
Another amazing book to teach your grandchildren animal yoga poses is Zoo Zen: A Yoga Story for Kids by Kristen Fischer.
Fischer teaches children different yoga poses using zoo animal names. Your grandkids will LOVE hopping like a frog, slithering like a snake, roaring like a lion, and more.
There is a lot of discussions today about emotional regulation with children and dozens of ideas to help with their emotions. If your child or grandchild has difficulty regulating their emotions–try these breathing exercises and yoga. Seriously, they will help your child/grandchild have a positive happy attitude for any activity you want them to engage in.
#2: Grandparents with Grandkids Doing Arts & Crafts: Painting Zoo Animals, Making Visors & Coloring Zoo Pictures
In preparation for going to the zoo, we painted wooden zoo animals, made zoo visors with peel-and-stick stickers, and colored big zoo pictures.
I got the zoo visor craft kits and coloring books from Michael's. There are 6 visors in each package and come with plenty of stickers for the kids to decorate their visors.
I purchased wooden zoo animals from The Dollar Store for the kids to paint. They had a decent selection of zoo animals: hippos, giraffes, elephants, and rhinos.
Do your grandkids love to paint and color with markers and crayons? It's fun to watch which colors they choose to paint and draw with. Psychologists for years have studied colors and how they connect to emotions. And children (and adults) choose colors based on their emotional states and even the brush or crayon strokes; the intensity of the lines they draw–all point to the emotions a child is feeling. Blue indicates calmness, red is associated with energy and black can mean confidence.
What colors do your grandkids love to paint and color with?
#3: Grandparents and Grandkids Reading Books About the Zoo
Try and spend at least 20-30 minutes each visit reading to your grandkids. Reading aloud daily to children has shown to help with speech and language, increase vocabularies, jump-start early readers, and increase reading comprehension.
If I could only choose three activities to do with my grandkids it would be reading, music, and art. These are all powerful brain-building activities!

There are lots of fun books about zoo animals and going to the zoo. Here are some favorites:
#4: Grandparents with Grandkids in the Kitchen: Making Haystacks
Explain to your grandkids that many zoo animals eat hay and plants so you are going to make edible haystacks out of chocolate, peanut butter, and chow mein noodles. They are easy to make and taste pretty good. After they are done making them, pretend you are zoo animals and eat the haystacks for lunch.
Most recipes for haystacks call for butterscotch chips. However, my grandkids don't like butterscotch chips, so I substituted chocolate chips instead.
Have your grandkids sample each ingredient prior to mixing them together. Kids feel better about eating things when they know exactly what each ingredient is and tastes like. Think casseroles—most kids don't like them because everything is mushed together.
After making the haystacks, you can create a zoo habitat with the chocolate haystacks and wooden animals.
Here's a quick and easy recipe for Chocolate Peanut Butter Haystacks

Chocolate Peanut Butter Haystacks
These are easy to make and your kids or grandkids will have a fun time making them.
Author:
Sharlene Habermeyer
Ingredients
3 cups semi-sweet chocolate chips
½ cup peanut butter
2 cups chow mein noodles
1 cup peanuts (optional)
Instructions
Prepare a pan using parchment paper or lightly grease a pan (cookie sheets work great)
Melt the chocolate chips in a microwave or on top of the stove in a double boiler
Add the peanut butter and mix together
Pour the melted chocolate and peanut butter mixture over the chow mein noodles and gently mix together
Drop by tablespoons onto the prepared pan.
Wait until completely cooled before eating. You can speed up the process by putting them into the freezer for about 8-12 minutes. The chocolate will get shiny—but tastes the same.
Note: some recipes call for nuts—if your grandchildren do not like nuts, don't put them in
Nutrition Information
Serving size:
1
Calories:
423
Fat:
12.2g
Saturated fat:
11.5g
Unsaturated fat:
0g
Trans fat:
0g
Carbohydrates:
46.4g
Sugar:
33g
Sodium:
82mg
Fiber:
0.9g
Protein:
7.3g
Cholesterol:
0mg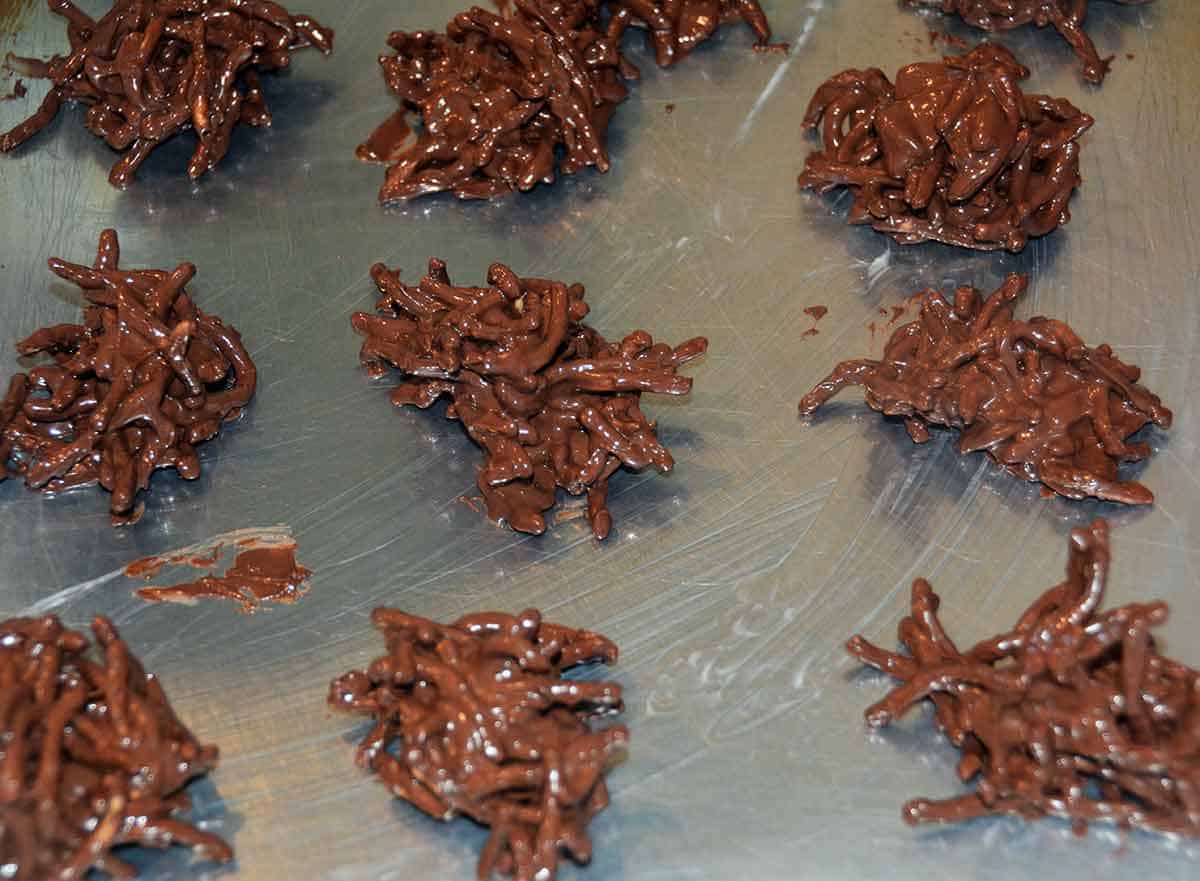 #5: Listening & Dancing to Music
While the grandkids are busy painting, coloring, gluing, stretching, and eating, I play certain pieces of classical music from my music course. This music has been researched for over 50 years and shown to help children of all ages focus and concentrate on the tasks they are doing.
It really works! I used it for my kids when they were studying and doing homework and now, I use it when my grandkids are doing various activities at our home—art, yoga, breathing exercises, baking, and cooking—just about every inside activity we do.
We also played fun zoo music from YouTube—so they could dance and prance around the room using rhythm instruments. Check out these zoo animal favorites:
#6: Field Trip: Going to the Zoo
After all of our zoo preparatory activities, we culminated our activities and took a field trip to the Hogle Zoo in Salt Lake City, Utah. I've been to larger zoos—but this zoo is the perfect size for small children.
We spent 2 ½ hours seeing the animals, watching them eat and sleep and play in their habitats. The "frosting on the cake" was a ride on the carousel before leaving.
All the pre-preparatory work of doing art, music, cooking, and reading stories about the zoo pays off! My experience is if you prepare your grandkids (or kids) for a field trip—it enhances the experience immeasurably!
Have you taken your grandkids to the zoo? What has been your experience? Any special memories you would like to share? Please comment in the section below.


Want to remember this post? Post, "6 Fun Ideas for Grandparents with Grandkids at the Zoo" to your favorite Pinterest board.