Inside: Want a fun and fabulous activity to do with your daughter or granddaughter? One that will be perfect for birthday parties, gift-giving and more? Here's a suggestion: make your own fingernail polish! It's fun, easy and a great way to bond with your child. Who knows…this may be the start of an entrepreneurial venture! 
How to Make Fingernail Polish
Looking for a fun, easy, and addicting activity you can do with your daughters or granddaughters? One that will answer the holiday gift-giving dilemma and more?
Here's a perfect idea…teach your daughters (or granddaughters) how to make fingernail polish! Girly-girls love fingernail polish and they love giving their friends homemade D.I.Y. gifts at holiday time, birthday time or anytime!
How to Make Fingernail Polish: 7 Supplies Needed 
First, this is an organic fingernail polish recipe and the ingredients are safe for children. I purchase my supplies from TKB Trading. Their products are of high quality, and their customer service is excellent. The Nail Polish glamour base is vegan, cruelty-free and does not contain the dangerous ingredients listed below. Even though this product is safe, err on the side of caution and make the polish in a well-ventilated room.
Here are the supplies you will need to make the polish:
1. Empty Nail Polish Bottles 4-6ml Duchess Caroline Standard B2 white (comes with bottles, caps, brushes)
2. Nail Polish Glamour Base Lot #18.13.l0219
3. Wooden Stir Sticks (optional–the only time I use these is if I'm adding more pigment to the bottles and want something to stir with)
5. Scoops 
6. TKB Small Monster Beads (QE-101-30)
7. Zip Lock Bags (2×2)
8. Glitters, Micas, Pigments. These colors are available in starter kits. You do not need all of them, but it's fun to have lots of colors to experiment with. In the video, I use the following color combinations:
International Orange mixed with Pearl Basics
College Blue mixed with Headtrip Glitter
24 Karat Gold
82nd Avenue (pink) mixed with Adam & Eve glitter
Instructions: 6 Steps to Making Fingernail Polish
Click HERE to watch this short video to see how to make fingernail polish. Then follow the steps below. 
First, every bottle holds 5ml of nail polish base.
Step #1: Scoop pigment & glitter into ziplock bag
Add approximately 6 scoops (total) of mica, pigment, and/or glitter into the ziplock bag. Keep in mind that since this is an organic base, you may need to add more than 6 scoops of pigment to have a rich color. Have your child experiment and see what works best.
Step #2: Fill the ziplock bag with the base
Fill the 2×2 ziplock mixing bag 1/2 full with the nail polish base. Pour slowly and zip the top of the bag to see if it is 1/2 full. If you are using a 3×3 ziplock, fill the bag 1/3 full.
Step #3: Blend and mix
Zip the bag closed and start blending and mixing with your fingers until there are no speckles (except glitter). Test the intensity of the color by using one of the nail brushes and put some of the nail polish on your fingernail. If it is too light, you will need to add more pigment. It's easier to add pigment now–before you put the polish into the bottles.
Step #4, #5: Monster bead and pour into the bottle
Drop a monster bead in each bottle.
Put the funnel on the top of the bottle for easy pouring. With a scissor, cut the edge of the ziplock bag and pour the polish into the funnel. Fill to the shoulder of the bottle and leave room for the brush.
Step #6: Insert brush, screw on the cap
Insert the brush on the bottle first, then screw the top onto the bottle. The brush will attach to the bottle cap. Shake the bottle. Unscrew and test to make certain the brush has attached to the cap.
Now you're ready to try out the polish with your friends! But don't stop there–make another bottle with different pigments, glitters, pearls and mica. This is an addicting fun activity your daughters or granddaughters will love!
Concerned about fingernail polish safety? You should be!
Many commercial brands of fingernail polish are dangerous to your health because they contain harmful chemicals and solvents. Here are 7 dangerous chemicals found in most fingernail polishes and why making your own polish is a good idea.
1. Formaldehyde (and Formaldehyde Resin)
Formaldehyde is used in fingernail polish as a hardener and/or preservative. It's is a colorless, strong-smelling gas that you used in high school biology to keep those frogs from decomposing before you could dissect them.
It's a carcinogen meaning it can be a cause of cancer. In 2011 the U.S. Department of Health and Human Services updated its National Toxicology Program Report on Carcinogens (RoC) and stated that formaldehyde is "known to be a human carcinogen."
2. Toluene
Do you get annoyed if you have to shake your bottle of fingernail polish to mix the color and distribute it throughout the bottle? Well, meet toluene! It helps suspend those colors so you don't have to shake it often. And it gives the polish a smooth texture.
However, scientific research points out that chronic exposure to this solvent can cause issues with the central nervous system; causing headaches, dizziness and even act as a reproductive and developmental toxin to a fetus.
Solution: Put some of your own elbow-grease into shaking up that bottle of nail polish to evenly distribute the color.
3. Dibutyl phthalate (DBP) also called Phthalates 
Simply put, phthalates (as they are most often called) are plasticizers. They improve the lasting power of nail lacquer and reduce the chance of your polish cracking and becoming brittle. But, they are also linked to cancer, infertility in humans, and can cause issues with your endocrine system (think thyroid). According to Jenna Hipp (founder of The Green Celebrity Manicurist), they are especially dangerous to pregnant women. Unfortunately, this chemical is found in a lot of cosmetics.
4. Acetone
Acetone is a highly flammable solvent found in nail polish remover. Along with removing nail polish, it removes natural oils from your skin and can irritate the eyes, skin, cuticles, and lungs. If you use too much, it can turn your skin really white (temporarily).
Acetone-free nail polish removers are commonly called "natural" or "organic." They are safer and not as irritating and many contain moisturizing agents like glycerin, panthenol, or soy that help minimize the drying effect. However, these removers usually don't work as well and you will have to use more muscle to remove your nail polish.
5. Benzophenones
Benzophenones are UV blockers. They prevent oxidation that causes the color to fade from your nail polish. However, like all chemicals and solvents, there are side-effects. Studies show that benzophenones are carcinogens (when used in large quantities) and have estrogen-like effects (meaning they can increase estrogen levels in your bloodstream).
6. Camphor
Many nail polish manufacturers are taking camphor out of the list of ingredients found in fingernail polish because it's not needed. Some forms are naturally derived and seem safe but the synthetic versions are made from turpentine oil—a harmful and toxic ingredient. Don't purchase nail polish with camphor—you have no idea if it is the natural or synthetic form.
7. Methanol
This is a chemical found in non-acetone polish removers and is usually found at low levels.  Some believe that methanol can have the same negative effects as acetone such as nausea, headaches, and dizziness. But, most experts agree that trace amounts of methanol are not harmful.
Nail Polish Fumes Can Affect Your Brain
A study done in 2002 showed prolonged exposure to nail polish fumes can affect the way your brain works. The researchers tested 33 nail salon technicians and found three interesting facts:
Nail technicians had difficulty on tests that measured attention and brain processing speed
There was no difference in their learning, memory, fine motor coordination or depression or anxiety
Their sense of smell was dramatically compromised
If you're exposed to too many dangerous nail polish fumes your brain will most likely be slower and may affect your attention.
Try making your own nail polish with your daughters or granddaughters. It's fun, easy, inexpensive and the end product will be safe for your brain and health

There's more to this activity than just making fingernail polish. Here are 4 things you can teach your kids while making the polish: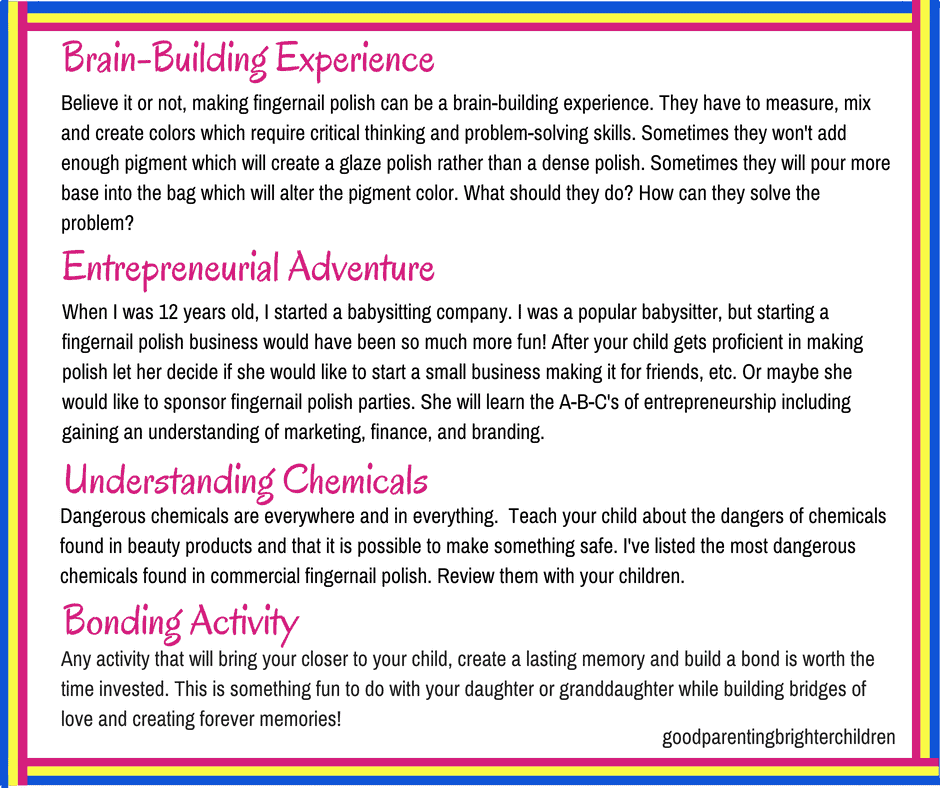 Do you have any experience making nail polish? Where did you get your supplies? Do you have any suggestions about making fingernail polish? What things would you suggest avoiding? Please comment in the section below.