Inside: Do your kids or grandkids love soapmaking recipes? Here is a fun soap to make for Halloween—it's black, spooky, easy to make, and smells delicious! The perfect Halloween activity for teens & tweens to do with their mom or grandma!
Soapmaking Recipes for Halloween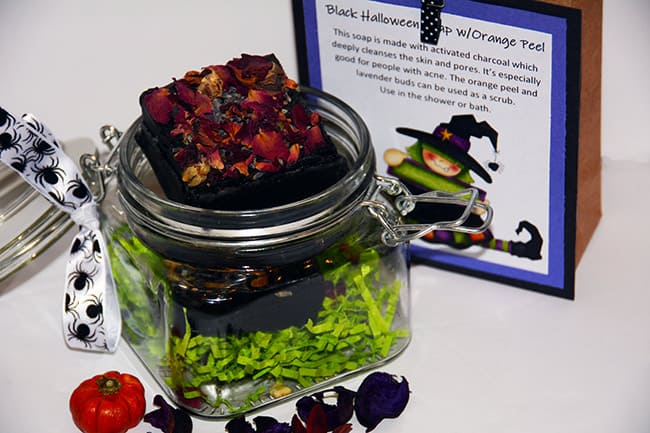 When you were little, did anyone give you a fancy bar of soap when you went Trick-or-Treating?
Probably not…
However, when I was a little girl, Mrs. Breech, an eccentric old lady who lived on our street, made all kinds of spooky potions for Halloween. One was black soap. She was famous for her soapmaking recipes but didn't share any of them. They were her secret!
Her house smelled like a combination of lavender, cinnamon, cloves, and peppermint. She made a jet-black soap for Halloween and gave a small bar to each trick-or-treater who dared knock on her door.
I dared.
I liked her and I liked the way she smelled. I didn't care that she didn't give out candy—I loved that I got something so different and apropos on Halloween night.
It took years before I figured out what magic ingredient she used in her black soap. It was activated charcoal! An amazing ingredient for the skin—especially for teens and tween grandkids.
So, if you're looking for a fun Halloween activity to do with your teens, tweens, and grandkids—one that's not spooky, but beneficial, educational, and exciting—make charcoal soap!
Soapmaking Recipes for Halloween: Black Soap
Kids and grandkids are fascinated with making soap. Why? Because they think that the only kind of soap is the kind you buy in a grocery store.
So, prove them wrong and create this easy-peasy recipe.
Here is my recipe for Halloween Charcoal Soap. After making the soap and pouring it into the square tins, have your grandkids add something special and fun—sprinkle purple lavender buds and dried orange peel on the top. Purple, orange, and black—the colors of Halloween!
Click below to watch the video (recipe is below)
Soapmaking Recipes: Black Halloween Soap with Orange Peel & Lavender Buds
I purchase most of my ingredients at Majestic Mountain Sage. You can also purchase spices, dried fruit peels, etc., such as lavender buds and dried orange peel at Atlantic Spice Company. Both are fabulous companies and I've been ordering materials from them for 15+ years.
Or, if you're not buying in bulk, check out Amazon for these ingredients:
Black Halloween Soap with Orange Peel & Lavender Buds
Author:
Sharlene Habermeyer
Recipe type:
How To Soapmaking
Ingredients
1-pound melt-and-pour soap base (use a scale for measuring)
1 Tablespoon activated charcoal
½ ounce orange essential oil
Lavender buds
Dried orange peel
Square Muffin tin
Instructions
Prepare the square muffin tin by rubbing a thin coat of Vaseline on the inside of each of the square sections. OR, spray with alcohol or vodka. This will prevent the soap from sticking to the pan. Set aside
Melt the soap in the microwave at 30-second intervals until it is completely melted. Pour into a bowl
Add the activated charcoal. Stir vigorously. It will turn an intense shade of black
Cool slightly and then add the orange essential oil. Stir
Pour soap into prepared pans.
Sprinkle with lavender buds and dried orange peel while the soap is still a liquid. Press gently. As it cools, the buds and peels with stick to the soap.
Let dry for 12-24 hours before taking out of the tins
Makes 6 bars of soap.
Soapmaking Recipes: Options, Substitutions & Gift-Giving Ideas for Halloween Soap
The recipe calls for different essential oils and orange peel. However, there are many different oils and peels you can use. It's all about experimenting—which is fun and educational.
When choosing oils, keep in mind that many essential oils have healing properties for the skin and will help the skin in different ways. Here are some that are excellent for healing and helping the skin:
Tea Tree oil (Melaleuca): heals the skin
Lavender oil: helps with acne-prone skin, sagging skin, and stretch marks
Rose oil: helps with wrinkles along with jasmine and sandalwood
Rosewood oil: rejuvenates and heals the skin
You can also use different dried peels such as:
Lemon or grapefruit peels
Dried rosebuds mixed with lavender buds instead of orange peel
Dried chamomile, rose or calendula petals also add wonderful colors to the soap
Packaging Halloween Soap for Gift-Giving
If you're giving the soap as a gift—here are some ideas on how to package it
Use mason jars, put packaging confetti at the bottom, and stack the soap into the jar. Tie a bow or ribbon and attach a fun label
Use cellophane bags. Line the bottom of the bag with packaging confetti, stack the bars of soap, tie with a ribbon and add a clever label
Put the soap in fun cloth bags (see Paper Mart for an excellent selection of fun cloth bags). Be creative and add a scrubber and label
Bonus tips: Soapmaking Recipes & Skin Benefits from Activated Charcoal

Activated charcoal turns soap into a delicious intense black. It's amazing for teen skin. Here are some ways that activated charcoal benefits the skin:
Tip #1: Exfoliates the Skin:
Activated charcoal has a gritty texture which makes it an excellent exfoliant. If used in a scrub or soap it removes dead skin cells and cleans dirt and grime from the skin.
Tips #2: Excellent for Acne

Activated charcoal sucks out impurities from the skin; cleans the pores and reduces inflammation and redness caused by acne. Mix activated charcoal with water or essential oils such as lavender or melaleuca (tea tree oil) and put on troubled acne areas.
Tip #3: Balances Oily Skin
Activated Charcoal pulls out and removes excess oil from the skin and pores which is important because excess oil leads to clogged pores and blemishes.
Tip #4: Detoxifies the Skin
Activated charcoal is very powerful in pulling out impurities and heavy metals from the skin. Used as a scrub, soap, or mask, it removes deep-seated debris from the skin making it appear clear and clean
Have you ever made soap with your kids or grandkids? What was your experience? What kind of soap did you make? Please share in the comment section below.


Want to remember this post? Post, "Here are the Best Soapmaking Recipes for Halloween & Grandkids" to your favorite Pinterest Board