Inside: Looking for a healthy dip that will inspire your kids to eat their veggies? Look no further! This is an awesome veggie dip that incorporates the right amount of good fats (mayo and sour cream) and great green veggies (spinach, green onions, parsley) to build the brain.
Spinach Dip Recipe: Healthy Smart Kids in the Kitchen
Getting our kids to eat their veggies every day is not easy. Most kids balk at eating those green crunchy foods that have a rather bland taste in comparison to foods high in sugar and salt. But, if you want kids who can think and learn, they need their daily portion of veggies!
To make vegetable consumption easier, provide some fun, delicious veggie dips. This spinach dip recipe is "a keeper" and you'll be making it often. Plus…to add to the experience, involve your kids in the preparation. Nothing beats the building of confidence in kids as "kitchen know-how." Plus, as they read recipes, their understanding of math will increase exponentially—especially with fractions!
Growing up, I was never good at math, but one area of math that I did "shine in the classroom," was fractions! Cooking and baking in the kitchen helped me to see the practical application of fractions. It helped me form pictures in my mind of how they worked. That's the key to math success—seeing and forming images in your mind!
I wanted my own kids to have the same understanding and practical application—so we spent a lot of time cooking and baking in the kitchen. Plus, I enrolled them in cooking lessons. It was a win-win situation—they did well in math and they feel confident in the kitchen.
This post "Spinach Dip Recipe," goes with my "Here Are the Most Amazing Veggies that Make Kids Smarter." Check it out here and combine the veggies in this post with this awesome veggie dip!
Best Spinach Dip Recipe
Try out this spinach dip recipe. There are hundreds of variations to this—I've also added chopped water chestnuts or substituted Mrs. Grass Dry Vegetable Soup mix for the leek soup. The variations are endless!
Best Spinach Dip Recipe: Healthy Smart Kids in the Kitchen
An oldie but goodie spinach dip for your children to dip their veggies in. And have them help make the dip to give them a fun time in the kitchen!
Author:
Sharlene Habermeyer
Recipe type:
Vegetable Dip
Ingredients
2 cups sour cream
1 cup mayonnaise
1 package Knorr Dry Leek Soup
1 (10 oz.) package chopped spinach
½ cup chopped parsley
½ cup chopped green onion (scallions)
1 teaspoon dill weed
1 teaspoon Shilling Salad Supreme
⅛ teaspoon garlic powder
Instructions
Unthaw the spinach. Wrap in paper towels and squeeze out any excess water.
Chop the parsley
Chop the green onions—use only the green part of the scallion
Mix all the ingredient together
Refrigerate overnight to blend all the flavors
Serve with a variety of fresh veggies suggested in my veggie blog
Notes
Options: add ½ cup of finely chopped water chestnuts or use Mrs. Grass Dry Vegetable Soup mix as a substitute for the dry leek soup

For your kids to have the best kitchen learning experience, have them help. Here are 6 fun tips:
Tip #1 How to Use Measuring Cups
When making a recipe, your kids will need to use measuring cups. Explain to them that they are used to measure ingredients in a recipe. There are several different sizes of measuring cups that can be needed: 1/8, ¼, ½, 2/3, ¾ and 1 and 2 cup(s). I even have a 4-cup measuring cup!
Show them all the different sizes and play around with how they easily measure ingredients. Then go one step further and illustrate the combinations that makeup one cup of something.  For instance, using water and different measuring cups show your kids that:
Four ¼ cups equal 1 cup
Three 1/3 cups to equal one cup
Two 1/2 cups equal one cup
By doing this your kids are on their way to understanding fractions.
Job: have your children measure out the mayonnaise and sour cream using measuring cups.
Tip #2 Understanding how to Convert Ounces, Pounds and Using the Metric System
The United States is the only country in the world that does not use the metric system. We use cups, ounces, and pounds. If you get a glass measuring cup, you can show your children the differences and how these measurements all relate. For instance:
Ounces can easily be converted to cups. Glass measuring cups show the conversion:
1 cup equals 8 ounces
½ cup equals 4 ounces
¼ cup equals 2 ounces
If you use a recipe from another country, the measurements on a measuring cup will be in liters and milliliters. You must use those specific measurements if you want your recipe to be successful.
Look at the package of dry leek soup. It measures 1.8oz (or almost 2 ounces). Ask your kids: what would that be in tablespoons? Hint: there are 4 tablespoons in 1/4 cup and 1/4 cup equals 2 ounces. (answer: 3.6 tablespoons)
Tip #3 How to Use Measuring Spoons
Measuring spoons are used in most recipes. They come in many different sizes and are used to measure out small spices, herbs, salts, oils, etc., in a recipe. Show your kids that
Three teaspoons equal 1 tablespoon
Four ¼ teaspoons equal 1 teaspoon
Again—this will help them understand fractions.
Job: Have your kids use the proper measuring spoons to measure out the spices in the recipe.
Tip#4 How to Safely Use a Knife
Demonstrate to your kids how to safely use a knife and to follow these rules:
keep the blade away from their fingers at all times
never point a knife at anyone
never run with a knife
Job: After you've gone over knife safety with your kids, show them how to finely chop the parsley and green onions.
Tip #5 Why Some Foods (like this Spinach Dip Recipe) Are Best After Refrigeration
In this spinach dip recipe, after the ingredients are all mixed together, the instructions are to refrigerate the entire dip overnight. Ask your kids: why do you think this is necessary? Help them understand that this allows all the amazing ingredients to blend together and compliment every taste and texture.
Tip #6: Books for Healthy Smart Kids in the Kitchen
If you want to increase your child's sense of wonder and learning—layer the learning experience. Read the blog. Make the spinach dip recipe. And last—read fun books about veggies. Even older kids will love these books! Here are some suggestions:
Eating the Alphabet by Lois Ehlert
Planting a Rainbow by Lois Ehlert
Vegetables Illustrated by American Test Kitchen
Super Foods for Super Kids Cookbook by Noelle Martin
Do you have any favorite veggie dips or a spinach dip recipe that your kids love? Please share and comment in the section below…
As I mentioned, this blog ties into my "Tidbits of Wisdom for Parents" series. If you would like to watch the video, you can access it here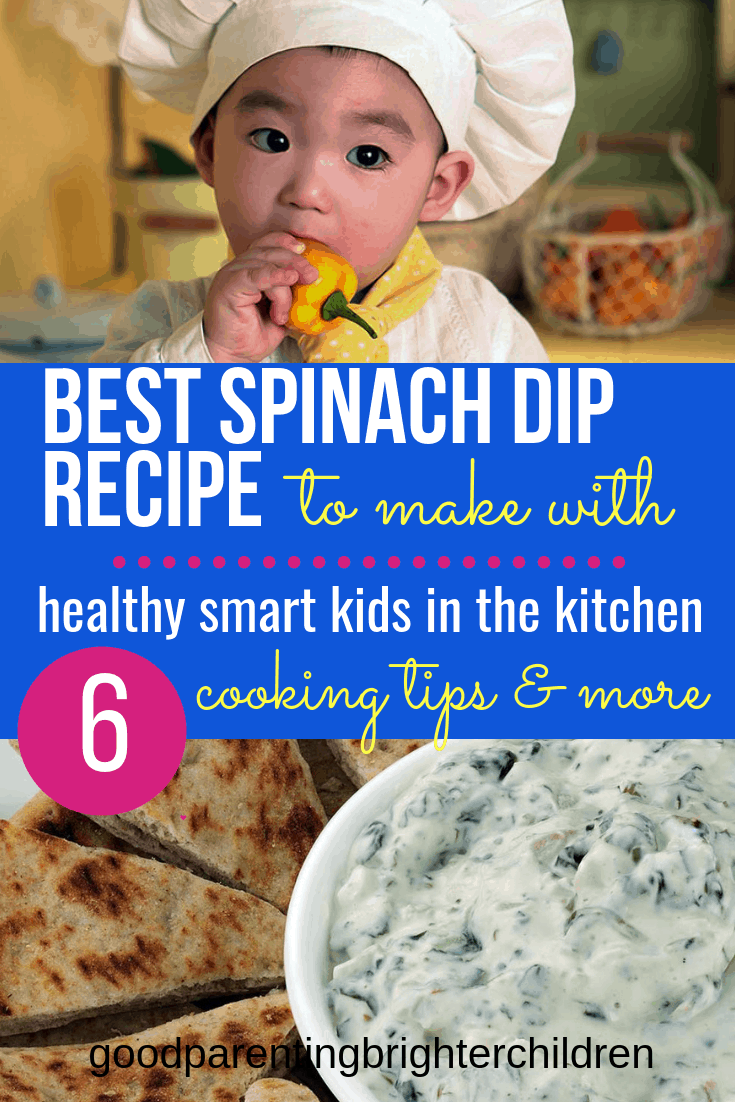 FAQ's
What is best to dip in spinach dip?
Spinach dip is a great way to get kids and adults to eat their veggies. Try carrots, broccoli, cauliflower, bell peppers, pea pods, cherry tomatoes, and strips of cucumbers as dips for spinach dips
How long is spinach dip good for in the fridge?
Most spinach dips call for mayonnaise and sour cream so if kept in the refrigerator, they can last up to 2 weeks.
How do you thicken spinach dip?
The sour cream and mayonnaise in spinach dip help to thicken the dip. Make certain to vigorously squeeze the frozen spinach between paper towels to remove any and all excess water before adding to the dip. Second, do not use a food processor to combine ingredients because it's easy to over-mix
Does Spinach Dip need to be refrigerated?
Yes. Spinach dip contains mayonnaise and sour cream which can go bad if left un-refrigerated.