Inside: Gratitude is considered a universal trait and being grateful has been scientifically shown to have health and other benefits. Start a family tradition this Thanksgiving—start keeping a daily gratitude journal and engage in other Thanksgiving gratitude activities and watch what positive things happen to you and your family.
Thanksgiving Gratitude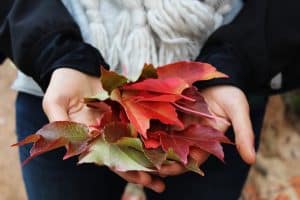 Don't you just love fall and all the fall holidays? The air is crisp and cool and in many parts of the world, the landscape has changed to orange, yellow, and red. Thanksgiving is in the air!
Even though Thanksgiving is only practiced in the United States, what this holiday symbolizes can be practiced anywhere in the world. It's the one holiday of the year we turn our thoughts to gratitude.
In fact, the very reason we celebrate Thanksgiving is to show and express gratitude.
Research shows that teaching young children gratitude is not easy. Why? Because young children are naturally ungrateful. It seems that age and perspective are required to understand gratitude. However, as a parent, you can do some simple activities with your young children to help foster and lay the groundwork for understanding gratitude later on.
Here are some reasons why gratitude is important (backed by science) and different activities you can do with your children to build and foster gratitude…
2 Reasons Why is Gratitude so Important
#1: Gratitude is considered a universal trait:
The year 2000 was declared by the General Assembly of the United Nations as being the "International Year of Thanksgiving." They said, "Thanksgiving is basic in human nature and is observed worldwide. It ties human communities together and encourages brotherhood and sharing."
#2: The importance of gratitude is backed by science:
Did you know that gratitude has been studied, researched, and written about? It's because it's one of the few emotions that can be measured. (If you want to read about gratitude research, check out this book: thanks! by Robert A. Emmons, Ph.D.)

6 Points Science Has Discovered About Being Grateful & Thanksgiving Gratitude
Science has discovered that people who practice gratitude experience the following:
Grateful people are 25% happier than those who do not practice gratitude.
Being grateful and happy can add as many as 9 years to your life!
When practicing gratitude, you will experience higher levels of positive emotions such as love, happiness, and optimism.
By writing down thoughts of gratitude each day, you will have fewer illnesses because gratitude strengthens the immune system.
Expressing gratitude will restore the natural rhythm of your heart.
When we are grateful, we "bounce back" from stressful situations faster.
Did you notice that I said "practice gratitude?" Yes, it takes practice.
Waking up one morning and deciding to be grateful is only the beginning. Now you must do something daily to create within you and your children a grateful heart.
And because gratitude happens in stages, it can be taught to your children in stages such as:
Reading children's books on gratitude (see the list below)
Talking about how to be grateful for something each day
Saying a simple "thank-you" to each family member to show appreciation.
Here are some more ideas to get you started:
Start Thanksgiving Gratitude Traditions
#1: Make Gratitude a Family Tradition
Thanksgiving Day can be your launch day of gratitude. Commit to showing gratitude in some way every day of the year. You can write each day in a gratitude journal; you can draw your gratitude or verbally express your gratitude.
#2: Give the Gift of a Gratitude Journal

As a Thanksgiving gift, give each family member a gratitude journal. These do not have to be fancy. Try the Dollar Store, Target, or a stationery store. For young children purchase a notebook large enough for them to draw pictures of gratitude.
Then commit to writing in the gratitude journal each day.
#3: Create a Gratitude Pumpkin
This is a fun gratitude tradition that you can start in your home.
My friend, Carolyn Allen from Los Angeles, California started this fun and meaningful Thanksgiving gratitude traditions using a pumpkin.
She says,
"Set a real or imitation pumpkin (with a permanent marker) in an area where family and visitors to your home during the month of November can jot a word or two of what they are thankful for on the pumpkin. Encourage people not to duplicate what is already written on the pumpkin.
This holiday tradition is one that gives emphasis to the many and varied things we can be thankful for.
At the Thanksgiving dinner table, share the pumpkin with everyone. If you use a real pumpkin–make certain to take a picture of it for future Thanksgivings. If you use an imitation pumpkin–save them and display them from year to year to remind everyone what you are grateful for."
These are the basics. Now just keep going.
Here are two ideas to continue this tradition throughout the year:
3 Fun & Meaningful Activities to Foster Gratitude in Children and Adults Each Day
#1: Verbally Express Gratitude Each Day
Before bedtime, gather your children together and have them share something they are grateful for that happened that day. I talk about similar activities in a previous blog. It's a fun, quick exercise and helps kids focus on the positives of the day.
However, there will be times that your child will have a "Terrible, Horrible, No Good, Very Bad Day," (just like in the book). Yes, it happens. But, even totally bad days can have silver linings.
When chaos occurs or everything seems to go wrong, help your child understand those bad days are temporary. Remind him/her:
"It's only one day—tomorrow will be better."
"Even though this is hard, we're here to help you, and bad days have a funny way of helping you appreciate all the good days."
If your children are older, gently remind them valuable lessons are learned from painful experiences.
#2: Draw Your Gratitude

Let your children know in advance that you want them to come to the Thanksgiving table and share three things they are grateful for.
Instead of writing down their gratitude–provide pens, markers, and paper and have everyone DRAW their gratitude! Save these gratitude drawings from year to year and post them on a family bulletin board. They will become important memories to each family member as they reminisce over the many things they were grateful for from year to year.
#3: Keep a Gratitude Journal
Have everyone in the family keep a daily gratitude journal. Set aside about five or ten minutes for each person to write down or draw THREE things they are grateful for. Then add a couple of sentences of why they are grateful for that particular thing. Reading these in the future will become very meaningful.

4 Things That Happen When We Are Grateful
As you go through this exercise you will start noticing some interesting things happening to your family.
The atmosphere in your home will be more positive.
Your kids will be happier
Siblings will get along better
The response to challenges will be, "This is not the end of the world."
Keep a notebook of how focusing on being grateful changes your family. Because it will.
The contentment we felt as a family triggered by our gratitude is best explained by what Melody Beattie said:
"Gratitude unlocks the fullness of life. It turns what we have into enough, and more. It turns denial into acceptance, chaos to order, and confusion to clarity. It can turn a meal into a feast, a house into a home, a stranger into a friend. Gratitude makes sense of our past, brings peace for today, and creates a vision for tomorrow."
Make gratitude in your home a way of life.
Children's Books that Teach Thanksgiving Gratitude

Want some suggestions for books that help to teach gratitude to kids? Check these out:
The Blessings Jar: A Story About Being Thankful by Colleen Coble (a board book)
I'm Thankful Each Day by P. Hallinan (26 pages)
Thankful by Eileen Spinelli
The Thankful Book by Todd Parr
Apple Cake: A Gratitude by Dawn Casey
Bear Says Thanks by Karma Wilson
Being Thankful by Mercer Mayer
Reading children's books to your kids (no matter their age) is a great way to teach powerful life lessons.
Alert:
Try these ideas for a year and then check out my other blog about gratitude. It's chock-full of more ideas and activities to do with your children during the month of November and throughout the year that will foster an attitude of gratitude amongst family members. They are ideas that teach your children something even more than gratitude. (I love activities with multiple lessons).
Click here for the 2-minute video that goes with this week's blog.
What does your family do to express gratitude? Any fun activities you would like to share? Please comment in the section below.


Want to remember this post? Post, "Everything You Need to Know About Thanksgiving Gratitude" to your favorite Pinterest board!