Inside: Reading aloud to your children is a wonderful tradition at any time, but especially at Christmas. Here is a list of six of the Best Christmas Books your family will love and cherish for years to come and will make the holidays ring!
Reading the Best Christmas Books: A Family Tradition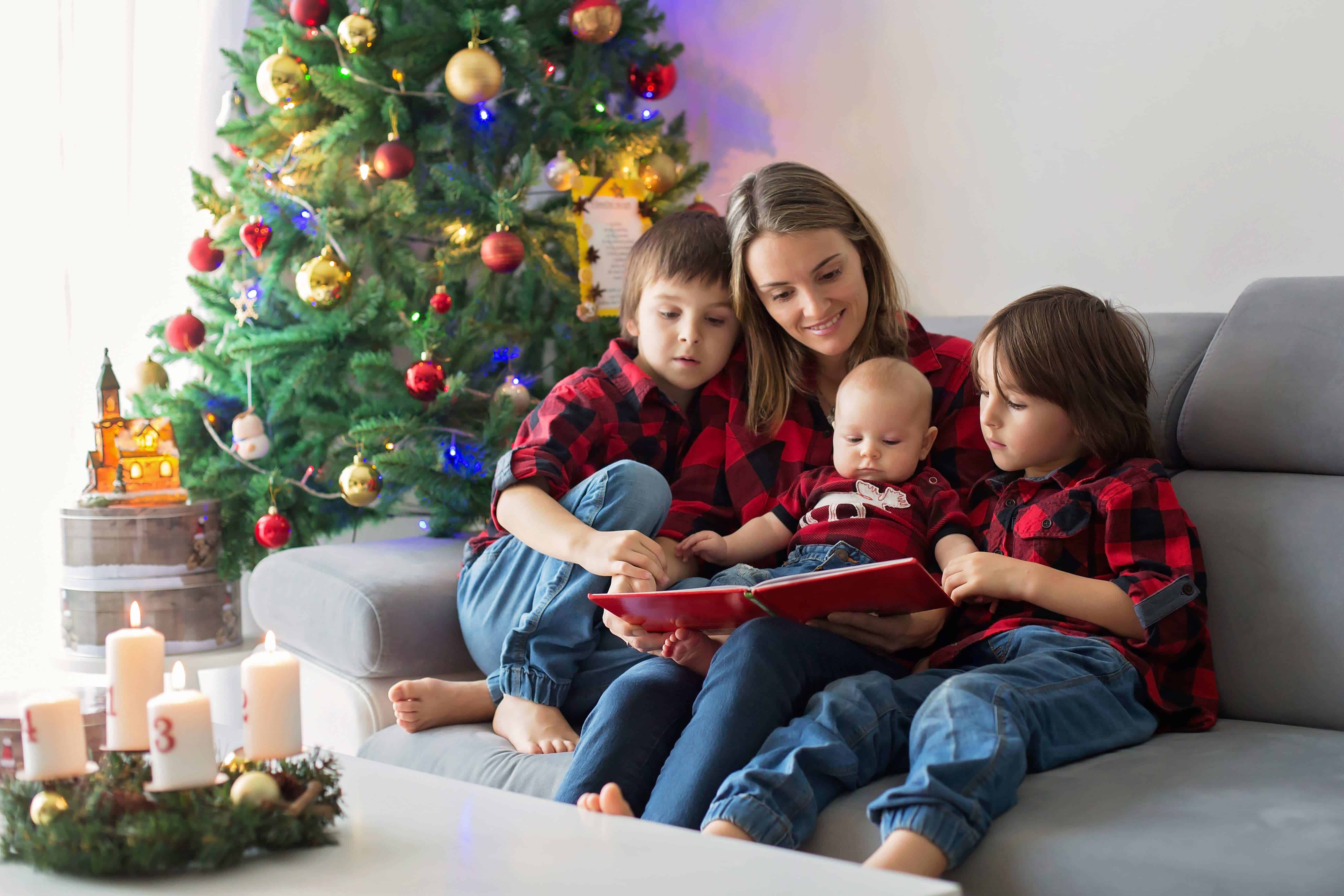 You're crazy busy right now—up to your earlobes in wrapping paper, cookie dough, and tree trimming. Navigating stifling crowds on the highways and in the malls, and more last-minute projects than you have time to complete.
But wait! Here's one more thing to add to your list…and I promise…this will be fun, fun, fun!
Take a few minutes each day to read Christmas books to your kids. Enlist the help of older kids, grandparents, aunts, uncles, or nieces to help. Why? Because books bring enchantment to Christmas as nothing else can.
In a perfect world, this tradition is great if you start on December 1 and go through the 31st, but heck—who's counting? Start TODAY! And try to squeeze in about 2-3 Christmas books daily.
Here's a list of six of our family's favorite Christmas books. I consider these, "classic" because they have stood the test of time and are loved by kids and adults of all ages. You have probably heard of most of these so to make it a little different, I've added some suggestions for activities to do along with reading the books.
And, it was hard to pick just six. We've been collecting for 40 years and counting so I wrote another blog on the best Christmas books that you can access here.
Six Best Christmas Books
This is a "must" for every family's Christmas book collection. If you don't already have a copy—get one!
About the Book:
It's the story of a young boy who takes a magical train ride to the North Pole to see Santa Claus. From among hundreds of children, he is chosen to receive the first gift of Christmas—a silver bell from Santa's sleigh.  But the bell slips through the hole in his pajama pocket and is lost.
On Christmas morning, he finds a small box underneath the tree that contains the silver bell and a note from Santa, "Fix that hole in your pocket." Signed Mr. C."
The boy shakes the bell and notes, "it made the most beautiful sound my sister and I had ever heard." However, his mother and father can't hear the sound.
Eventually, his sister and friends can no longer hear the sound of the bell.
Why?
They stop believing.
The little boy who is now an adult says, "Though I've grown old, the bell still rings for me as it does for all who truly believe."
Moral: don't stop believing!
To keep "believing," alive in your family, when your kids start questioning the reality of Santa,  you could tell them, "We'll always BELIEVE in the magic and wonder of Santa Claus and what he stands for—which is the spirit of giving."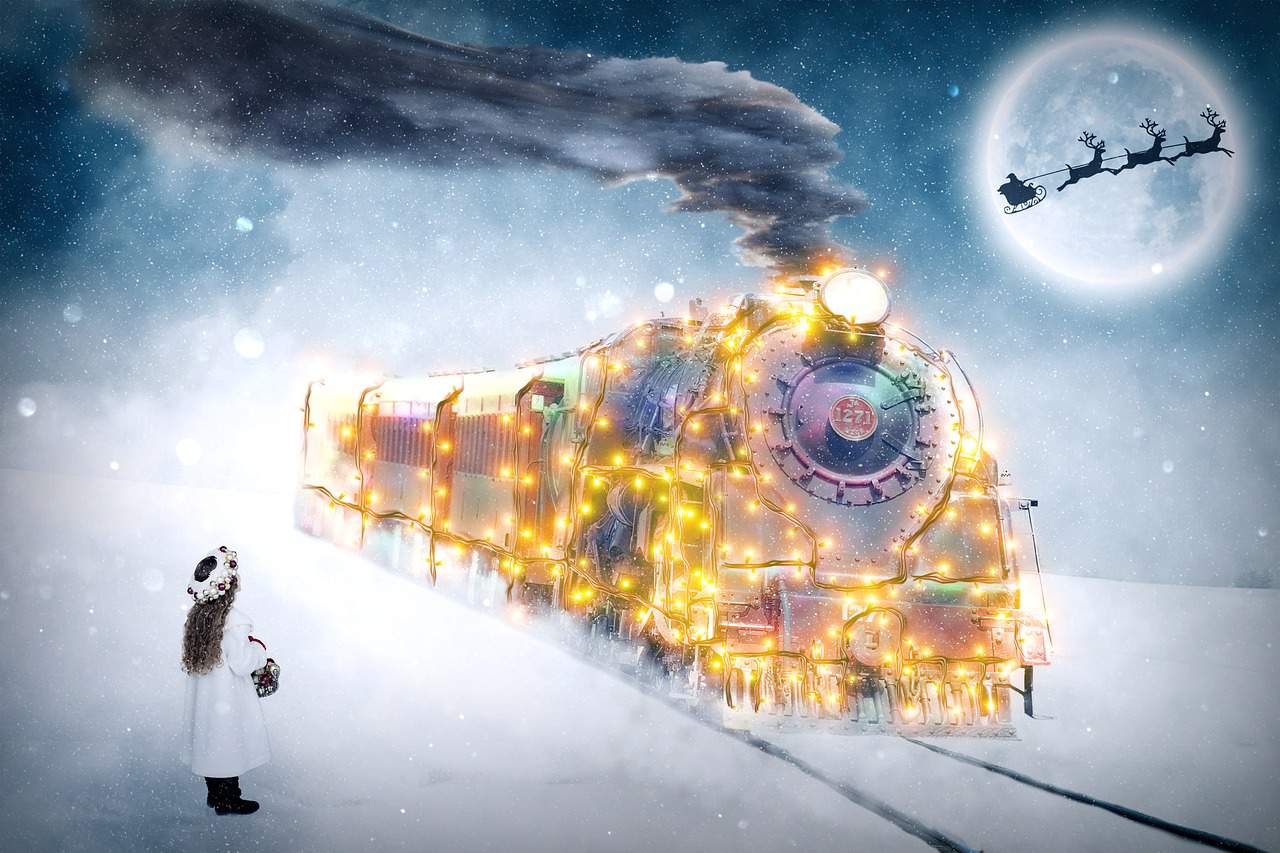 Activities:
Start a family tradition by reading this book every Christmas Eve. Or listen to the narration by William Hurt or Liam Neeson
Have everyone come in their Christmas pajamas
Serve hot chocolate (include a chocolate stirring stick)
Option: purchase silver bells for each of your children with the reminder of "believing," in everything good, charitable, and kind.
If you want the book, the audio CD, and the silver bell—check here on Amazon.
If you're looking for a super fun Christmas book for both young kids and teens, this is the book!  I purchased it in 1982 (first edition) with Santa's personal signature on the title page. It's a family favorite and no doubt will become your family's favorite!
About the Book:
Want to know the "inside scoop" about Santa, Mrs. Santa, the elves, and the reindeer? This is an "everything you wanted to know about Santa but was afraid to ask"…until now. Here's a sample of what you'll discover:
Where did Santa come from?
How old is Santa?
Why Santa says, "Ho! Ho! Ho!"
Why does Santa live so long?
How do Reindeer fly?
Why are there fake Santas?
Why does Santa go down the chimneys?
How does Santa get all those toys into a bag?
What happens to non-believers? (complete with before and after pictures)
Our kids' favorite chapter was about a boy named Greedy George Greeley. Can you guess what he got for Christmas? Yup!… a lump of coal.
P.S. teens love this book!

Activities:
It's a chapter book with fun, colorful illustrations. For younger kids, preview the chapters so you can "tell" it rather than "read," it.
 Use the content to entice family discussions—gather around the fire, read the book and debate the content.
Get a real piece of coal and show it to your kids. Explain that coal was used for heating houses years ago and that it was very dirty. In the 1800s and 1900s, it was used in fireplaces rather than wood. The tradition of getting a lump of coal instead of a gift was associated with kids who were naughty. Why? Santa came down the chimney and coal was right there in the fireplace and he could easily put it in a naughty child's stocking.
Are your kids Tomie dePaola fans? If so, this should be a "must" on your Christmas book list!
About the Book:
Around Christmastime Strega Nona (Grandma Witch) invites everyone in the village to her house for a special dinner. While preparing the feast, she doesn't do any magic because Natale (Christmas) has magic of its own. However, things go awry with her helper, Big Anthony and on Christmas Eve Strega Nona has nothing fixed for the feast. But, a surprise is about to happen…proving that Christmas really does have "magic all its own."

Activities:
Cooking and baking are a BIG part of Christmas. So, bring out the cookbooks. Commit to making your cookies, etc., from 'scratch,' meaning—no mixes, cans, or frozen foods. It's actually fun to cook/bake this way and a lot healthier.
Gather recipes from your mother or grandmother; recipes that you remember as a child and want to pass down to your children and bake/cook away!
I purchased this book years ago at a small bookstore in San Pedro, California. It was first published in 1969. For a long time, it was out of print and copies were only available on e-Bay for $400+. Thankfully, it is now back in print because it is definitely a family favorite and our boys were arguing over who was going to inherit the only copy I have.
It's a fun book and is written in sing-song poetry.
About the Book:
This is a story of a little village where each year at Christmas the townsfolk bake cookies with lots of sprinkles. However, one Christmas, in flies the "Christmas Cookie Sprinkle Snitcher," and steals all the sprinkles. The next morning as everyone is baking their cookies—they discover the sprinkles are missing! Even though the police get involved, it's a plucky little boy named Little Nat who comes to the rescue.
Find out how Nat saves the day.

Activities:
Make sugar cookies or gingerbread dough; use cookie cutters and have a hefty supply of frosting and sprinkles on hand to decorate the cookies.
This is an engaging Christmas story about an orphan named Ivy, a doll named Holly, and a policeman and his wife. It's a story of wishes and miracles that are waiting to be fulfilled.
About the Book:
This book begins: "This is a story about wishing. It is also about a doll and a little girl. It begins with the doll."
Ivy is an orphan and lives in St. Agnes. At Christmas time, families take orphans to their homes to celebrate the holiday. But no one asks for Ivy.
This book will give your children an opportunity to understand that Christmas is not a happy time for everyone—there is joy, but there is also sadness. It's a time to reach out to others who may be lonely or sad. (however, this book does have a happy ending)

Activities:
One year for Christmas, our family got involved with a boys' orphanage. We visited the orphanage and met with both the caretakers and boys.
We wanted to find out what was needed and how we could help. It was a humbling experience for our sons and made them realize that being a part of a family is a huge blessing and should not be taken lightly.
If you can find an orphanage in your area—call, visit and find out what their needs are at Christmastime. I can guarantee you—it will be a wonderful experience. Our sons are all adults—but they still talk about the Christmas we adopted an orphanage.

If your family loves animals (particularly cats and dogs)—this book is perfect! It's a true story about James Herriot's experiences as a country vet in England.
About the book:
Mrs. Pickering is an animal lover who owns three Basset hounds and cares for a stray cat named Debbie. One Christmas morning, Dr. Herriot is summoned to the house because Debbie is dying. But she has brought with her the "best Christmas present Mrs. Pickering ever had…a baby kitten."
Mrs. Pickering is heartbroken over Debbie but delighted with this new kitten who she names Buster.
The following Christmas, Dr. Herriot is in the Pickering neighborhood and stops to see Buster who has grown into a beautiful strong cat. Plus, he's become quite a clever cat.
Find out why what makes him so clever…

Activities:
If you have animals, give them a treat or a toy for Christmas. Family pets should be just that—part of your family and part of Christmas.
With your children, volunteer at an animal shelter
Walk the dog for a shut-in
Make Reading the Best Christmas Books a Tradition
There are many things that bring the Spirit of Christmas into homes: lights, music, and a giving heart.
And…books.
How many of these Christmas books have you read as a family? What are your favorite Christmas books that your children love to read from year to year? Please comment below…
Merry Christmas!


Want to remember this post? Post, "How to Squeeze in 6 of the Best Christmas Books," to your favorite Pinterest Board!