Inside: Here are 45 Christmas traditions to make your season bright. Pick and choose which ones work best for your family and incorporate them into your holiday festivities. These are tried-and-true traditions—hope you love them as much as we do!
The Power of Christmas Traditions

Years ago, I read a study about the importance of traditions. One simple question was asked of the participants: "What did you get last year for Christmas?" People fumbled around trying to remember what they got from the previous Christmas. Most threw up their hands and said they couldn't remember.
Then the researchers asked, "What Christmas traditions did you celebrate last year?" Smiles came to people's faces, their eyes lit up and they recounted dozens of traditions they loved and cherished.
That's the power of traditions.
Traditions do more than create fond memories for us—they help us avoid the commercialism of the holiday season which in the 21st century is just more food, more material goods, and more people. For the last 100 years, Christmas has become increasingly commercialized. The magic of the season is slowly disappearing…replaced by frazzled, exhausted people.

If you want to recapture the magic of the season—add meaningful and simple traditions. Borrow from your ancestors and neighbors (and this blog) and change your holiday around. Did you know in Victorian England (where some of my ancestors are from) they played simple games during the holidays such as blindman's bluff, charades, snapdragon, hunt the slipper and more? They sang songs, danced, and ate. The cost was minimal and the fun was extraordinary!
Your great-grandparents in America filled their holidays with sleigh-riding, ice-skating, caroling, playing games, and dancing.
When people talk about having a nostalgic Christmas—that's what they're talking about. It's the spirit of the season that they hunger for. Don't make Christmas just an extension of what you do all year round. Make it different. Use traditions of the past and mix in your own and create a legacy your kids and grandkids will cherish.
Here are 45 family traditions to pick-and-choose from. For ease, I've divided them into categories.
45 Best Christmas Traditions
5 Christmas Traditions to Start December 1
#1. Mr. Goody
The tradition of Mr. Goody is similar to "The Elf on the Shelf," except, we've had Mr. Goody as a tradition in our home since 1978! Here's how it works—these are our own ideas and not from Elf on the Shelf (I think they copied us!).
Purchase an elf (Annalee elves are great)
Purchase or make little miniature stockings for each child in your home and set them by Mr. Goody.
The first time you start this tradition, send the elf (via mail) to your children with a note explaining that Mr. Goody will bring treats each morning to each child. He also likes to hide—be prepared to look for him.

#2. Advent Calendars
Advent calendars have been around for 100s of years. They are one-page calendars with scenes of Christmas and little-numbered doors to open each day leading up to Christmas. Some have elaborate boxes that are opened each day with symbols and stories of the holidays.
Either purchase advent calendars for your kids or make your own. Here's one idea: buy cellophane or colored paper bags or felt stockings; put a simple treat in each bag or sock; put a number on the outside and place them into a small suitcase or Christmas box. We called it "Advent in a Christmas Box." Each day your children take turns picking a bag or sock from the box.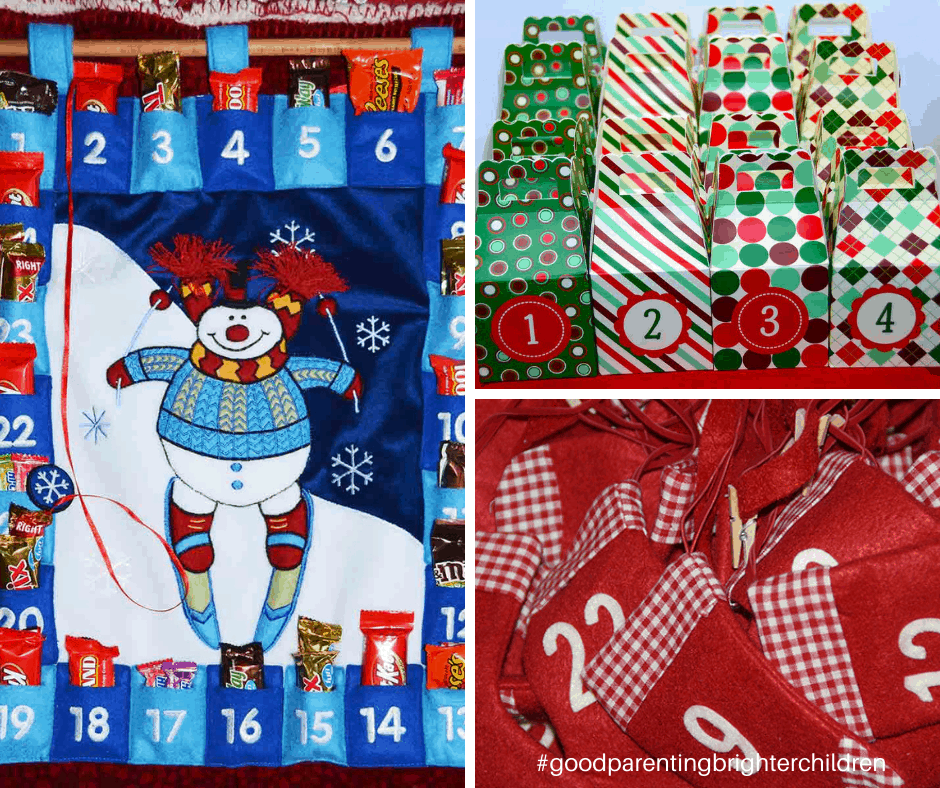 #3. Christmas Flannel Sheets, Bedding & Sugarplum Fairy Pillowcases

There is something magical about flannel sheets in the winter. They keep everyone cozy and warm. Purchase Christmas flannel sheets for family members and have them on the beds by December 1.
Also, purchase Christmas pillowcases and send them to your kids via mail by December 1. We called ours, "Sugarplum Fairy Pillowcases," from the inspiration I received from my sister-in-law. Tell your children that when they sleep on Christmas pillowcases during the month of December, the Sugarplum Fairy brings them pleasant dreams!

 #4. Christmas Music
Christmas music is just plain magical! It brings the Spirit of the season into homes and creates excitement in the hearts of ALL family members. Start December 1 playing Christmas music and play it the entire month. There are tons of CDs to choose from. Try this favorite: Libera; The Christmas Album.
#5. Christmas Books
Starting December 1, begin reading Christmas books to your children. There is meaning, miracles, and magic in Christmas books. For details on book titles and activities, check out blog one and blog two on the subject. Plus, you can access a list of 32 Favorite Christmas books from my Resource Library (click below).
Create a bookshelf just for holiday books and add a new Christmas book to your collection each year.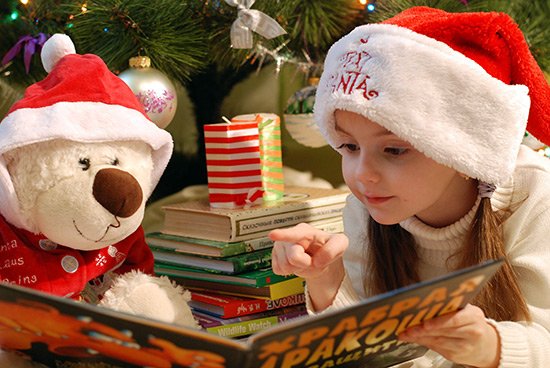 4 Christmas Traditions to Start the First Week of December
#5. Lumberjack Tree
Ever play "lumberjack" and cut down your own Christmas tree? It's great fun and your fresh tree will smell up the house all month! Or, go to a Christmas tree lot and have everyone help select the best Christmas tree ever.
#6. Tree in each bedroom
Purchase small Christmas trees for your children's bedrooms to decorate with lights and ornaments. It's a mesmerizing experience for a child to snuggle in their flannel sheets at night while listening to Christmas music and surrounded by lights from their Christmas trees.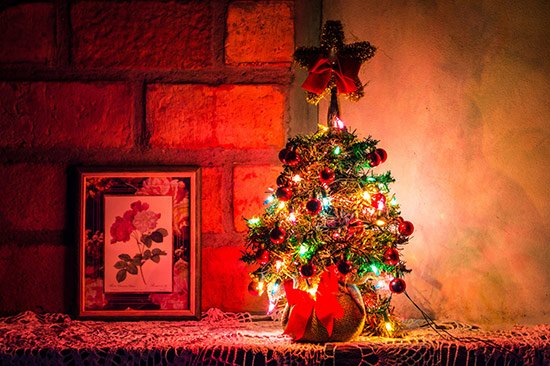 #7. Decorate the House Party
Designate a night and have everyone help decorate the house. Serve hot chocolate, finger foods, and have Christmas music playing. It's funny how each ornament and decoration is cherished by family members. Perhaps because they contain the memories and essence of the season. This simple activity can become a very nostalgic tradition.
#8. The Nativity
The reason for the season is the birth of Christ, so make setting up the nativity an important part of your traditions. Discuss with your children the part that each character played in the First Christmas. What did the shepherds do? The wise men? The animals? The angels? Mary? Joseph? Baby Jesus?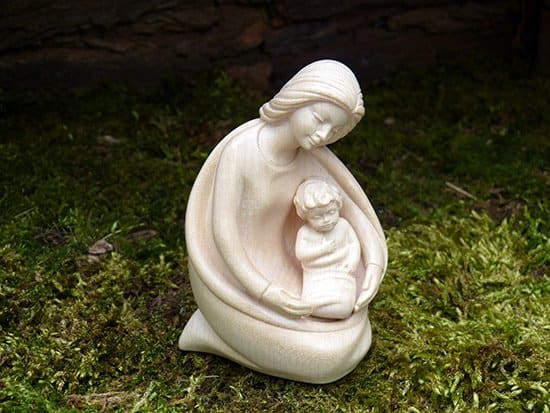 4 Christmas Traditions Holiday Service Projects
#9. 12 Days of Christmas
This tradition can be celebrated in many different ways. First, you can choose a family to secretly take little gifts from December 13 through December 24 (see blog for details).
Or, you can do the 12 Days of Christmas with your own family. Each day from December 13 to December 24 do a daily fun activity as a family such as:
Kids-Choose-the-Menu Day. Kids rule the food and choose what they want to make and eat.
Grandparents Day—include grandparents. Go see the lights, a movie, a play, etc.
Craft day—spend the day making holiday crafts, cookies, etc.
Read stories around the Christmas tree
Join another family and go sleigh-riding, ice-skating, or caroling
#10. Secret Family Elves
Put each family member's name in a hat and have everyone draw out a name. Shh…keep it secret! Throughout the month each person does nice things for the family member they picked…simple acts of service—such as making the person's bed or lunch; writing a note and putting it under their pillow; helping with homework, etc. Rule: can't purchase anything–you can only give service or make something. Reveal secret elves on Christmas Eve.
#11. Visit Hospitals or Assisted Living Centers
Call a hospital or assisted living center and ask how your family can help during the holidays. Sing carols to the patients? Bring treats? Read Christmas stories?
#12. Adopt a Family for Christmas
Find a family in need; adopt them and provide their Christmas. Contact your city, churches, homeless shelters, etc., for names of people needing help. Your children will never forget these acts of service. They bring the best kinds of meaning to Christmas.
 

2 

Teaching Moments About Christmas
#13. The Symbols of Christmas

Share with your children some symbols of Christmas including:
Evergreen tree: symbolizes survival in harsh times, life and good fortune, peace, and hope
Lights: The light baby Jesus brought to a dark world
Colors of Christmas: green symbolizes mystery and life; red the death of Christ, and gold is one of the gifts given to the Christ child by the wise men and is associated with light, wealth, and royalty
Wreaths symbolize the eternal nature of life
Stars: the star of Bethlehem leading people to Christ
#14. Ancestor Christmas
Research what your ancestors did during the Christmas holidays. Undoubtedly their celebrations were simple and included games, dancing and baking certain foods. Create a legacy and adopt some of their traditions.
4 Christmas Traditions of Crafting & Baking
#15. Favorite Christmas Foods
Make special foods for Christmas such as cookies, pastries, cakes, puddings, or main dishes that you only make at Christmas. Fondue and raclette originate from France and Switzerland but are favorites to add to Christmas celebrations. Be creative–borrow from the food traditions of other countries.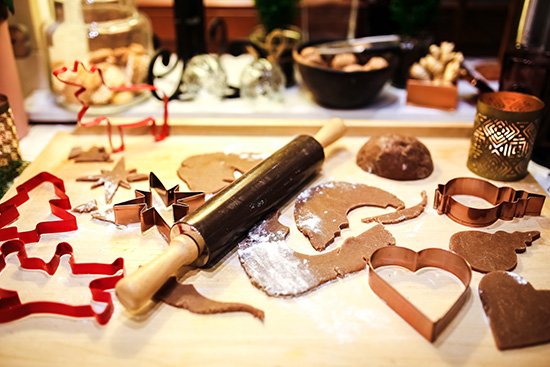 #16. Special Christmas Dishes
Christmas dishes are everywhere. With your kids, decide on a pattern you think would be fun to use for the next 25+ years. Use the dishes the entire week of Christmas. I have two sets that I trade off throughout the season and our kids love eating off them every year.
#17. Christmas Cookie Exchange
A Christmas Cookie Exchange is a fun way to sample different kinds of Christmas cookies, bars, or candy and add new recipes to your repertoire. Organize about 10 friends to join in the exchange. Decide on how many dozen cookies, bars, or candies each person needs to bring (all one kind) and how you will divide them up. Include your kids.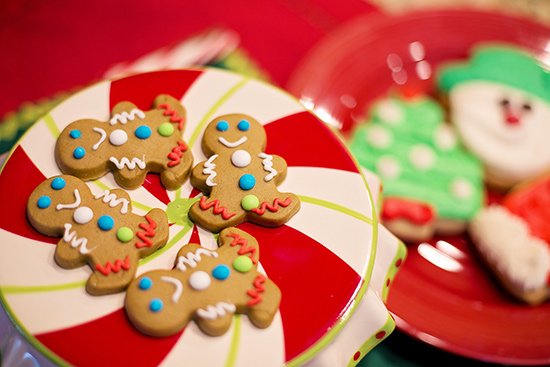 #18. Yule Log
The Yule Log has a long and involved history. It started out as a Viking ritual of bringing a tree log into homes or villages; burning it and saving a piece of the log to use as kindling for the next year's log. It symbolized the driving away of evil spirits while bringing good luck for the coming year.
Thanks to the French, today the yule log is a log-shaped cake called, Buche de Noel. It is served after midnight mass on Christmas Eve and is meant to warm both heart and home.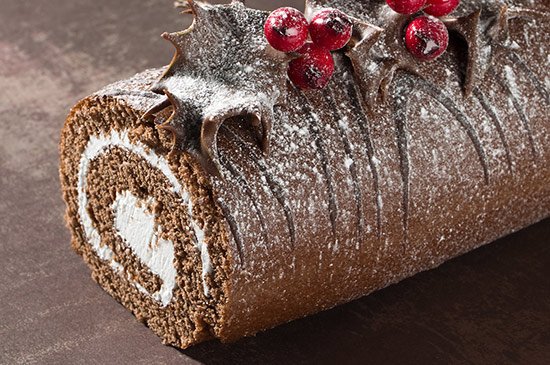 10 Christmas Traditions Activities
#19. A Visit from Santa
If possible, arrange for Santa to come to your house to visit your children. Provide small gifts for Santa to give each child. This was a tradition our children loved—the same Santa came to visit them year after year. They never knew when he was coming which increased the excitement and anticipation!
#20. See the Lights
In every city and town, Christmas light displays are available to see. You can either drive through (and stay in your warm car) or you can walk around. Either way, Christmas light displays tend to be spectacular! Don't miss them!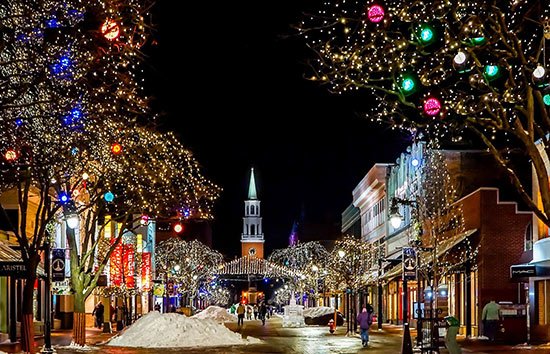 #21. "A Christmas Carol"
Look in your area for the play, "A Christmas Carol." It is a heartwarming story that is sure to become a yearly family favorite. Afterward, go to dinner and discuss your children's favorite parts and the meaning of the story.
#22. Nutcracker Ballet
Every child needs to see the Nutcracker ballet at least once. Before going, read the book several times and play the music so your kids are familiar with the story and music. This is a fun way to add culture to their lives.

#23. Messiah Sing-Along
If you like music and like to sing—join a Messiah Sing-Along in your community. I was 14 when I sang with my first choir performing "Messiah." It was an exhilarating experience and one I'll never forget. Take your kids and have the sing-along of a lifetime!
#24. Christmas Puzzle

Every holiday, set up a Christmas puzzle on a card table for everyone to put together during the month.
#25. Sleigh Ride & Sledding
Ever been on an actual sleigh ride driven by horses? If you have an opportunity to do this—go for it! It will feel like a throwback to the 1800s as you are "dashing through the snow, in a one-horse open sleigh…"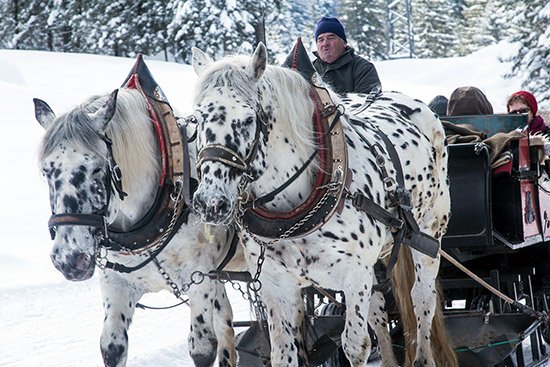 If you can't find someone to take you on a sleigh ride driven by horses–take your kids and go sleigh riding with a sleigh. Because there is no snow in Southern California–we took our kids to the snowy mountains to experience the fun of sleigh riding.

#26. Christmas Movie Party
Throughout the month of December watch Christmas movies as a family. Have everyone write down what they liked best about the movie on pieces of paper. Pull them out of a hat and discuss Christmas films and how they create lasting impressions.
#27. Christmas Movie in a Theater
Hollywood can always be counted on to produce a Christmas movie every year. Take the whole family. Go to lunch or dinner and discuss everyone's favorite parts.
#28. Birthday Cake for Jesus
Baking a birthday cake for Jesus has existed for 100s of years. Cakes are usually white (purity of Jesus) with red frosting (shedding of Christ's blood for us). The cakes are baked with little treasures inside and the rising of the cake symbolizes the resurrection of Christ. After children hear the story of the First Christmas, everyone gets a piece of cake. Children hope to get a slice with a trinket inside.
9 Christmas Traditions on Christmas Eve
#29. Christmas Eve Family Night: Birth of Christ
On Christmas Eve many Christians read the story of The First Christmas from the Bible signifying the reason for the season. Make or purchase inexpensive costumes and as the family acts out the story complete with Mary, Joseph, the shepherds, wise men, and donkeys.
#30. Christmas Eve Pajamas & Socks
Every year purchase new Christmas pajamas. Wear them on Christmas Eve and Christmas morning as you are unwrapping packages. (plus it's the perfect Kodiak moment). Or, extend the fun and wear them from December 1-December 31!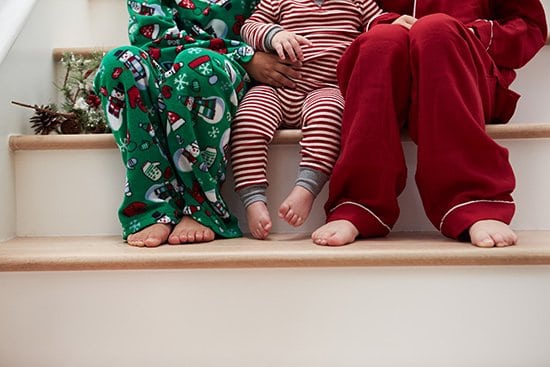 It's also fun to purchase Christmas socks for everyone in the family–to go along with the Christmas PJs!

#31. Read The Polar Express
Read The Polar Express by Chris Van Allsburg on Christmas Eve—reminding your children of the importance of "believing" in the spirit of Christmas which is the spirit of giving.
#32. Christmas Caroling

Singing Christmas songs as a family from door-to-door is such fun and one your children will love—plus neighbors love carolers!
#33. Telephone Caroling
If you have relatives in other states, call them up and have your family sing carols over the phone. You stay warm and have fun at the same time!
#34. Christmas Candling
As your children are going to bed on Christmas Eve, give each child a candle (or LED light) as they march into their bedrooms.

#35. Gift Exchange
Prior to Christmas Eve have everyone pull out of a hat a family member's name to give a $10 gift to. On Christmas Eve—exchange these gifts.
#36. Jolabokaflod: The Christmas Book Flood
This is a tradition in Iceland. Instead of giving the usual gifts, parents give their children many books that are exchanged on Christmas Eve. Family members spend the rest of the evening in bed—reading and eating chocolate!
In Poland, families exchange oplatek wafers embossed with the Nativity scene. Each person receives a wafer to eat before Christmas Eve dinner. Fathers and mothers embrace and express their love for each other and each takes a bite from the spouse's Oplatek. This ritual is repeated with each family member. They are reminders of the importance of family love.
 7 Traditions on Christmas Day
#38. String Gift Treasure Hunt
On Christmas Eve my husband takes a long string; attaches part of it to the Christmas tree and winds the rest of it all over the house, the yard, the garage, and the attic. Each string has a child's name on it. On Christmas morning, each child takes their string and winds it around to their special gift. This has been a favorite tradition at our house for over 40 years.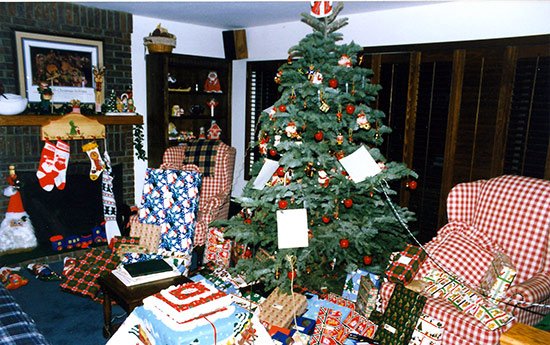 #39. Letter from Santa
This goes with the string on the tree (above). Each string has a special Christmas letter from Santa attached telling them how much they are loved.
#40. Special Christmas Breakfast
After opening presents—make a special Christmas morning breakfast complete with unique breakfast foods. At our house, Christmas breakfast always included a German fruit bread called "Stollen." It was a bread our German ancestors made during the holidays.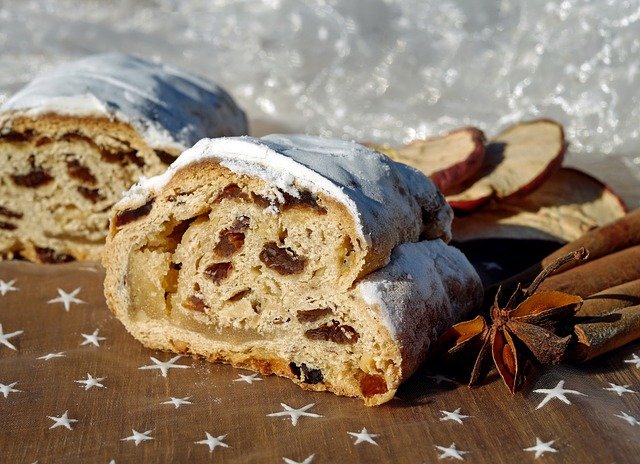 #41. Healthy Treats in Stockings
If you allow your kids to open their stockings before you get up—fill the stockings with healthy foods to eat such as fruit, granola bars, or protein bars. This will stave off hunger pains until breakfast.
#42. Three or Four Christmas Gifts
Some families like to give three meaningful gifts symbolizing the 3 gifts given to the Christ Child by the wise men. Others give 4 gifts symbolizing: "one thing they want; one thing they need; one thing they wear; one thing they read." The Vikings gave three gifts: one useful, one meaningful, and one that required discipline.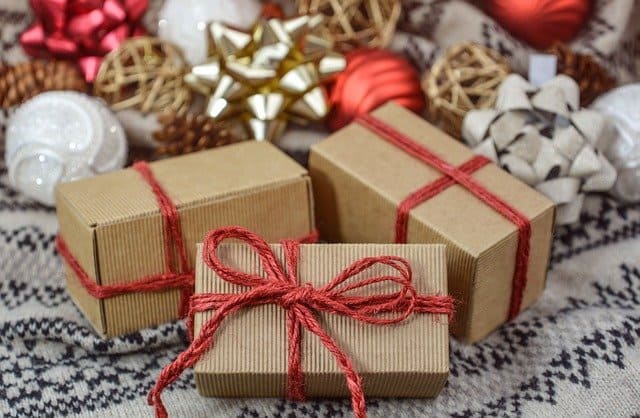 #43. Christmas Pickle Ornament
This tradition has many versions. One version says: parents hide a pickle ornament deep into the branches of the Christmas tree. The next morning the child who finds the ornament receives an extra gift from St. Nicholas and the first adult who finds it gets good luck for the whole year.
#44. Family Videos of Christmas Past
After the festivities of Christmas morning—play videos of your family from Christmas past. It's a fun tradition and helps everyone realize the many blessings received each Christmas.
Taking the Decorations Down
 #45. Christmas Mug Underneath the Tree
When taking the Christmas decorations down, put a Christmas mug underneath the tree filled with fun Christmas candies for everyone to eat. Children love discovering this mug under the tree.
What are some of your cherished Christmas traditions? Ones your family enjoy year after year? Please share! You can never have enough traditions!
If you want to see the video that goes with the blog,

click here.


Here is the "Teaching Tips for Parents" section. Additional ideas to help you as you choose the best traditions for your holiday celebrations.