Inside: Here is a recipe for the best crockpot apple butter to make with your kids and grandkids. Delicious, nutritious, and easy to make—perfect on toast or ice cream.
Crockpot Apple Butter: Make it with Kids & Grandkids!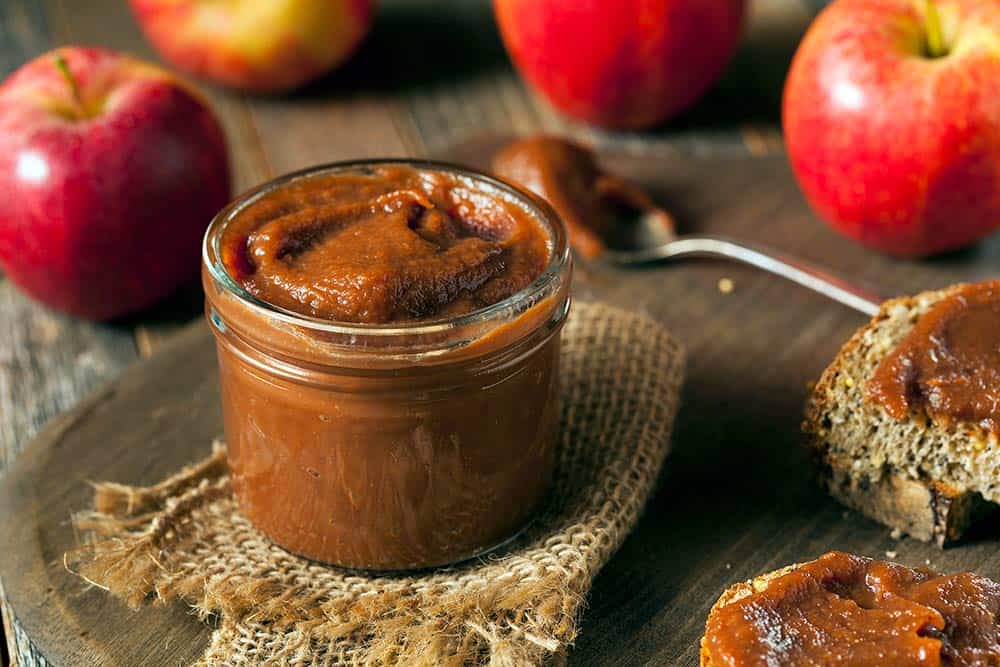 Have you ever made apple butter or applesauce with your kids or grandkids? It's incredibly easy and the crockpot does most of the work.
Since 1988 our family has made a "pilgrimage" during the fall to apple country in San Luis Obispo, California. We pick the most amazing apples and pumpkins! The apples are so fresh that they last for months. After eating ourselves full of apples, we turn the rest into applesauce or apple butter.
Here is the recipe for crockpot apple butter. Included are options on how to use the same recipe for applesauce. The best part of apple butter is that it tastes and smells just like an apple pie! Be sure and involve your kids and grandkids–they will feel a sense of accomplishment after making crockpot apple butter.
Best Crockpot Apple Butter to Make with Kids & Grandkids
Best Crockpot Apple Butter: Healthy Smart Kids in the Kitchen!
A delicious recipe for crockpot apple butter. Make it with your kids in the kitchen!
Author:
Sharlene Habermeyer
Recipe type:
Crockpot Apple Butter
Ingredients
6 pounds apples or enough to fill up a large crockpot
2 cups apple cider or apple juice. If you want your apple butter thick, put in 1 cup of juice. The apples make their own juice, too.
1 cup sugar (you can vary this depending on the sweetness of your apples—start with ½ cup—it may be sweet enough)
2 teaspoons cinnamon
1 teaspoon nutmeg
½ teaspoon allspice
½ teaspoon ground cloves
Dash of salt
Instructions
Cut and core the apples. You can leave the skins on or peel them off
Fill the large crockpot to the top with apples
Mix the apple juice/cider, sugar and spices and pour over the apples
Cook on low for 8-10 hours (your house will smell amazing!)
In batches, blend in a blender.
Pour into sterilized jars. Put the band on and screw the metal ring on the jar.
In a canning pot, bring the water to a boil. Carefully put in the jars. Bring the water back to a boil and boil for 15 minutes. Remove and set on the counter to cool
You can eliminate step #7 and just freeze the apple butter. Put in 2-cup plastic freezer containers with lids and freeze.
Options for Making Applesauce with this recipe:
Use 6 pounds of apples: peel, quarter, and core
Use only ¼ cup of apple juice.
Add 1 teaspoon of cinnamon and ½ teaspoon allspice.
Cook in the crockpot on low for about 4-6 hours
Instead of blending in a blender, use a whisk and whisk until you have the consistency of thick applesauce
NOTE: Applesauce is not as dark as apple butter. It uses less cinnamon and has no cloves in it.



This section is designed to give you ideas on how to involve your kids and grandkids in the process of making apple butter and also helping them understand some of the nutritious benefits of the ingredients in apple butter. Knowledge is power—and kids and grandkids want to know "why" they should eat certain things. So, here are some facts and ideas…
Tip #1: What do you Eat with Apple Butter? 
Apple butter tastes delicious on toast; with vanilla ice cream or right out of the jar. You can eat it like applesauce but there are more spices than what you would find in applesauce. And apple butter has a smoother texture.
Tip #2: Involve Your Kids & Grandkids when Making Crockpot Apple Butter
When making apple butter have your kids/grandkids help. They can:
Peel, core, and quarter the apples.
Measure the spices, sugar, and apple cider
Blend the apple mixture once it has finished cooking in the crockpot
Put the mixture in jars
Help cook the jars on the stove
Or help put the apple butter or applesauce into plastic containers and freeze
Tip #3: "An Apple a Day Keeps the Doctor Away."
We've all heard this saying, but what's in apples that make them so healthy for our children/grandchildren?
Answer: it's the powerful phytochemicals and phenolic compounds found in apples. Together these compounds fight against cancer, keep the immune system high, and keeps the heart-healthy. Most kids have healthy hearts, but parents are always looking for foods that increase their immune systems. Give your kids/grandkids an apple a day to eat to keep them healthy—especially when they are in season.
Tip #4: Apples Lower Asthma in Children/Grandchildren
Eating an "apple a day" also helps lower asthma in children and is associated with a lower risk of diabetes.
Tip #5: Apples High in Fiber
Kids/grandkids need a healthy dose of daily fiber. Apples contain pectin which is a valuable source of soluble fiber. The pectin and hemicelluloses in apples can keep your child's digestive system healthier because they are a natural intestinal cleanser.
Apples can also lower bad cholesterol and help to regulate blood sugar. This is interesting since apples contain fructose sugar. However, fructose contains 5 grams of fiber and has a rich blend of nutrients which makes it so nutritious and healthy for kids/grandkids of all ages.
Tip #6: Apples Contain Boron
Boron is a mineral and apples are one of the best sources of boron. If you are a kid—boron is amazing to help with energy. Drowsy college students were given boron supplements and their alertness increased substantially. If your kids come home tired from school—feed them an apple to energize them before doing their homework or other activities.
And don't peel your kids apples—that peel has potent antioxidant activity and can inhibit the growth of several types of cancer.
Tip #7: Cinnamon: A Powerful Spice
Cinnamon is the most amazing spice to add to apple butter and gives it that delicious smell. It's also loaded with powerful phytochemicals. Here are a few amazing things it can do:
It's considered a carminative meaning it can relieve gas.
Cinnamon can relieve nausea for kids feeling sick
It can help boost a child's appetite
Found to lower and moderate blood sugar in diabetics.
Helps combat candida in the lower intestine
FAQ's
Does Apple Butter Need to be Refrigerated After Opening?
To err on the safe side–yes, apple butter should be refrigerated after opening. Even though the apples have been cooked and you've processed it in a hot water bath, or have frozen it, refrigerate after opening.
How Long Does Homemade Apple Butter Last?
Apple butter that has been processed in a hot water bath will last at least a year. If you opt to freeze your apple butter, it will also last a year.
Grab your kids and grandkids and make this crockpot apple butter recipe or opt for plain applesauce. Both are delicious and nutritious and a fun recipe to make for Fall.
If you've made apple butter or applesauce with your kids–what was your experience in the kitchen? Please share in the comment section below