Inside: Here are 3 recipes for the best DIY sugar scrubs to make with your kids and grandkids. Unique ingredients, easy directions and loads of fun! Discover tips on how these elements impact the skin and ways to teach your kids critical thinking skills as they create these fabulous sugar scrubs!
DIY Sugar Scrubs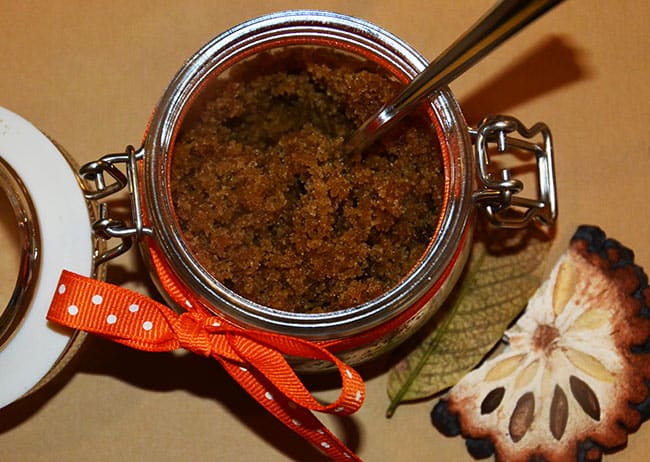 Have you ever made a sugar scrub with your children or teens? They are amazing for the skin and will keep it glowing and healthy! Here are three fun Holiday recipes for DIY sugar scrubs to make with your kids and teens.
And, don't hesitate to make these with your sons. The men's grooming movement started in 2002. In a nutshell, men came to the realization that there is more to grooming than using a toothbrush. They are interested in having good skin.
Here are some fun facts, recipes, and more about scrubs.
DIY Sugar Scrubs—What Are They? 
Scrubs are ingredients (sugar, oatmeal, cornmeal, salt, etc.) that when gently rubbed on the face or body remove or exfoliate the dead skin cells that have built up on your skin.
1. Why scrubs?
Exfoliation is necessary because as the dead skin cells build up, they mix with bacteria and oil and clog the pores and create blackheads and breakouts. This dead skin buildup can also cause your complexion to look dull and blotchy and for girls, their makeup will not go on as smoothly.
2. How Often Do You Use Scrubs?
When you're young, use scrubs 2-3 times per week. Young skin makes new, plump skin cells as fast as the old ones get sloughed off.
As you age, exfoliate only once a week. The process of making new skin cells slows down and the dead skin doesn't get sloughed off as quickly or as evenly. Too much exfoliation will cause your skin to dry out and thin faster.
3. What is Needed in DIY Sugar Scrubs?
Scrubs require two main ingredients: an exfoliant such as sugar, salt, oats or cornmeal. And something to bind these ingredients such as coconut, apricot, almond, grapeseed or olive oils. You can also add essential oils, fibers or powders for color, fragrance, and texture.
4. Why Natural Ingredients?
Use natural and fresh ingredients and eliminate the unnecessary chemicals found in commercial scrubs. And, you'll save money. When using essential oils try oils from Young Living or from dōTERRA®.
5. Healthy Diet = Healthy Skin
Your skin care regime should include a healthy diet of fruits, veggies, and water. Also, watching your sugar consumption will help immensely because too much sugar will cause your skin to age quicker.
6. Throw a DIY Sugar Scrub Party!
Help your teens plan a "Sugar Scrub" party for their friends. These recipes are simple to follow and luscious to use. Encourage your tweens, teens, and grandkids to experiment with the recipes. Creativity and imagination are born from experimentation.
6 Skin Benefits of  DIY Sugar Scrub Ingredients
Scrub ingredients have many benefits. Here are some benefits of the ingredients:
1. Oats
To keep the scrubs simple, I did not include oats. However, they work great as an exfoliate and are powerful for radiant skin. Why? Oats contain proteins called saponins and they help to dissolve oil on your skin and loosen dirt from your pores.
If you use oats in any of these recipes, grind them into a flour in your blender. Don't use instant oats—they don't mix well with wet ingredients.
2. Cocoa Powder
The Halloween scrub calls for cocoa powder. The flavonoids in chocolate help to filter out UV rays and it's high in antioxidants which destroy free radicals associated with aging.
It's also an excellent source of vitamins A, C and D. Vitamin A heals damaged skin and reduces the appearance of wrinkles. Vitamin C increases collagen production in the skin. Vitamin D creates healthy skin cells and improves skin tone.
3. Cranberry
The Christmas scrub has a cranberry fiber made from fresh cranberries. Cranberries contain ellagic acid that helps to prevent wrinkles and premature aging. They also block the formation of MMPs (Matrix Metalloproteinases). MMPs are enzymes that are activated when you get too much sun exposure or inflammation. They are not good because they break down collagen and elastin.
4. Grapeseed Oil
As a facial scrub, grapeseed oil helps to:
soothes acne
tightens skin
helps diminish dark circles around the eyes
moisturizes
reduces scars
restores collagen
fights aging
5. Coconut Oil
Coconut oil, like olive oil, contains fatty acids that will replenish your skin's natural protective barrier without irritating the skin or causing a rash. Coconut oil prevents wrinkles, sagging skin, and age spots. For these recipes, use food-grade coconut oil–not a cosmetic grade.
6. Dead Sea Salt
Dead sea salts promote the healing of skin tissue and is essential for cell metabolism.
Application Instructions
When using a scrub—be gentle. You don't want to end up with red or irritated skin.
Pay attention to the "Options and Substitution" section. They are great ideas for your kids to experiment with.
Use body scrubs in the shower—if you're concerned about something going down the drain—use a drain trap.
Before making the scrubs, watch the two 1-minute videos here
DIY Sugar Scrub Recipes for Halloween, Thanksgiving & Christmas
I've taken my favorite ingredients and created these yummy holiday scrubs. They make great holiday gifts and your teens, tweens or grandkids will love making them.
NOTE: Usually when I make a scrub, it's a 2:1 ratio of sugar to oil. However, when adding powders or oats, they absorb more liquid so the amount of fatty oils may need to be increased. If you live in high elevations–you will need more oil as well.
All of the recipes make about one batch of scrub. I get all my ingredients from Majestic Mountain Sage.
Halloween Chocolate Orange Cinnamon Scrub
The combination of chocolate, orange, and cinnamon in this scrub is luscious.
Halloween Chocolate Orange Cinnamon Scrub
Author:
Sharlene Habermeyer
Ingredients
1 cup granulated sugar (or organic sugar or a combination)
½ cup coconut oil (melted)
1 Tablespoon cocoa powder
15 drops Orange Essential Oil (if you're using Young Living or dōTERRA® oils, use less)
5 drops Cinnamon Essential Oil (or ½ teaspoon cinnamon powder)
Instructions
Mix the coconut oil and the orange and cinnamon essential oil
Mix the sugar and the cocoa powder together
Mix the wet and dry ingredients together
Can be covered and stored in the refrigerator.
To use: you may have to add a bit more coconut oil if the scrub seems dry from being in the refrigerator.
Gently scrub over your body while in the shower.
Rinse well
Options & Substitutions:
Substitute ¼ cup ground oats for ¼ cup granulated sugar
Add: 1T dead sea salt to the recipe
Thanksgiving Brown Sugar & Apple Spice Scrub
Thanksgiving Brown Sugar & Apple Spice Sugar Scrub
Author:
Sharlene Habermeyer
Ingredients
1 cup brown sugar (do not pack and I use DARK brown sugar)
½ cup grapeseed oil (adjust amount as needed--the higher the elevation, the more you will need)
8-10 drops Apple Jack fragrance oil (has apples, oranges, and vanilla fragrance)
Instructions
Mix the grapeseed oil and Apple Jack fragrance oil together in a bowl
Add the brown sugar and mix well
Can be covered and stored in the refrigerator
To use: you may have to add a bit more grapeseed oil if the scrub seems dry from being in the refrigerator.
Gently scrub over your body while in the shower
Rinse well
The grapeseed oil in this recipe will linger on your skin after showering
Options and Substitutions
Substitute 1 cup brown sugar for 1 cup white raw or organic sugar
Add 1 T dead sea salt to the recipe—if using as a body scrub
Substitute the Apple Jack fragrance, add citrus essential oils such as orange, lemon, tangerine or lime
Christmas: Pomegranate Body Scrub with Cranberry Fiber
The smell, the feel, and texture of this scrub are amazing plus the Christmas red is perfect for the season.
Want the Recipe? Check out the Protected Resource Section
If you want the recipe to the Pomegranate Body Scrub with Cranberry Fiber, you can access it on my Protected Resource Library. Please fill out the form below with your email and I will send you the password. If I already have your email, open your email and the password is included.

This recipe is just one of many items included in the Resource Library. You'll also find lists of books for kids (all ages and stages), recommendations of toys and games that build the brain, nutrition tips for kids, music CD lists (music lists for when your kids' study), recipes, free printables and more. Trust me, you'll want access to this section if for nothing else but to have this recipe–it's that amazing!
Packaging Your Scrubs
Think up clever ways to package your scrubs—jars, bottles or other fun containers. When giving these as a gift, include several things in the basket: the scrub, herbal teas, candles, a rejuvenating gel mask, loofah sponge, and of course a fun label giving directions on how to use.


This is an additional learning section for parents, children, and teens. Go over these questions and see what creative responses you can come up with.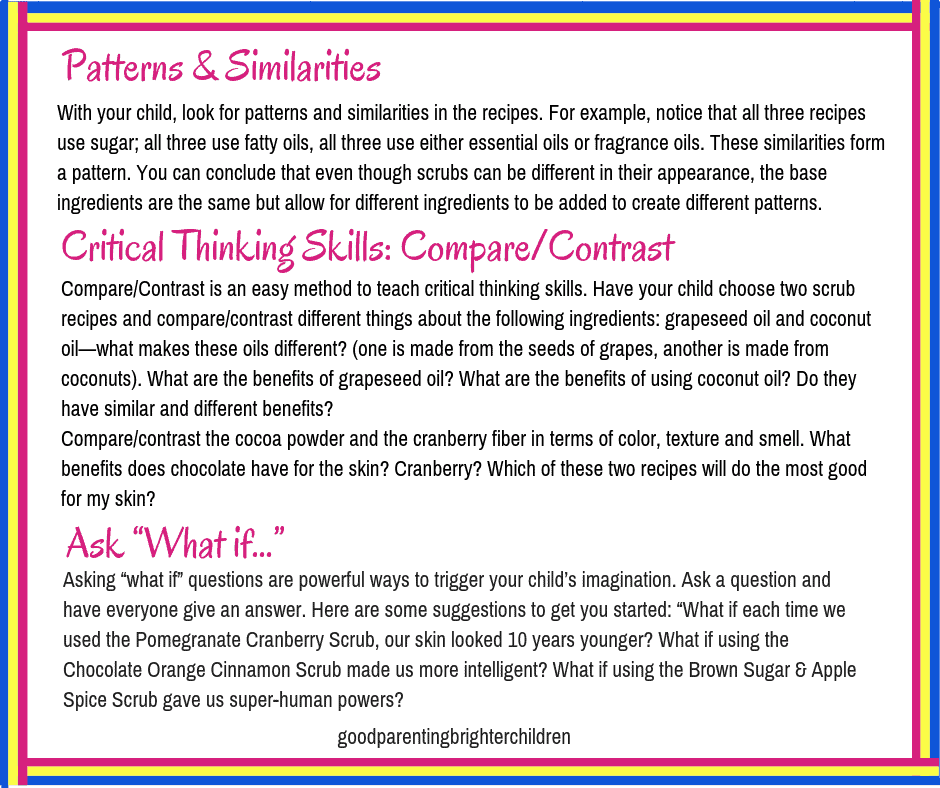 What scrubs have you made? Are they seasonal or can they be used year-round? Please share your ideas and comments in the section below.


Want to remember this? Post "How to Make the Best Holiday Sugar Scrubs with Your Kids," to your favorite Pinterest board!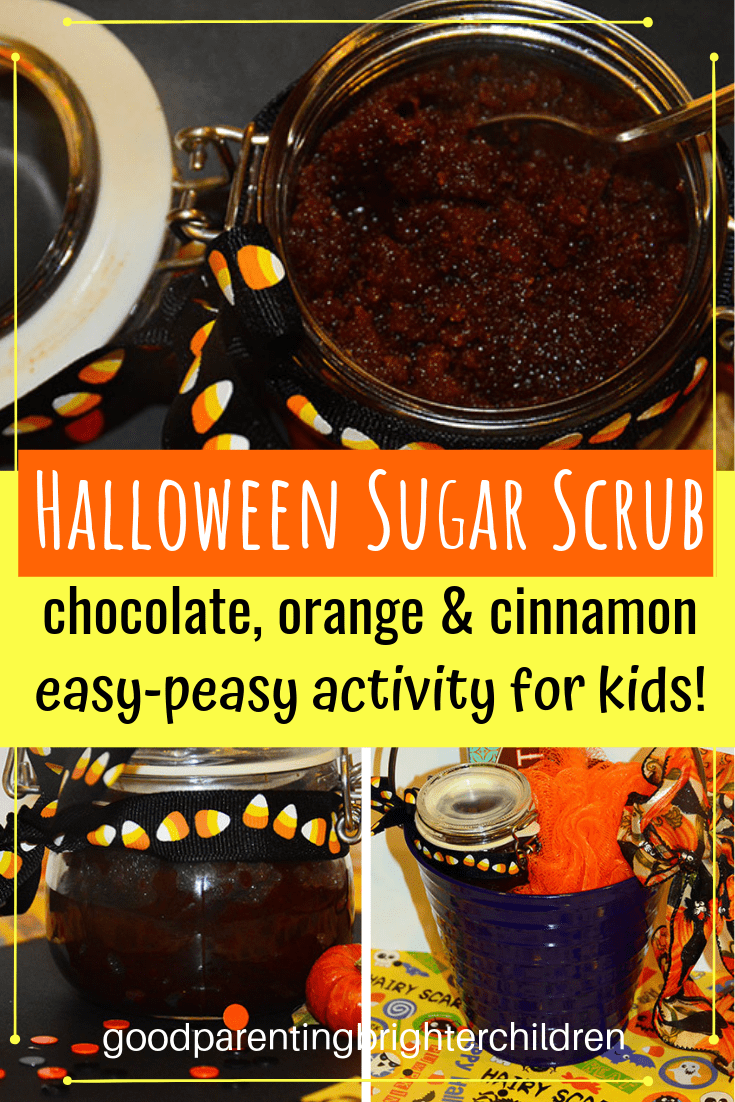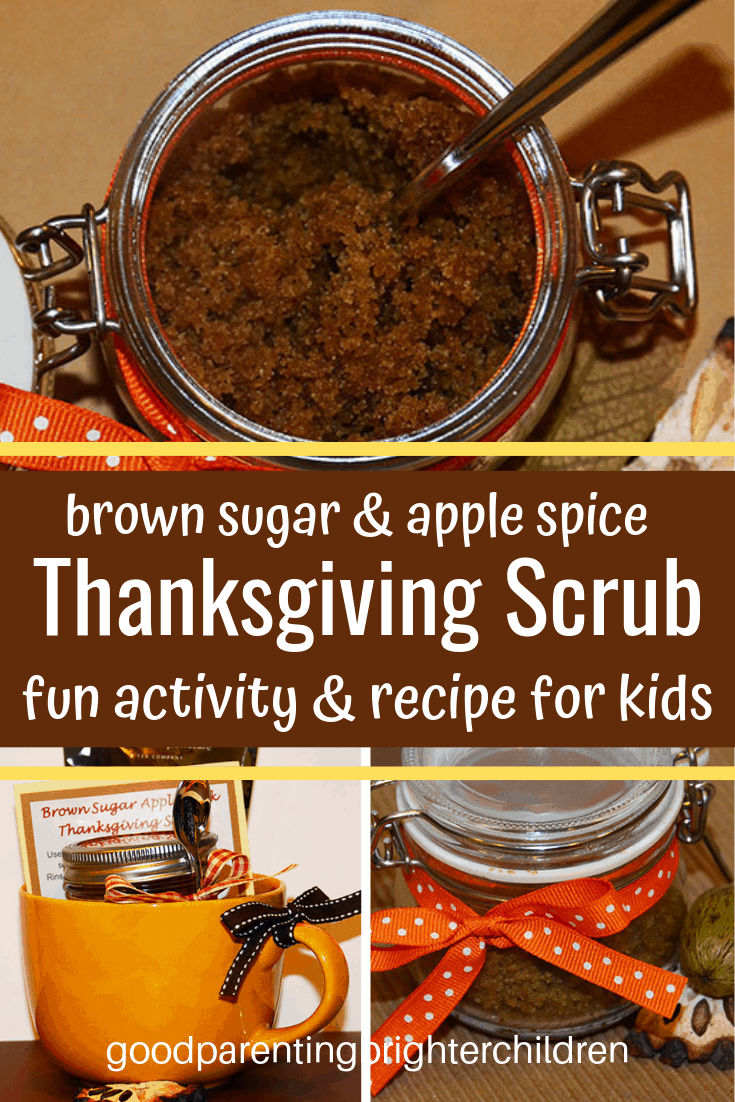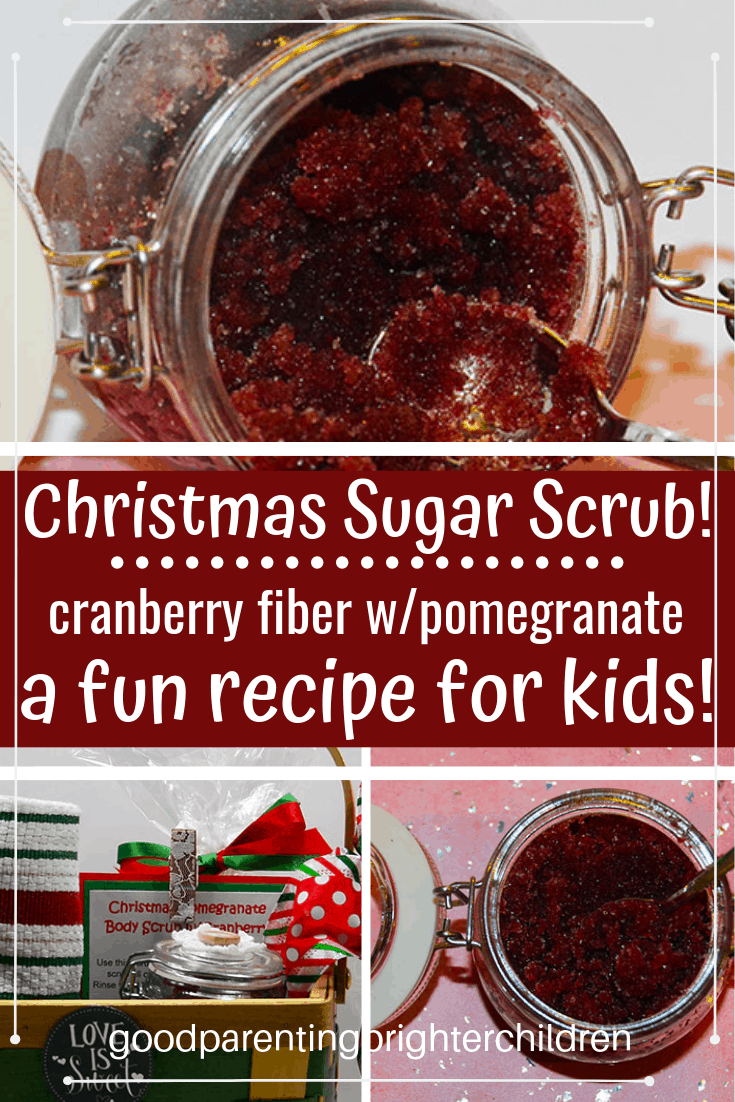 FAQ's
How do you make homemade sugar scrubs?
Homemade sugar scrubs are super easy to make. Using a 2:1 ratio of 2 parts sugar to one-part oil such as coconut, apricot, almond or even olive oil. However, if you add powders or oats, or live at high elevations, you will need more oil. Take 2 cups sugar to 1 cup oil, mix and apply to your face and body. Sugar scrubs act as a safe exfoliate for the face and body; are easy to make and much less expensive than store-bought varieties.
How long does DIY sugar scrub last?
They can last several months if kept in the refrigerator. However, it's wise to make them up in small batches—such as 2 parts sugar to 1-part oil, mix, apply and store in the refrigerator. Each of my 4 recipes will last for 4 scrubs in the shower using half per shower. Most people use sugar scrubs at least once a week, so this recipe will last a month.
What is the best sugar to use for sugar scrubs?
Any sugar works fine, but I like using organic sugar because the granules are larger and will make a coarser sugar scrub that is perfect for the body. Using gentle motions, you can also use it on the face. Regular sugar that is more refined and works well on the face for a less coarse scrub.
How do you make a sugar scrub without coconut oil?
Use other oils in your sugar scrub such as almond, apricot, grapeseed oil or olive oil. All of these oils have skin benefits; smell great and blend perfectly with sugar to create a wonderful sugar scrub for the body and face.