Inside: You've put controls on your child's tech use because you know the negative effects of technology on the brain. Now what? You need to have something to fill that "time-hole" Offer your children these 14 brain-building activities that are fun, interactive and will boost mental clarity. Parents—there are ideas here for you, too!
Effects of Technology on Kids
This blog is part of my "Tidbits of Wisdom for Parents," YouTube video series. To access the video, "The Effects of Technology," click here.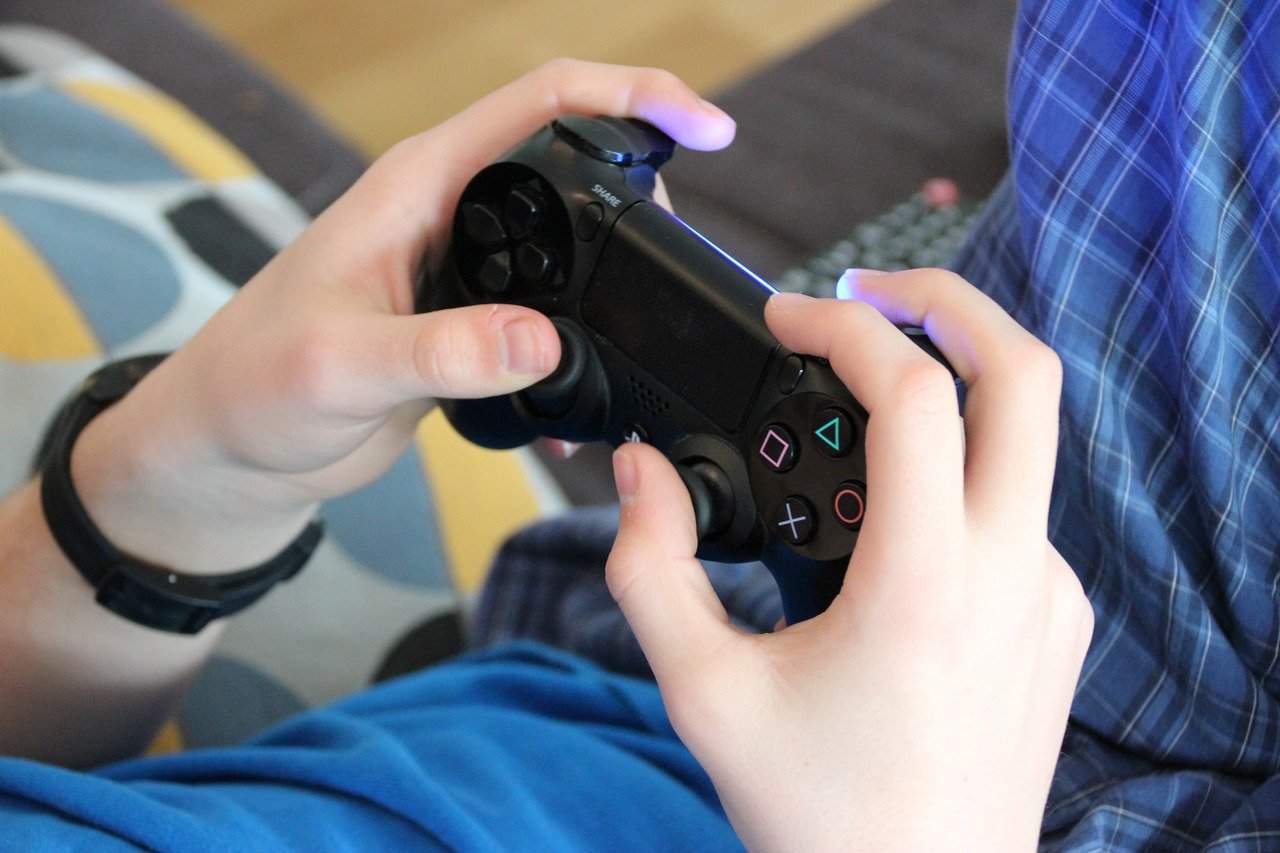 Okay, you've put the brakes on your child's tech use. You're limiting the amount of time they use video games, Facebook, the Internet, their phones and all the other social media platforms because you know the dangers of the effects of technology on their brains and their learning. You've turned a deaf ear to their screaming and revolting over the new rules.
Now what?
Your child now has a "time-hole" that needs to be filled with something.
What brain-building and FUN activities can you offer your kids in exchange?
Here are fourteen ideas. Not only are these activities fun, but they also build the brain, teach important values and lessons, and help your child to stay healthy and well. All things that tech-toys don't do.
Effects of Technology: 7 Brain-Building Activities Instead of Technology
Here are 14 brain-building activities for kids and parents who are trying to cut down on so much technology use and understand the negative effects of technology. These ideas are fun, interactive and build the auditory, visual and motor cortices of the brain. Perfect substitutes for too much tech-use!
 #1: Music Lessons
Learning a musical instrument does the opposite of everything tech devices do.
First: music strengthens memory and develops visual/spatial intelligence which helps children solve three-dimensional problems in their minds-eye (think Einstein).
Second: music "grows" a bigger, better brain by enlarging the planum temporal which plays an important role in language development, auditory processing, and by enlarging the corpus callosum which is key in brain organization. (the corpus callosum is the bridge between the left and right sides of the brain).
Third: learning a musical instrument develops socialization skills in children and young people. When a child plays in the school band or orchestra they learn how to:
work together with others
solve problems together
learn and understand the process of give-and-take
Fourth: as your child learns to play a musical instrument through daily practicing, they learn valuable character qualities such as:
responsibility
dependability
discipline
teamwork
problem-solving skills
These are all qualities that will mold them into hard-working and emotionally stable adults.
If you are going to enroll your children in music lessons–consider this:
Why not take music lessons with them? We did with our kids and they actually loved it. (I think they liked the fact that we had to suffer through practicing along with them).
You will be a great example to your kids, and the time you spend practicing together will help to form a strong relationship and parent-child bond.
 #2: Board Games
Board games are interactive and fun and the opposite of the negative effects of technology. Your kids will learn how to:
get along with others
follow rules
win and lose (important life lessons)
detect patterns
foster strong hand-eye coordination
increase math skills
Trade the video games for board games and watch their abilities to problem-solve soar!
Here are a few favorites: Quirkle, Speed Sports Stacking Cups, Monopoly, Scrabble, and Sorry!
A word about Speed Sports Stacking Cups: I talked about these on another blog and mentioned that they are addicting and fun. Watch the possibilities of this game here.
They build the brain, teach sophisticated hand-eye-coordination, and are a great alternative to playing mindless video games.
 #3: Dancing, Sports, and Movement Keeps Kids Healthy & Well
"Movement is an indispensable part of learning and thinking," says Dr. Carla Hannaford, author of Smart Moves, She believes that the most natural way for kids to learn is through "…spontaneous movement." Scientists also know that any kind of physical exercise increases endorphins—the "feel-good hormone."
Studies show that kids who move (running, skipping, jumping, dancing, etc.) do better in school and are better readers and writers. They also keep the feel-good hormones and endorphins at peak level so your kids stay healthy and well. Simply put, movement increases the number of neural connections to the brain and makes you smarter.
Get your kids involved in sports or dance lessons or any activity where they have to move. Whether it's ballet, tap, modern dance or a team or individual sport, they help with:
physical coordination which increases bodily/kinesthetic intelligence
memory as they memorize rules, strategies, specific moves or dance steps, etc.
listening skills as they listen to their teacher, coach, and other dancers or players
Movement is not only great for the body but imperative for building the brain and will counteract the effects of technology overuse.
Regarding sports: if team sports are not your child's "thing" then check out individual sports such as swimming, tennis, golf or working out at the gym. And join with them and make it a family affair.
Bottom line: kids (and parents) need to move!
#4: Art, Drawing, Coloring, Doodling
Art is a wonderful activity for building spatial skills and fostering creativity. Instead of spending useless hours in front of a 2-D tech-screen, kids can nurture their creative juices through coloring, doodling, painting, drawing and crafting.
There are literally hundreds of art activities that can be done at home.
Think about:
Drawing or Painting in a Vertical Position:
For young kids: put butcher paper on the walls and let them draw, paint, color or doodle standing or sitting up. Drawing in a vertical position helps a child with:
midline crossing, which helps to determine right or left dominance
hand-eye coordination
spatial awareness
posture
movement
You can also purchase canvases at Michaels, some inexpensive paints and have your child paint pictures that can be hung in their bedrooms or throughout the house. It helps them to understand three-dimensional space and increases the visual/spatial areas of the brain. Plus, it's loads of fun!
Coloring and Doodling
I've talked about this in another blog, but coloring has become a HUGE pastime for many people. Your child can color at home, in the car going to lessons, before/after homework, and even before bedtime to relax before going to sleep. Anytime is a good time to color.
Some of the most interesting art that I've seen is children's doodling. If your child is bored—give them paper, colored pencils, pens, etc., and encourage them to doodle to their heart's content. It's a better alternative to tech-toys and doodling builds their brains.
And, there is the whole gigantic world of crafting where the possibilities are endless.
#5: Books and Reading
If you want to raise smart kids you need to read aloud to them. Every. Single. Day. For at least 30 minutes. And check out books at the library for them to read by themselves. Make it a special family tradition.
The result: smart kids who can actually think! (the opposite of the negative effects of technology).
Benefits of reading aloud to your children:
An important activity for building knowledge and eventual success with children
Listening comprehension comes before reading comprehension. Both are important for school success
Reading aloud builds imagination and fosters creative thinking
Builds larger vocabularies and longer attention spans
Creates kids who are early talkers and early readers
Reading to your children and discussing books is a social experience and will form a lifelong bond and will make them lifetime readers. Go to the library today and get reading!
#6: Playing with Friends: A Great Way to Exercise 
When I was growing up playing with the neighborhood kids was an everyday occurrence. Times have changed. Today, parents plan "play dates," for their kids and spontaneous play is, in some neighborhoods, a thing of the past.
Friends playing non-stop video games together is not the same kind of interaction as when they're playing board games, sports, riding bikes, talking or other engaging activities together. These provide three-dimensional play and social engagement. Plus, the interaction of playing with friends can increase a child's immune system and keep them healthy.
Playing video games is centered on a two-dimensional screen. Interaction is minimal and movement is non-existent.
Think about what you learn from playing with your friends…
Conflict/resolution
Sharing
Give and take
Bonding together
These are valuable lessons needed for future success in college, jobs, marriage and raising kids.
#7: Chores
Kids need daily chores. Period. They need to understand that in a family, everyone helps and that chores add structure and routine to their lives as well as helping them feel a part of the family. By helping with chores they understand that their contributions are valued.
Give your kids chores appropriate for their abilities such as:
taking care of the family pets
doing dishes
sweeping the floor
making their beds
cleaning their rooms, etc.
Daily tasks will teach them confidence and important life skills.
These are 7 ideas. Think of others. So, when your kids complain they're bored and want to whittle away their time on tech toys–offer them something that will build their intellect and prepare them for the future.
Effects of Technology: Parents and Technology Use
Okay, up to this point, it's been about your kids and tech devices. The same rules apply to parents. But what about parents whose work requires being on a computer for 8+ hours per day?
Then what?
If your job requires long hours on the computer or other tech devices, you need to reset your brain every hour for about 5-10 minutes. If not, you can lose gray matter in the brain and gray matter doesn't come back. It is responsible for just about every function in your body: hearing, seeing, touch, taste, memory, emotions, speech, decision-making, muscle control, and more.
7 Activities for Resetting the Brain
The effects of technology from overuse it not a good thing. Resetting the brain is a must and is a no-brainer. Try one of these activities:
#1: Take a walk and look at nature.
Find 5 minutes each hour to get away from your desk and go outside and walk in nature—even if it means just walking around a building.
#2: Look at pictures of nature.
If you can't get outside, then take 10 minutes each hour to look at pictures of nature. A study at the University of Michigan revealed that merely looking at pictures of nature can actually reset the brain.
#3: Listen to classical music.
Spend 10 minutes each hour listening to Bach, Handel or Mozart. Again, studies show that listening to music exercises the entire brain. I taught college for 10 years and the first thing my students did when they came to my class was to ditch their cellphones. Then they took a 10-minute quiz while listening to classical music. It was a simple exercise, but it helped them to focus on the rest of the class.
#4: Take a hot bath.
If you work from home, take a break and soak in the bathtub for 10 minutes.
#5: Exercise. 
Do some kind of exercise each hour to reset the brain such as sit-ups, jumping jacks, stretches, or jump rope.
#6: Laugh out Loud. 
When they say laughter is the best medicine—it's true. Studies show that your brain functions better if you are exposed to laughter. Get a joke book and laugh away!
#7: Super Brain Yoga

.
This is a very interesting, short exercise that actually will reset and build your brain at the same time. Watch this video to see how it's done.  It includes other types of resetting the brain like tapping–but focus on the way she illustrates how to do super brain yoga. And watch this video about super brain yoga of how it helps kids with learning disabilities.
Getting controls on your family's tech use should not be an option. In the beginning, you and your children may feel like addicts coming down off opiates, but don't give up. Try one or more of these activities together as a family. You will be glad you did and—so will your brain!
Enjoy!


Want to remember this post? Post, "Effects of Technology: Do These 14 Amazing Brain-Builders Instead!" to your favorite Pinterest Board!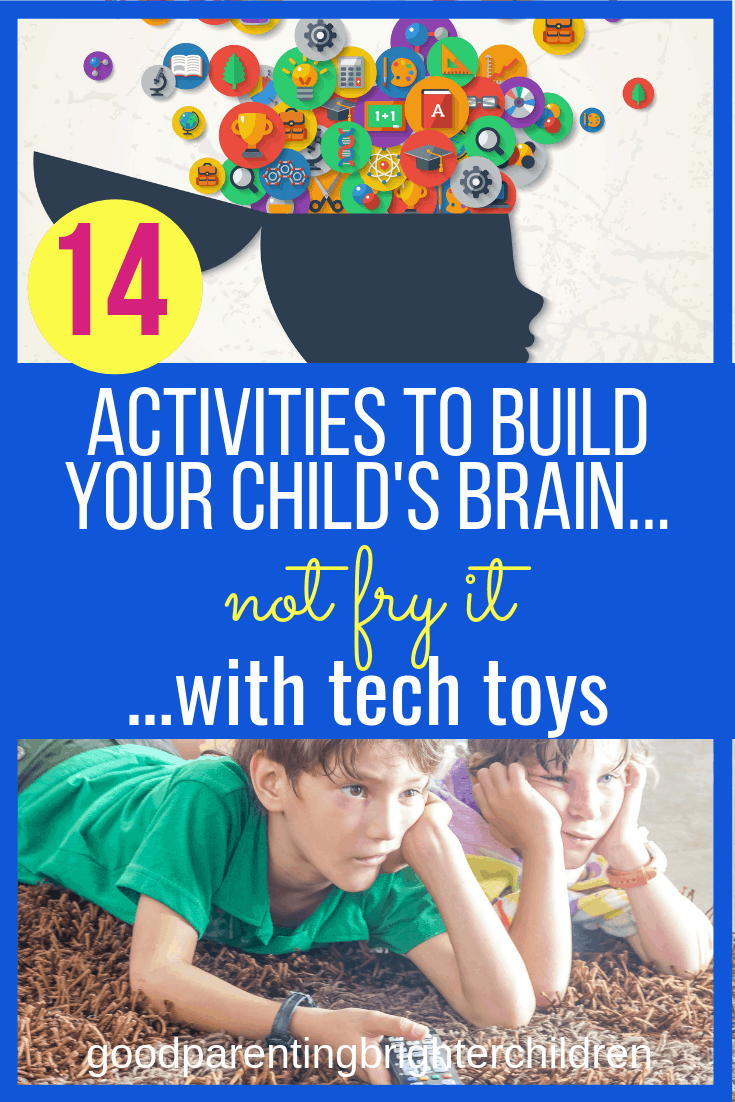 FAQ's
How does technology affect us?
Technology can affect us positively or negatively, depending on how it is used and the amount of time spent on tech devices. Like anything—overusing technology and being on tech devices all day long can cause a host of learning issues, emotional trauma, sleep disorders, mood disorders, obesity and more.
What are the positive effects of technology?
Technology is neither good nor bad—its value is predicated on how it is used. It's an amazing tool; provides a wealth of easily-accessible information; allows for the storage of information; is a tool that provides quick communication with people, and can keep us in touch with long-distant family and friends. But too much technology causes a host of problems.
What are the disadvantages of technology?
Technology is wonderful for many things, but its overuse can cause addiction, significant learning issues and dehumanize us. Too much tech-use can cause the following problems with children and adults of all ages: Obsessive-compulsive disorder. ADD/ADHD—43% increase in kids using tech devices. Visual Perception. Obesity. Addictions. Sleep disorders. Depression, Mania (1 in 5 children now have mental health issues because of tech-use). Mood disorders. Increase suicide (200% increase in kids ages 10-14 from too much tech-use). Loss of empathy. Altering the wiring of the brain that leads to short attention span and memory.