Inside: Here's how famous kings, queens, Baroque musicians, and designers such as Dolce and Gabbana celebrate their lavish parties with elegance, grace, and amazing classical music.
A Fashion Music Show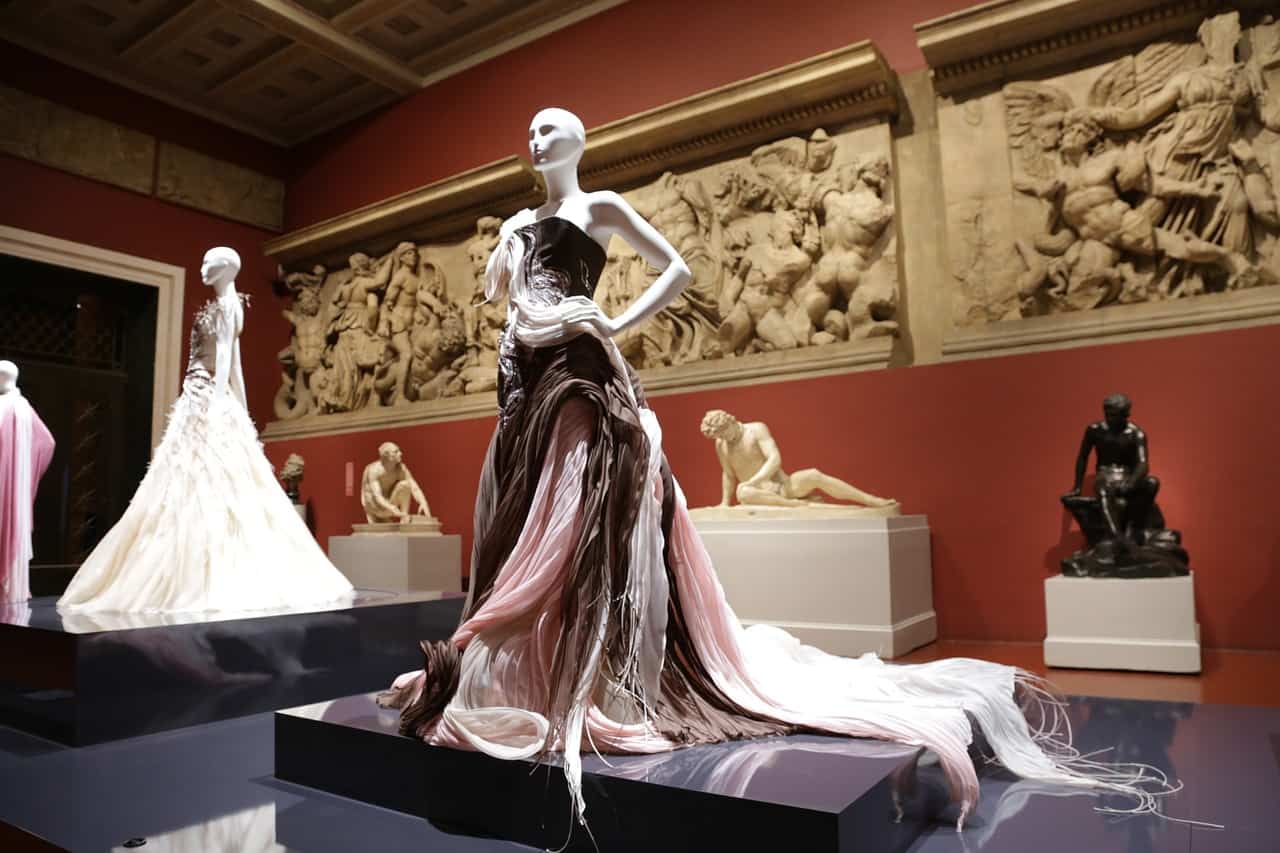 What do designers Dolce & Gabbana, composer George Frideric Handel, and royals Queen Elizabeth I and King George I have in common? 
Answer: combined, they created an amazing fashion music show.
In 2014, famous Italian designers, Dolce & Gabbana launched their annual Alta Moda collection on the rocky shores of Capri, Italy. Guests traveled by boat or helicopter to this remote island paradise and were warned to wear flat shoes.
The designers presented 78 looks starting at $40,000. Every striped and floral dress was a masterful work of art; hand-painted and hand-stitched and accessories included 18-carat gold sandals and flip flops lined with astrakhan fur.
Unlike Paris's haute couture shows which draw crowds in the thousands and include writers, editors, and celebrities, the Dolce & Gabbana's "Collezione Capri" was attended by only 250 people to a site reachable only by boat. In previous years, Alta Moda collections have been staged in Mr. Dolce's native Sicily.
This time, Mr. Gabbana greeted people arriving at the island on his 51-meter yacht, Regina d'Italia ("Queen of Italy") while Mr. Dolce compared working on Alta Moda to reading the classics. 
The weekend concluded with a riotous party that included fireworks, dancing, and loud singing. Truly, an elegant fashion music show!
Dolce & Gabanna and George Frideric Handel: Teaming Up for a Fashion Music Show  
Ever heard the phrase, "the more things change, the more they stay the same?"   
When I read about this exclusive fashion show, I couldn't help but think about similarities between Dolce & Gabbana and other famous people from history like composer George Frideric Handel, and royals Queen Elizabeth I and King George I of England.
As far as boats and yachts and parties and clothes and music and fireworks go—it seems that royalty (dressed up as fashion designers, queens, kings or composers) love a party—and an elegant and ostentatious one at that! 
Interestingly, the "Collezione Capri" had all the trappings of an event that Queen Elizabeth I and King George I would have attended, or better yet, staged; with the classical music repertoire of George Frideric Handel playing in the background and the queen discussing the classic poets and writers of the day such as William Shakespeare and Thomas Wyatt.  
Queen Elizabeth would have loved Dolce & Gabbana; particularly their Alta Moda collection.  She was a clothes-horse, a fashion trendsetter and would have craved the detailed extravagance of this collection.
It is estimated that she owned at least 2,000 pairs of gloves; her fashions were considered outrageous in terms of volume, embellishment, and extravagance and she loved ornate dresses in all colors of the rainbow (sounds similar to the Alta Moda collection…right?)
She too owned something akin to a "Gabbana" yacht and on it she would glide down River Thames dressed lavishly with her entourage in tow and producing an elegant fashion music show.
Elizabeth I was very fond of music and played the lute and virginal (harpsichord) and other instruments. She also felt that dancing was a great form of physical exercise and employed musicians to play for her while she danced (think Mr. Gabbana dancing in a pink wig with his guests loudly singing "Volare"). During her reign, she employed about 70 musicians.
No doubt, the flamboyant end-of-a celebration party thrown by Dolce & Gabbana mimicked the parties Elizabeth I threw for the upper echelon of her court and all combined into an over-the-top fashion music show.
So how does composer Handel fit in with all this?
George Frideric Handel was the court composer for King George I of England. He was commissioned by the king to compose music to be played for his extravagant barge trips down River Thames–much like the models for the Collezione arrived by boat in dramatic parade-like fashion with music playing in the background.
At the king's request, Handel wrote what he simply called the Water Music.  History relates that when King George heard the music for the first time he was so captivated that he requested it to be played, not once, but three times!
If you've ever listened to Handel's music, particularly his Water Music, you know it's as elegant as the Alta Moda collection. The intricate patterns found in his music are similar to the intricate patterns found in the Alta Moda collection and both leave one breathless and inspired.  
Handel's music has made an indelible impression on the masses for over 200 years and I have no doubt that pieces from the Alta Moda collection will someday be found in a museum alongside Handel's music–both recognized treasured art pieces!  
Another Fashion Music Show: Treaty of Aix-la-Chapelle
For another occasion, King George I commissioned Handel to write the music to commemorate the signing of the Treaty of Aix-la-Chapelle (an occasion, like high fashion, that would demand a celebration). A huge victory pavilion was built to serve as the place for this event and the spectacular fireworks display. 
The king, of course, wanted equally spectacular music for the occasion, so he requested that Handel use only military-type instruments and no strings. The fireworks and music took place on April 27, 1749—a mere 265 years before the fireworks concluded Dolce & Gabbana's  "Collezione Capri" celebration.
It seems that royals, fashion designers, and musicians throughout history love extravagant parties complete with elegant clothes and inspiring music. Interesting that the parties from hundreds of years ago mirror the parties of today–creating the proverbial amazing fashion music show.
More Ways Fashion and Music are Linked
There are many ways that fashion and music have influenced each other through the ages. For instance:
1940's: Jazz Era with Miles Davis and Dizzy Gillespie influenced fashion with:
men with baggy suits
wide ties
wild shawl collars
two-tone shoes
1950's: Rock' N' Roll Era with Elvis Presley and Buddy Holly influenced fashion with:
men with long sideburns and greased hair
tight black trousers
crepe-soled suede shoes and pointed black leather boots
1970's: Glam Rock with David Bowie, Gary Glitter and Sweet influenced fashion with
brightly colored make-up for both men and women
bold metallic colors
bleached, dyed or wild hair
large platform boots
The More Things Change…
So, as we end, it's fitting that I quote from Bon Jovi's final stanza of, "The More Things Change,"
"You know the more things change the more they stay the same
The same sunrise, it's just another day
If you hang in long enough they say you're comin' back
Just take a look, we're living proof and baby that's a fact."
If you want to read more about George Frideric Handel; his life and music, refer to my book, Good Music Brighter Children
Have you ever had a party complete with high fashion and elegant classical music? Or better yet–a birthday party for your kids that mimicked fun dress-up clothes and beautiful classical music? Please share in the section below…


Want to remember this post? Post, "The Most Amazing Fashion Music Show Ever Created" to your favorite Pinterest Board