Inside: Here is the most amazing homemade fruit ice cream for your healthy smart kids in the kitchen to make. It's super simple and tastes amazing. Be prepared—it will be gone in a flash!
Fruit Ice Cream 
Do you like ice cream? Do your kids? If you do, you will LOVE this recipe! I posted another blog with a recipe for strawberry ice cream. It's fabulous, too, but this fruit ice cream is unique and tastes refreshing and delicious and even the youngest of children will gobble it up. It's a perfect blend of orange, lemon, and banana and your kids will have a blast making this fruit ice cream during the hot summer months.
It's non-cook ice cream. Some ice creams that contain eggs (especially vanilla or chocolate) require cooking the ingredients before putting in the ice cream maker. Not this fruit ice cream—just blend all the ingredients together and freeze in the ice cream maker. It's that simple and will take your kids about 30 minutes from start to finish.
Don't forget to check out the tips at the end of the recipe—they will let you know why homemade ice cream is 1000x better for your kids' health than the store-bought variety.
The Best Fruit Ice Cream
Best Fruit Ice Cream: Healthy Smart Kids in the Kitchen!
Author:
Sharlene Habermeyer
Ingredients
3 Lemons
3 Oranges
3 Bananas
2 quarts Half & Half
3 cups sugar
Ice
Rock Salt
Ice Cream Maker (I use the Aroma brand)
Instructions
Squeeze the oranges and lemons. Pour the juice into the blender
Mash the bananas and add to the orange and lemon juices
The next part is done in batches. You will be adding all the sugar and the Half & Half in the blender. It won't all fit in the blender so add and blend in batches.
Blend in the blender until smooth
Pour it all into a large bowl
Pour all the blended ice cream into the ice cream maker cannister
Put into the ice cream maker bucket and pour ice and rock salt all around the inside of the bucket
Freeze according to directions –about 20 minutes


This section is designed to give you nutritional and other ideas to involve your kids in the kitchen. They will learn so much by helping and assisting you in the kitchen and if you start them when they are young, they will love being in the kitchen cooking and baking up a storm when they are teens. Here are some nutritional tips about ice cream as well as different jobs your kids can do while helping in the kitchen.
Tip #1 Fruit Ice Cream: Divide & Conquer & Everyone Gets to Help! 
The whole idea of making fruit ice cream is to teach your kids the process which makes them more proficient in the kitchen and builds their confidence. So, everyone needs a job. Here are some ideas:
Job #1:
Squeeze the lemons and oranges. Here's a trick: before cutting the fruit, roll them back and forth over the countertop. This unlocks even more juice from the fruit.
Job #2:
Mash the bananas with a fork. Then add them to the lemon and orange juice
Job #3:
Add the sugar and Half & Half and blend them in the blender.
Job #4:
Pour the mixture into the ice cream canister and put into the ice cream bucket. Pour ice and rock salt around the sides of the bucket.
Job #5:
Watch the Fruit Ice Cream: be in charge of watching the ice cream change from a liquid to a solid. The ice cream maker will start going around and around rapidly at first, but will then start to slow down. Eventually, it will stop. The ice cream is done!
Tip #2 Fruit Ice Cream: Purchasing an Ice Cream Maker
Our family likes the "old-fashioned" ice cream makers—the ones with a wooden bucket like Aroma. You can get them at Sears, J. C. Penny's and Amazon. The Aroma is electric but has a bucket where your kids can watch the whole process. Other brands such as Cuisinart is also a good choice. However, they offer a pre-frozen canister to put the ice cream mixture in and we didn't like those as well because we wanted our kids to watch and learn the process from beginning to end.
Tip #3 Fruit Ice Cream: Sugar
Purchase organic sugar for this recipe. The granule is larger, but it hasn't gone through the same process as regular sugar. Plus, the sugar beets are grown in organic soil without any pesticides, etc. It's better for you and your kids!
Tip #4 Fruit Ice Cream: Store-bought Ice Cream vs. Homemade Ice Cream
 NOTE: this tip is important to explain to your kids…
Did you know that most ice cream in the grocery stores is made up of a bunch of synthetic chemicals? It's true! There are so many synthetic ingredients in ice cream that the manufacturers are not required to list all the ingredients on the label because there wouldn't be enough room to list everything!
For instance, here are all the chemicals used to make a strawberry flavor in your ice cream:
amyl acetate, amyl butyrate, amyl valerate, anethol, anisyl formate, benzyl acetate, benzyl isobutyrate, butyric acid, cinnamyl isobutyrate, cinnamyl valerate, cognac essential oil, diacetyl, dipropyl ketone, ethyl heptanoate, ethyl heptylate, ethyl lactate, ethyl methylphenylglycidate, ethyl nitrate, ethyl propionate, ethyl valerate, heliotropin, hydroxyphenyl-2-butanone, isobutyl anthranilate isobutyl butyrate, lemon essential oil, maltol, 4-methylacetophenone, methyl anthranilate, methyl benzoate, methyl cinnamate, methyl heptane, carbonate, methyl naphthyl ketone, methyl salicylate, mint essential oil, neroli essential oil, nerolin, neryl isobutyrate, orris butter, phenethyl alcohol, rose, rum ether, vanillian, and solvent.
And that's just the strawberry flavor! Think about all the other synthetic chemicals they put in store-bought ice cream.
Consider this: most store-bought ice cream is easy to scoop out. You will see that with homemade ice cream it has to sit on the counter for about 15 minutes before you can scoop it out. Again, chemicals allow the store-bought ice cream to scoop out easily.
Dump that frozen chemical cesspool and start making your own–plus it will become a fun family tradition!
Tip #5 Fruit Ice Cream: Ice Cream Books for Healthy Smart Kids in the Kitchen
Last, here are some fun books about ice cream or recipes for ice cream to enjoy while you make this recipe.
Curious About Ice Cream by Bonnie Bader
Gorilla Loves Vanilla by Chae Strathie
Awesome Kitchen Science Experiments for Kids by Megan Olivia Hall
Scoop the Ice Cream Truck by Patricia Keeler
Do you have a family favorite homemade ice cream? Do you have a favorite ice cream maker? Please share in the comment section below.


Want to remember this post? Post, "Best Fruit Ice Cream: Healthy Smart Kids in the Kitchen" to your favorite Pinterest Board!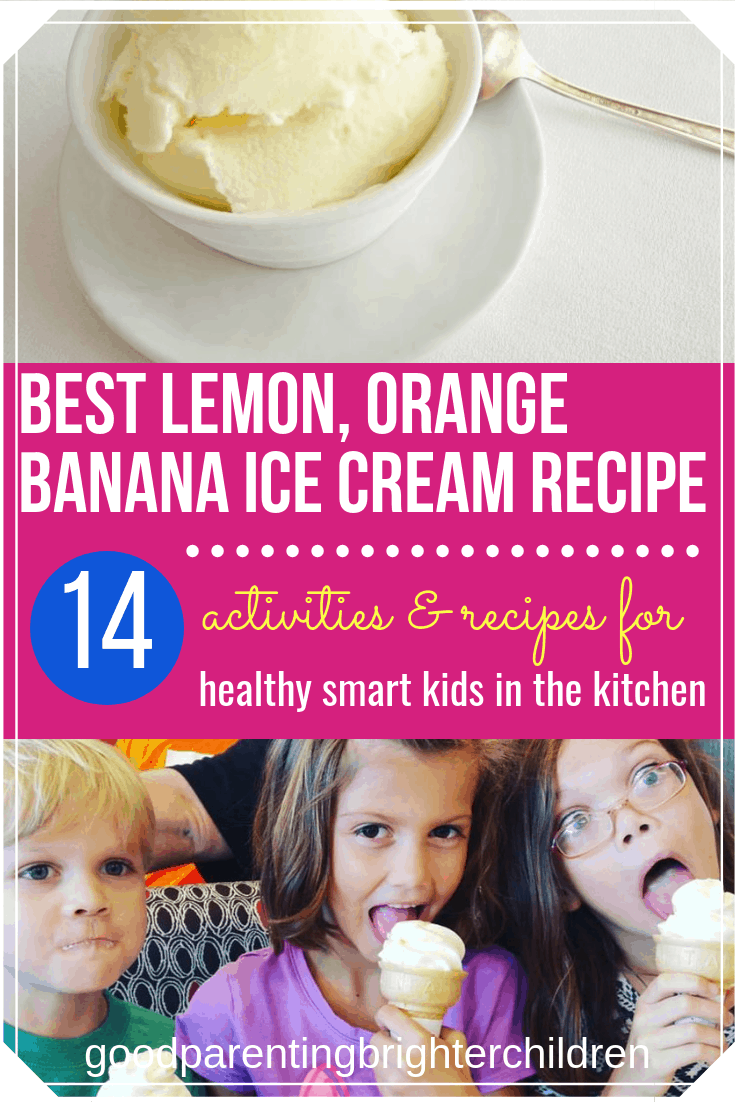 FAQ's
What is fruit ice cream called?
Fruit ice cream is any ice cream with fruit in it such as strawberry, lemon or berry ice cream. Fruit ice cream can have other berries or fruit in it such as blackberries, pineapple, and blueberries. It is refreshing and simple to make.
How do you make fruit ice cream in a food processor?
You can use the food processor to mix all your ice cream ingredients before putting it in the ice cream freezer. Food processors speed up the process and combine the ingredients quickly.
What is the healthiest ice cream?
The healthiest ice cream is homemade ice cream. Most store-bought brands are filled with synthetics, additives, and preservatives that are damaging to your health. There are so many synthetic ingredients in store-bought ice cream that the manufacturers are not required to list all the ingredients on the label because there isn't enough room for all of them on the package.
How can I make fruit ice cream at home?
Homemade ice cream is super easy to make. Some recipes (like this one) call for only 5 ingredients; no cooking; no fuss and made in 20 minutes in an ice cream machine. Old fashioned ice cream machines are fun for kids as they watch the liquid ingredients turn into a solid delicious and nutritious ice cream. Or purchase a canister that you can freeze all the ingredients in the freezer section of your refrigerator.