Inside: Does your family love homemade ice cream? Here is the best strawberry ice cream recipe to make with your kids. It's delicious and much healthier than the store-bought variety and it's just in time for the hot summer months. Indulge with your kids and have fun creating one of the best ice creams ever!
Best Strawberry Ice Cream Recipe 

As a child, the best part of my summer was making homemade ice cream with my dad. He loved ice cream and was a pro at making the creamy stuff. We kids were his devoted helpers.
I wanted my boys to have the same happy experience as I did and associate summer with homemade ice cream. So I was always on the lookout for great ice cream recipes.
My friend, Cindy Segawa is a connoisseur when it comes to ice cream. It's her favorite food group! She gave me this recipe and another banana, orange and lemon recipe that we made with our kids throughout the hot summer months.
Have you ever made ice cream with your kids? If not, you'll love this recipe…It's super easy and super delicious. Make it a summer tradition!
The Best Strawberry Ice Cream Recipe
Best Strawberry Ice Cream Recipe: Healthy Smart Kids in the Kitchen
Our family's favorite strawberry ice cream recipe. It's easy and requires no cooking--the perfect ice cream recipe to make during the hot summer months
Author:
Sharlene Habermeyer
Ingredients
2 quarts Half & Half
3 cups of sugar
5 cups crushed fresh strawberries
Ice
Rock salt (buy at any grocery store)
Electric Ice Cream maker
Instructions
Wash and hull the strawberries
Chop them in the blender
Add the half & half and the sugar in increments with the strawberries in the blender. Blend
Pour everything in a large bowl and stir. There should be a few small chunks of strawberries.
Pour into the ice cream maker cannister
Freeze according to directions. It usually takes our ice cream maker about 20 minutes
Add some fresh strawberries to the top--the perfect finishing touch!
NOTE: There are many different kinds of ice cream makers on the market. I have an Aroma brand but we've also used the Cuisinart. Our family personally likes the more old-fashioned type ice cream makers. Take a vote to see which one your kids would like to try. 

Making homemade ice cream is fun for the whole family. But it's more fun when everyone in the family has a job to do and is part of the experience. Here are some ideas to make ice-cream making the best experience for your kids!
19 Tips, Jobs, Suggestions, Science, Math & Books
Tip #1: 10 Different Jobs for Everyone (Divide & Conquer)
Even a 3-year old can help to make ice cream. Here are 10 jobs you can assign your kids when making homemade ice cream.
Job #1: Wash the strawberries
Job #2: Cut the green stem out of the strawberries (this can be done with a knife or even a child's fingers)
Job #3: Cut the strawberries in quarters and put them into the blender
Job #4: Chop the strawberries in the blender
Job #5: Mix the sugar and the Half & Half and blend in the blender. This needs to be done in batches. We usually mix a few of the strawberries and the milk mixture together
Job #6: Pour everything into a big bowl. Stir
Job #7: Get the ice cream maker ready. Make certain the cannister that holds the mixture is clean. Pour the ice cream mixture into the canister
Job #8: Put the canister into the ice cream maker bucket. Put ice and rock salt around the ice cream bucket. Turn on the ice cream maker
Job #9: Watch the ice cream maker as it churns around and around. When it starts to slow down it means that the ice cream is almost ready. It will get so hard that the ice cream maker will stop. That means the ice cream is finished
Job #10: Take the ice cream out of the canister and pour into a large bowl. If you want semi-hard ice cream—dig in! If not, put into the freezer for it to harden further.
Tip #2: An Entrepreneurial Adventure: 5 Lessons in Math & Creativity
Yes, I know all about lemonade stands—I had one myself as a kid and all my sons had one when they were growing up. They are great and teach kids a bundle of things about business, costs, return on investment, etc. (check out my blog on the best lemonade recipe ever). But, being an entrepreneur means being creative. So, why not sell something new, creative, or original while still learning business basics?
What about: "Homemade Ice Cream in a Dish?"
It would take a little more work, but the lessons could possibly be more powerful because your child is doing something more innovative. And it just may be more successful than a lemonade stand. Why? Because it's different and people aren't expecting it.
Parents, help your kids figure out all the costs because there are more ingredients and supplies required to make ice cream than lemonade.  They will need dishes, spoons, and napkins, plus all the extra ingredients to make the ice cream. And forget ice cream cones…homemade ice cream works better in a dish.
Here are 5 things to teach your kids when turning ice cream into a business:
Teach about costs—keep track of the costs of all the ingredients and supplies
Using simple math, help them to calculate how much it will cost for each dish of ice cream. This will be based on all the ingredients; the size of the dish (you should figure this in ounces) And you may want to invest in an inexpensive scale to see how big each portion will be and how many dishes of ice cream you can get from each recipe.
From that calculation, determine how much to charge per dish.
Last, it's important that your child understands about the competition (since we live in a competitive world). Ask your kids: how can you make your homemade ice cream stand different from the competition? Is serving homemade ice cream the unique and different part of your stand? (I think so…)
Later if your kids want to add something to the ice cream dish—consider toppings!
Try this ice cream stand and let me know how successful it is. To be honest, if I was driving down the road on a hot summer day and saw homemade ice cream for sale—I'd stop in a heartbeat and so would my kids. It's something delicious, different, and creative.
Tip #3: The Science Behind Ice Cream: Why Ice Cream Goes Solid
Use the process of making ice cream a lesson in science for your children. Ask them–how does ice cream turn from a liquid to a solid? Allow them to think the process through by asking them questions. Does the temperature of the liquid have anything to do with the change from liquid to solid? Does the salt help the mixture become solid?  After gathering everyone's input, explain the following:
When you mix all the ingredients together, the mixture is not very cold and in some cases (if you cook the mixture) it will be warm.
A warm or hot mixture causes the molecules to spread out and form a liquid
When the mixture becomes cold, (because of the ice packed around it) the molecules huddle together and the mixture starts to become a solid
The colder the mixture gets; the more solid it becomes.
The salt causes the ice cream to get solid even faster because salt has a lower freezing point making the ice cream even colder.
Eventually, because of the cold temperature, the ice cream turns into a hard solid.
Last–ask them–how could we change the solid ice cream back into a liquid? (add heat–remember point #1 & 2)
Tip #4: Be Creative…Try These Ice Cream Options
This recipe calls for strawberries, but any kind of berry or fruit will work: blackberries, boysenberries, blueberries or even peaches or kiwi. It's a super easy basic recipe and variations with your kids will make it that more educational and fun!
And if you do try variations—tell us in the comment section below—would love to hear about what you and your kids create!
Books for Healthy Smart Kids in the Kitchen
You have the recipe, now you need some books to read while the ice cream is churning away! Here are some fun books about ice cream–some are for younger kids and others you teens will enjoy reading the recipes.
Have you had some fun experiences with your kids making ice cream? Please share any and all ice cream experiences in the comment section below.


Want to remember this post? Post, "Best Strawberry Ice Cream Recipe" to your favorite Pinterest Board!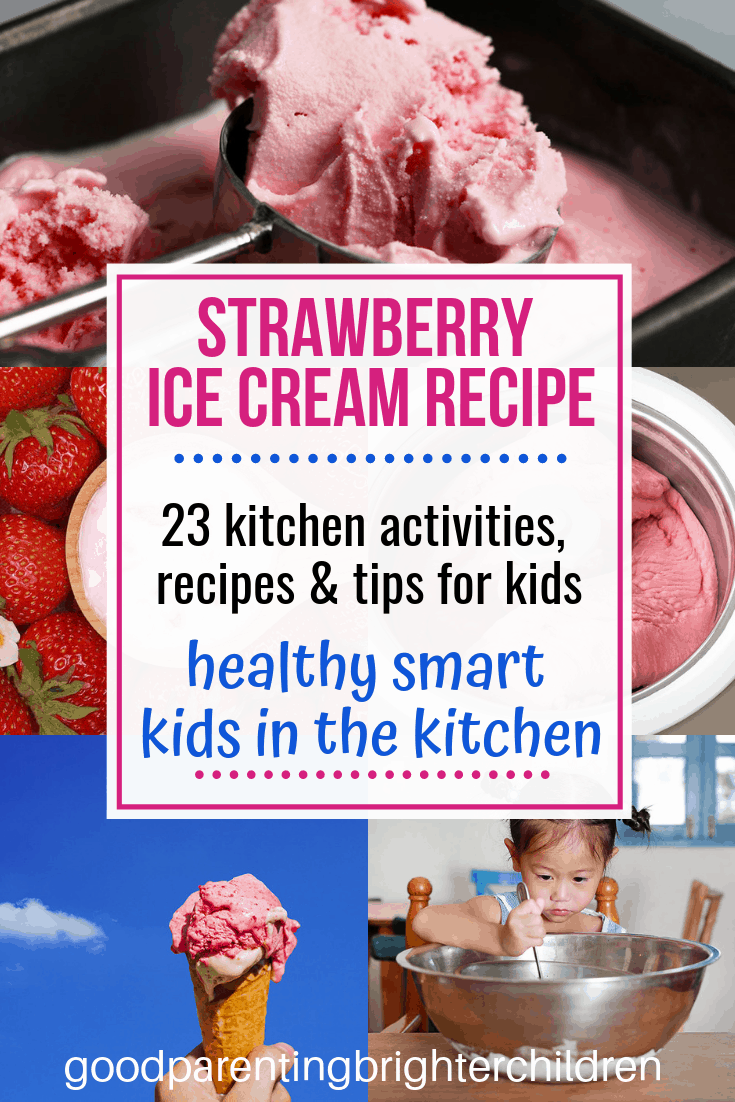 FAQ's
How do you make homemade ice cream from scratch?
Homemade ice cream from scratch is very simple. All you need is a simple recipe that calls for a few ingredients. The main ingredients are cream and sugar and then you can add fresh fruit or chocolate, etc., depending on the recipe. Some recipes call for eggs which will require cooking the ingredients before putting them into the ice cream maker. It's fun to use an old-fashioned electric ice cream maker so your children can watch the whole process. If so, you'll also need rock salt and ice. Once you make and taste homemade ice cream, you'll never go back to store-bought ice cream. Plus, homemade ice cream is better for you!
Why is strawberry ice cream pink?
Strawberry ice cream is pink because it may have strawberries in it which will turn the cream a light pink. However, store-bought ice cream uses synthetic dyes to turn strawberry-flavored ice-cream pink and synthetic flavors to make the ice cream taste like strawberries even if it doesn't have one strawberry in it at all!