Inside: Grandparents and Christmas are synonymous with excitement! And what creates a holiday that rings with laughter and fun are the celebration of memorable traditions with loving grandparents. Here are three grandmothers and 12 Christmas grandparent activities to make the holidays unforgettable.
Christmas Grandparent Activities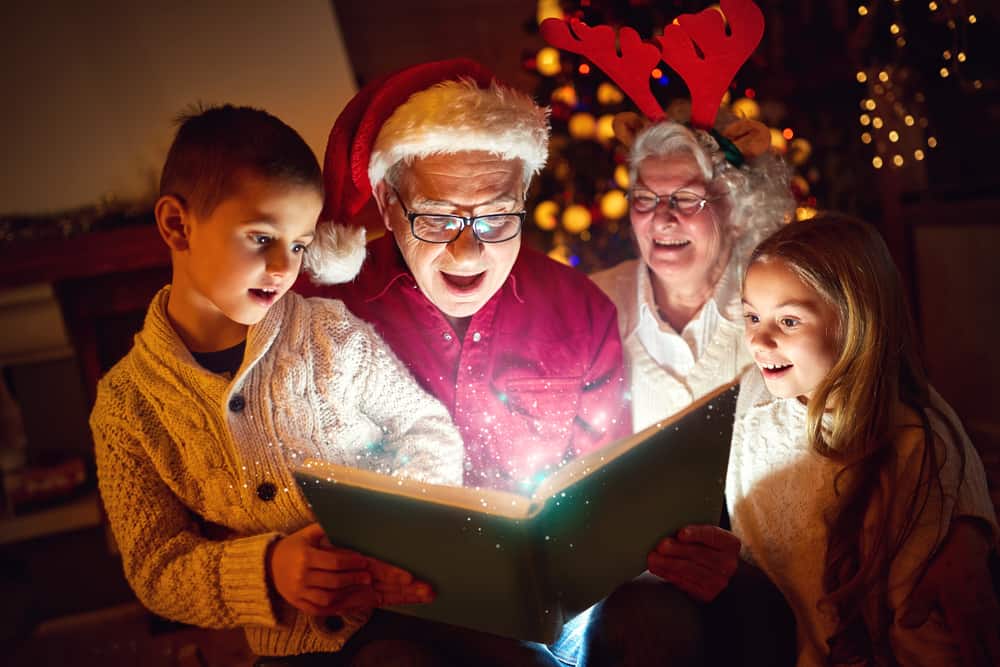 What name do you call your grandparents? Nonna and Nonno? Savta and Saba? Mawmaw and Pawpaw? Baba and Gigi? Yaya and Papoús?
Or just plain Grandma and Grandpa?
These are "terms of endearment," that children all over the world call their grandparents by. Each name holds within it feelings of love and deep devotion.
According to Roma Hanks, Ph.D., grandparenting is one of the most important family roles of the new century. Today, more than ever grandparents play an important role in their grandchildren's lives; especially around holiday time. Grandparent activities around the holidays are something grandchildren look forward to.
Christmas Grandparent Activities
Do you remember the traditions and activities that your grandparents did with you at Christmas? Whatever activities you engaged in, undoubtedly you remember sharing those memorable moments with people you love best.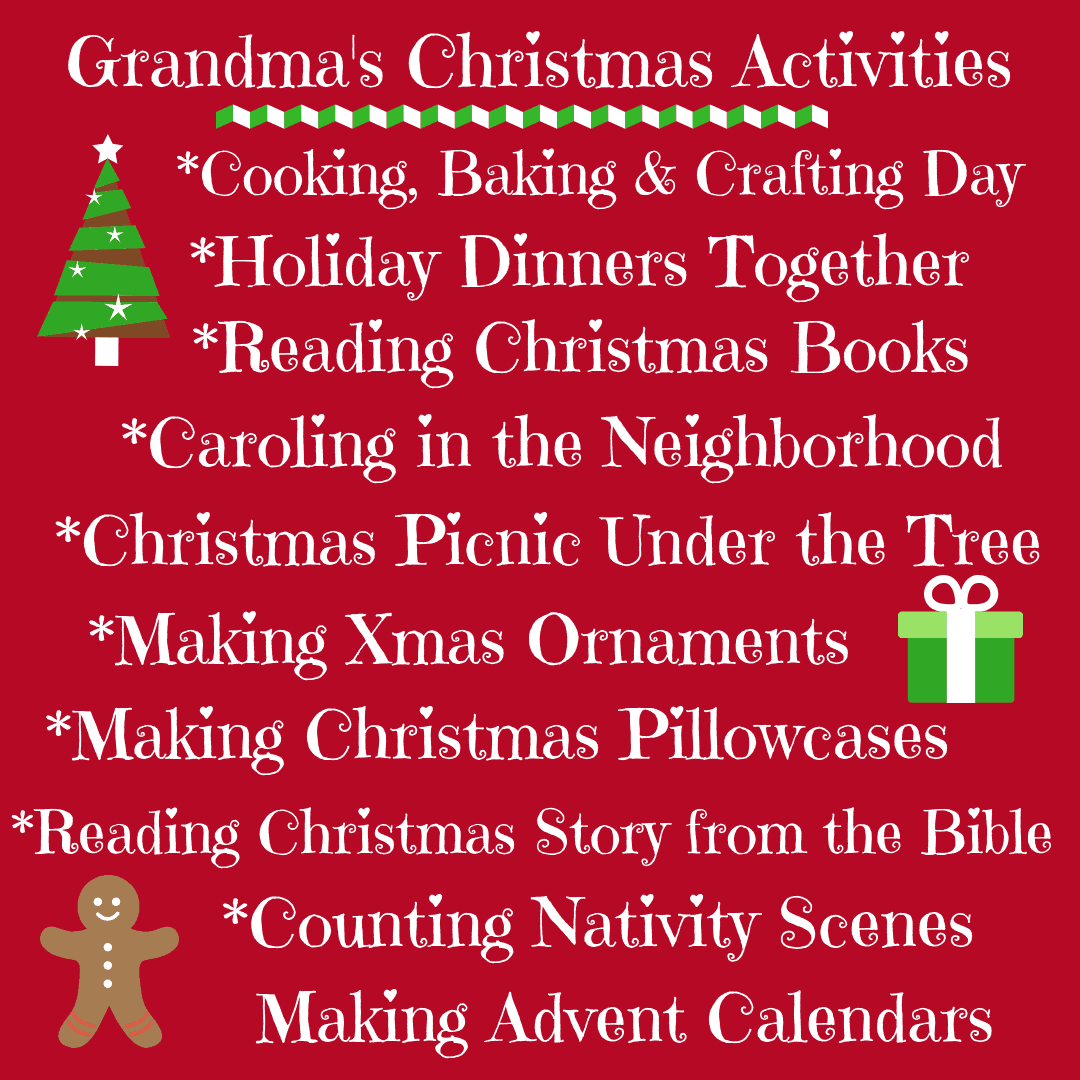 Here are three dedicated Grandma's, Yaya's, and Nana's who create extra special memories for their grandchildren around the holidays. If you're a grandparent–check out these 12 ideas and if they "fit" for you–incorporate them into your own festivities with your grandchildren!
Grandparent Activities: Cooking, Baking & Crafting
Do you have a favorite holiday recipe for cookies, cakes, candies, or pies you can make with your grandkids around the holidays? Dig out those recipes, plan a day, and invite the grandkids over to bake and cook to their heart's content. Many grandchildren learn the fine art of cooking while in the kitchen with their grandparents.
Or, as a grandma–do you like to craft? Most grandkids LOVE to craft–especially when it's with grandma. Choose crafts that are festive, simple, and involves cutting, gluing, drawing, coloring, writing, and even sewing.
A Yaya Who Loves to Cook, Bake & Craft
Here is a Yaya (grandmother) who loves baking and crafting with her grandkids at Christmastime.
Violet Favero is from Florida. She is Greek and Greek mothers and grandmothers are the pillars of their homes and the matriarchs of their families. She's the author of three children's books, (with 6 more in the making) a mother of five children, and her eight grandchildren affectionately call her "Yaya."
Greeks love to cook. And Greek mothers/grandmothers like nothing more than to have their large families gather around the table eating traditional favorites they have lovingly prepared.
Violet is such a mother and grandmother. And Christmas means extra food, extra fun, and loads of laughter and love.
Here are two activities involving baking and crafting Violet does with her grandkids at holiday time:
#1: Silly Yaya Christmas Cookie and Crafting Extravaganza: Fun Grandparent Activities
Yaya Violet is famous for her lavish Christmas dinners and holiday activities. Every year she hosts a "Silly Yaya Christmas Cookie and Crafting Extravaganza" where her children, grandchildren, and other stray kids come and spend a day creating holiday crafts, baking cookies, and eating pizza.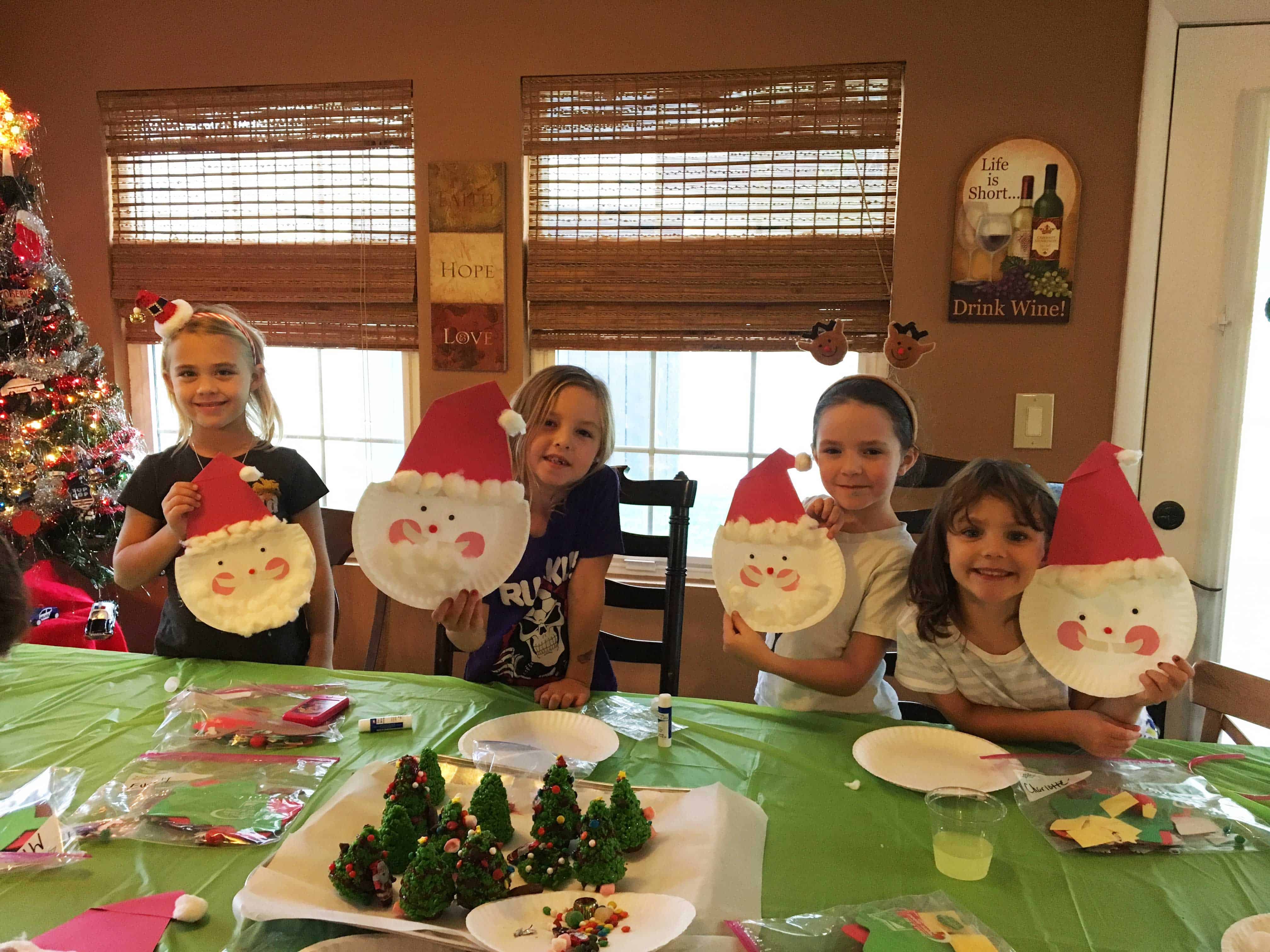 Over the years, they've made Santa hats from paper plates and construction paper, foam Christmas trees decorated with frosting and stickers, candy cane ornaments, reindeer ears, and more.
Then they pile into the kitchen to make Grinch cookies (green cookies with a hard-heart-shaped gumdrop), snickerdoodles, and peanut butter blossoms.
#2: Teaching Culinary Skills at Christmas and Throughout the Year:
Yaya Violet believes that teaching culinary skills to her grandkids is important.
One of her books, Sunday Dinner at Silly Yaya's includes an old family recipe for salad dressing. She gives ideas on how to involve the grandkids by letting them cut up the garlic and shake the dressing in a cruet bottle. She is teaching them the art of cooking that they can use their entire lives.

And when preparing the Christmas dinner–everyone pitches in to help. Working together side-by-side in the kitchen forms loving bonds between family members.
Here are four of the many books Yaya Violet has written for grandkids and grandmas! Included are recipes, activities, and ideas to share with Yaya's and grandkids everywhere!
Yaya Violet: The Grinch didn't understand Christmas. He thought it was all about the presents. But, Christmas is not about presents. Christmas is about love. And what better way to show love, than cooking together, playing together, and eating together all within that special circle called, 'family.'
Grandparent Activities: A Grandma Who Loves Holiday Family Get-togethers
Christmas and family are synonymous. It's a holiday that screams, "family." No matter what size your family is or where they live–plan some family-togetherness during the holidays. Christmas activities that are repeated year-after-year become treasured family traditions and create bonds of love. Activities such as:
Eating a before-Christmas dinner together
Reading Christmas stories
Christmas caroling in the neighborhood
Going on a scavenger hunt at the Dollar store
Here's how one grandmother blends her large family with fun and exciting Christmas activities that have become meaningful family traditions:
Cindy Layton lives in Utah. She and her husband, Victor are a blended family that includes 8 children and 28 grandchildren. Like many big families, Christmas is a time of family celebrations.
Before Christmas, they gather together for a BIG dinner with everyone bringing finger foods and desserts. The food is great, but the activities surrounding their family get-together are meaningful treasured traditions.
Here's what they do:
#1 Grandparent Activities: Reading the Polar Express
Together they watch a 4-minute clip of "The Polar Express." For years Grandma Cindy has collected bells of all shapes, sizes, and colors and after the video, every person gets a bell. One-by-one they stand up, ring their bell, and hang them on the Christmas tree. The reminder: let's never forget to believe in all that is good, charitable, and kind.

#2 Grandparent Activities: A Trip to the Dollar Store:
Everyone gets an envelope with one dollar in it.
Each person picks a name out of a hat.
They all go in mass to the dollar store to pick out fun or funny gifts for the person whose name they picked.
Back at home, they take turns trying to guess who gave what gift.
#3 Neighbor Gifts and Christmas Caroling:
After dinner and while the parents are cleaning up the dishes, Grandma Cindy takes all the grandchildren around the neighborhood for Christmas caroling. At each house, they drop off a gift and sing.
#4 Counting Nativity Scenes:
Grandma Cindy has 22 nativity scenes that she displays around her home. She makes a game of having the grandkids hunt around the house and count the number of nativities. The winner gets a prize.
#5 Christmas Story of Christ:
Each year Grandma Cindy finds an appropriate video of baby Jesus to share. "Appropriate" because not only are they a blended family, but they are also "blended" in their religious beliefs. However, they share the commonality of believing in Christ. So, the most memorable part of the evening is the video, and when Grandpa Victor reads the Christmas story from the Bible.
Grandma Cindy: Family means everything to us. And family ties are strengthened through involvement and interaction as we create meaningful traditions.  It's remarkable how the Spirit of Christmas is felt in our lives as we do for those in our family and beyond.
Grandparent Activities: A Nana Who Sews & Quilts for Her Grandkids
Grandparents–do you have a special talent or hobby that you can teach to your grandkids? The possibilities are endless because every grandparent comes equipped with so many talents to teach the next generation. Think about talents you can teach your grandkids thus passing an important tradition and skill to the next generation.
Here's how one "Nana" has taught her grandkids her love of sewing and quilting:
Dodi Poulsen is from Washington. She is the mother of two children and a proud grandmother (Nana) of nine. When Dodi was a child her Nana taught her to sew.
Today, Dodi is a professional seamstress and quilter. She has traveled all over the world teaching people to quilt and her quilts have been featured in several magazines.
Christmas is her favorite holiday. She uses her talents and creates special mementos for her grandchildren while teaching them the art of sewing such as:
#1 Grandparent Activities: Making Christmas Stockings and Ornaments
When each grandchild is born, Nana Dodi sews a Christmas stocking for the baby.
Every Christmas, Nana Dodi makes ornaments with her grandkids where she teaches them how to sew, quilt, and craft.
#2 Grandparent Activities: Making Christmas Pillowcases and Pixie Bags:
Christmas is not Christmas unless every grandchild has a beautiful hand-sewn pillowcase. (Dodi calls them: "Sugar Plum Fairy" pillowcases). They guarantee that good grandchildren will have "sweet" dreams. Pillowcases are easy to make and her granddaughters enjoy helping her.
Nana Dodi has also taught her grandkids how to sew fun little bags to hold their special Christmas treasures in. She calls them, "Pixie Bags."
#3 Grandparent Activities: Sewing Advent Calendars:
Instead of putting candy in her handmade Advent calendars, Nana Dodi slips in activity ideas, scriptures, or trinkets into each slot. She makes the calendar, but the grandkids help her stuff each pocket with the Christmas goodies.
#4 Grandparent Activities: A Memorable Christmas Picnic
One of the most fun activities Nana Dodi organizes is a Christmas family picnic underneath the Christmas tree. She makes a beautiful quilt to use as a blanket while all the grandkids gather around and enjoy the lights and eating all their favorite holiday finger foods. Each of her grandkids helps with the cooking, planning, and creating this special event.
Nana Dodi says, "My grandkids don't live in Washington, so I travel to see them. With the quilt I've made, we create the perfect "winter" picnic as we sit in front of the lights, and talk about all the things we love about Christmas. It's something I hope my grandchildren will always remember."
Like her grandmother who taught her to sew, Dodi is now teaching her granddaughters how to sew and quilt…a cherished talent being passed to the next generation.
Nana Dodi: Christmas is a time to make memories, create traditions, and to increase family love. I'm blessed to have amazingly perfect grandchildren who I can spoil and enjoy. How lucky I am!
Grandparents can have Profound Effect on their Grandkids Brain Development
Daniel Goleman, Ph.D., author of Emotional Intelligence, said that "every person-to-person interaction shapes the human brain and the more important the relationship the more profound the effect on brain development."
Grandparents are important to their grandkids. Based on Goleman's advice, a warm, loving and involved relationship between a grandparent and grandchild positively shapes the brain development of these precious children and helps mold them into happy giving adults.
What a gift it is to be a grandparent!
Want more fun ideas, crafts, art, activities to do with grandparents at holiday time? Check this out…


Want to remember this post? Post, "How to Make Christmas Spectacular with Grandparents" to your favorite Pinterest board.