Inside: Here are 6 music books for kids for hours of enjoyment. Each book includes a story and music activity that will enhance their experience, broaden their horizons, and become a brain-building experience.
Music Books for Kids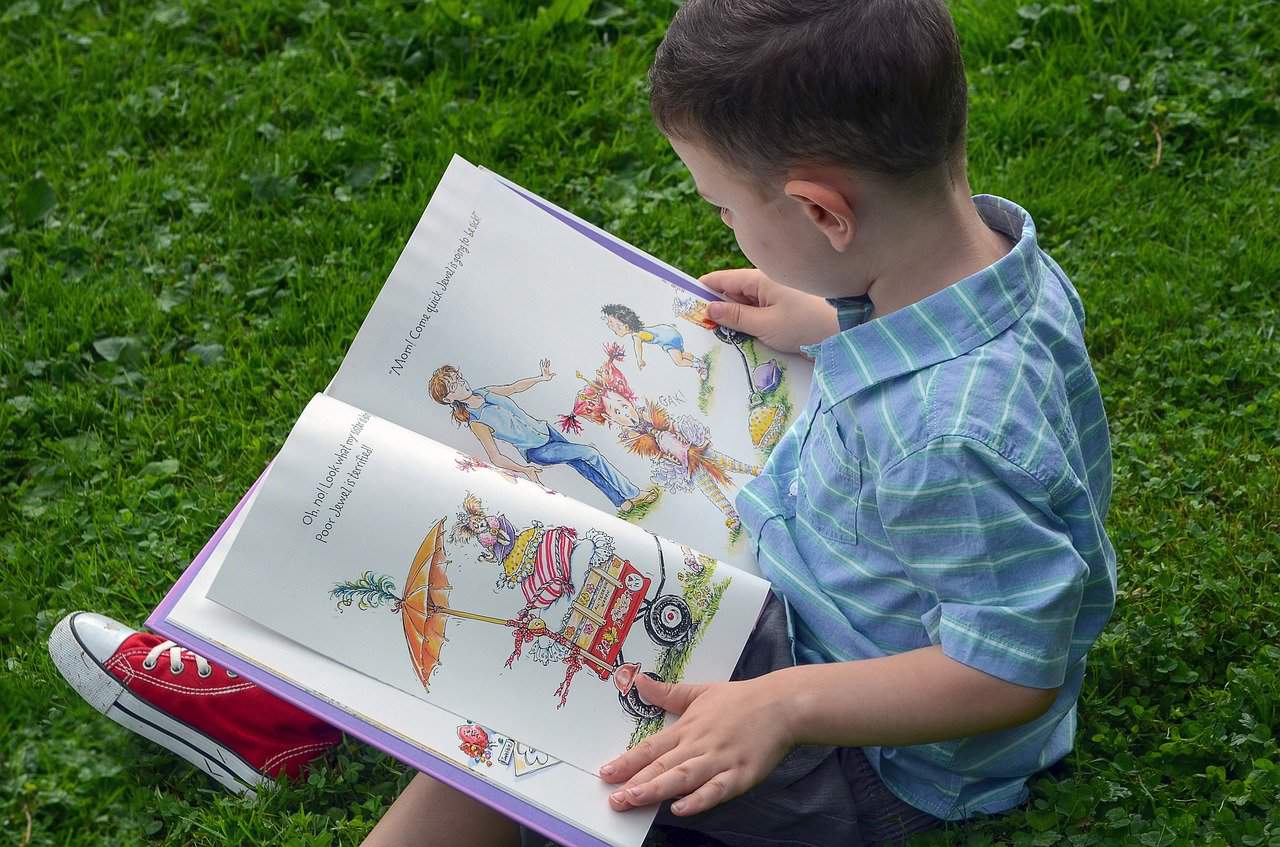 Moses is deaf. And he loves music!
One day, his teacher takes the class to a music concert. Each child is given a balloon to hold on their lap. After the concert, the children take off their shoes and socks and walk on the wood floors of the concert hall while the percussionist is banging away on drums, xylophones and more.
What's happening? How do balloons and walking on wood with bare feet help the deaf children to hear the music?
Let's find out…
Fun & Exciting Music Books for Kids
Make reading to your kids a priority. If you do, one day you will stand back in awe and wonder at their increased vocabulary, curiosity, and smarts.
Kids also love music so when you add the two—music and books—magic happens!
Here are 6 music books for kids. They are books that tell a story and uses music as a theme. They're great for preschool through second grade. When you add an activity, they work for older kids, too. The last book, Because has a wonderful message and is appropriate for all ages—from children to adults!
Here's the title, synopsis, and activity for each book
Fiction Music Books for Kids
Synopsis:
As stated above, this book is about a little boy named Moses who is deaf. The school teacher takes the children to hear a music concert. They are each given a balloon and when they hold the balloon towards the musicians, they are able to feel the vibrations of the music through the balloons.
The percussionist of the orchestra is also deaf. She lets the children play the percussion instruments and feel the vibrations coming through the floorboards as they move and dance in bare feet.
Activities: Musical Vibrations and Balloons
This is a fun and easy experiment to illustrate to your children how to feel the vibrations of sound (music) through a balloon. Try this:
Blow up enough balloons for each of your children
Have them hold the balloon up to a speaker where sound or music is coming out of
Your children will be able to feel the vibrations coming through the balloon
Synopsis
Join Hubie faces his fears during his first day of music class. This time, he's afraid of the music teacher! Dressed as a Valkyrie/Viking teacher who comes armed with a pitchfork, a laser baton, and a prison called Sing-Sing, this story will amuse and quell fears of new experiences at the same time!
Activities:
The kids in Hubie's music class are in for a treat with their teacher, Miss LaNote. She sings, dances, and dresses in costumes to make the musical experience fun and memorable.
Teach your children that when we sing, we create vibrations in our throats where the music comes out. Try this:
Touch your throat while you talk
Touch your throat while you sing, "Old McDonald Had a Farm"
Can you feel the vibrations?
Now sing high and then sing low—what happens to the vibrations?
When you sing low, it's easy to feel the vibrations and when you sing high, it's more difficult to sing the vibrations. Why? Because high sounds are produced by faster, smaller movements hence they are harder to feel
Miss LaNote is dressed as a Valkyrie/Viking—do you know what opera that is from and who wrote the music? (answer: Ride of the Valkyrie is one of 4 operas written by Richard Wagner. The Valkyrie were women Vikings who decided who lived or died in battle)
Bonus: Check out the Disney cartoon: "Willie the Operatic Whale." Willie is a whale who sings opera and has 3 uvulas which allow him to sing 3 different voices at once. The uvula is the piece of skin in the back of your mouth that hangs down and vibrates when we sing.
#3: Lentil by Robert McCloskey
Synopsis
Lentil is a classic favorite about a young boy who wants to create music—sing, whistle, anything—but he can't sing on key and he can't pucker his lips to whistle. So, he learns to play the harmonica instead. He loves playing the harmonica through the streets of Alto, Ohio, and quite by accident, he gets a chance to show off his newly acquired talent.
Colonel Carter returns to town and the whole town plans a celebration to welcome him. But Old Sneep, the grouchiest man in town doesn't want any celebration for Colonel Carter. So, when Old Sneep tries to ruin the celebration with a lemon—Lentil comes to the rescue with his harmonica.
Activities: Homemade Harmonicas
Here's how to make homemade harmonicas. It's a fun way for your children to feel vibrations on their lips.
Purchase a package of hair combs and a roll of waxed paper
Cut a square of waxed paper to fit the size of the comb, making it an inch smaller than the comb
Fold the waxed paper in half and insert the comb and fold over to form an enclosed sleeve
Press your lips lightly against the paper and the comb and hum a song
Move the comb back and forth to create different sounds
The louder you hum, the more the paper will vibrate and the more you will feel the vibrations on your lips
Synopsis
Benjamin Franklin had a curious mind and was good at anything he tried. He invented the bifocals, the Franklin stove, the lightning rod and he entertained his guests by playing tunes on the violin, guitar, and harp.
His favorite invention was a version of a musical instrument called the glass armonica. It consisted of glass bowls mounted on a long axle and attached to a wheel. You played them by rubbing your fingers on the rims of the glasses filled with water which created vibrations and a ringing sound.
This book talks about how Franklin's instrument became very unpopular because people complained that it caused nervousness, muscle spasms, cramps, and even death. However, in recent years the armonica has come back in favor, and composers are writing music for it from chamber music, opera, and even pop music.
Activities: How to Make a Glass Harmonica
It's easy to make a version of the glass harmonica and experience its unique sound. Here's what you need and what to do:
Several stemmed drinking glasses (at least 3-5–more is better)
Fill each glass with different amounts of water
To play, moisten your fingers and rub them around the top of each glass.
Each glass will make a different ringing sound—depending on the amount of water in each glass.
Wash your hands with soap before doing this to create the best sounds
Synopsis
Never Play Music Right Next to the Zoo is a humorous song woven into a charming children's book by actor, musician, and author—John Lithgow.
A young boy reluctantly goes with his family to an open-air concert right next to a zoo. The boy is bored with the music and drifts off to sleep and dreams that the animals escape from their cages and take over the musicians at the concert. Tutu-clad hippos playing tubas and trumpeting lions and raccoons playing flutes are just some of the animal-musicians that make this story and song so delightful.
Lithgow's song is fun and is included with the CD that accompanies the book:
Oh, children! Remember! Whatever you may do,
Never play music right next to the zoo.
They'll burst from their cages, each beast, and each bird,
Desperate to play all the music they've heard.
Activities
Take your kids to the zoo. On your phone, record the different sounds the animals make. Talk about how different animals make sounds and communicate with each other through the vibration of sounds:
Dolphins: use clicks and whistles to communicate with each other.
Barn Owls have sensitive hearing because of the shape of their faces. The area around their eyes acts as a funnel and collects sounds so owls can "hoot" and hear the smallest sound.
Elephants: make very low sounds to communicate with other elephants. They can hear other elephants from miles away
Snakes: they don't have ears to hear, but they can feel vibrations in the ground as they slither along. It helps them find food and avoid danger
For more ways that animals communicate with each other, click here.
#6: Because by Mo Willems
This book is about music and contains an inspiring message for children, teens, and even adults BECAUSE it illustrates how little things add up to big things such as how one piece of music can powerfully affect many generations of people.
Synopsis
A little girl is taken to a concert by her aunt, where Franz Schubert's Symphony No. 8 is performed by a group of musicians.
The little girl sits memorized listening to the orchestra play Schubert and it changes her. BECAUSE of this—she begins to study music. She learns to play various instruments: piano, violin, and flute, and eventually BECAUSE of this singular musical experience—she becomes not only an accomplished musician but a composer as well. Eventually, she conducts her music, played by an orchestra in front of a rapt audience.
Activities
Some of the best activities you can do with your children are to turn off cellphones and other distracting devices and simply sit and talk to them. This book provides that opportunity.
Gather your children together and read this book. Afterward, stimulate their thinking and creative juices by asking them questions. The goal is to get your children talking, giving their opinions, and helping them to conclude that by small and seemingly simple things, great things can happen.
Here are some questions to use as a springboard for discussion:
Do you like this book? Why or why not?
What do you think of this little girl and her love for music? Is there something you love as much as her love of music? What is it? Are you willing to work hard so that it becomes a talent?
Have you ever been influenced by one singular event or situation that sets a course of action for the rest of your life?
Everyone in the book had to work very hard to realize their dreams of learning a musical instrument. What are you willing to do to realize a dream that you have?
There is a domino effect in this book: First Franz Schubert was influenced by Ludwig van Beethoven, then people were motivated to learn a musical instrument and join an orchestra. And last, a young girl was influenced by these musicians playing Schubert—which caused her to begin her musical journey. Is there something in your life that has been a domino effect that set you on your current path? Maybe a movie, song, painting, math problem, a book you read—something that greatly influenced you?
 Music Books for Kids
This is just a small sampling of music books for kids on the market. In the Resource Section of my book, Good Music Brighter Children, there are lists and lists of music books for kids of all ages to enjoy.
Do your children have a favorite music book? Please share in the comment section below