Inside: Want to go on a nature study with your grandkids? Here are 8 fun activities to bring nature to life in your backyard!
Nature Study with Grandkids

Kids and grandkids love being in nature—riding their bikes, going on a walk, climbing trees, playing in lakes and streams, gazing at the sky, hugging a tree, etc.
Studies show amazing things happen when children and adults spend time in nature or do a nature study:
improves memory
makes us happier
helps us concentrate better
reduces stress
keeps us young
strengthens the immune system
brightens our moods
All good reasons for spending time in the great outdoors! And keep in mind—nature can be enjoyed and experienced year-round—spring, summer, fall, and winter.
"Nature Study" is the theme at grandma's house this week. Here are some of our favorite activities:
A Nature Study: A Listening Walk with Grandkids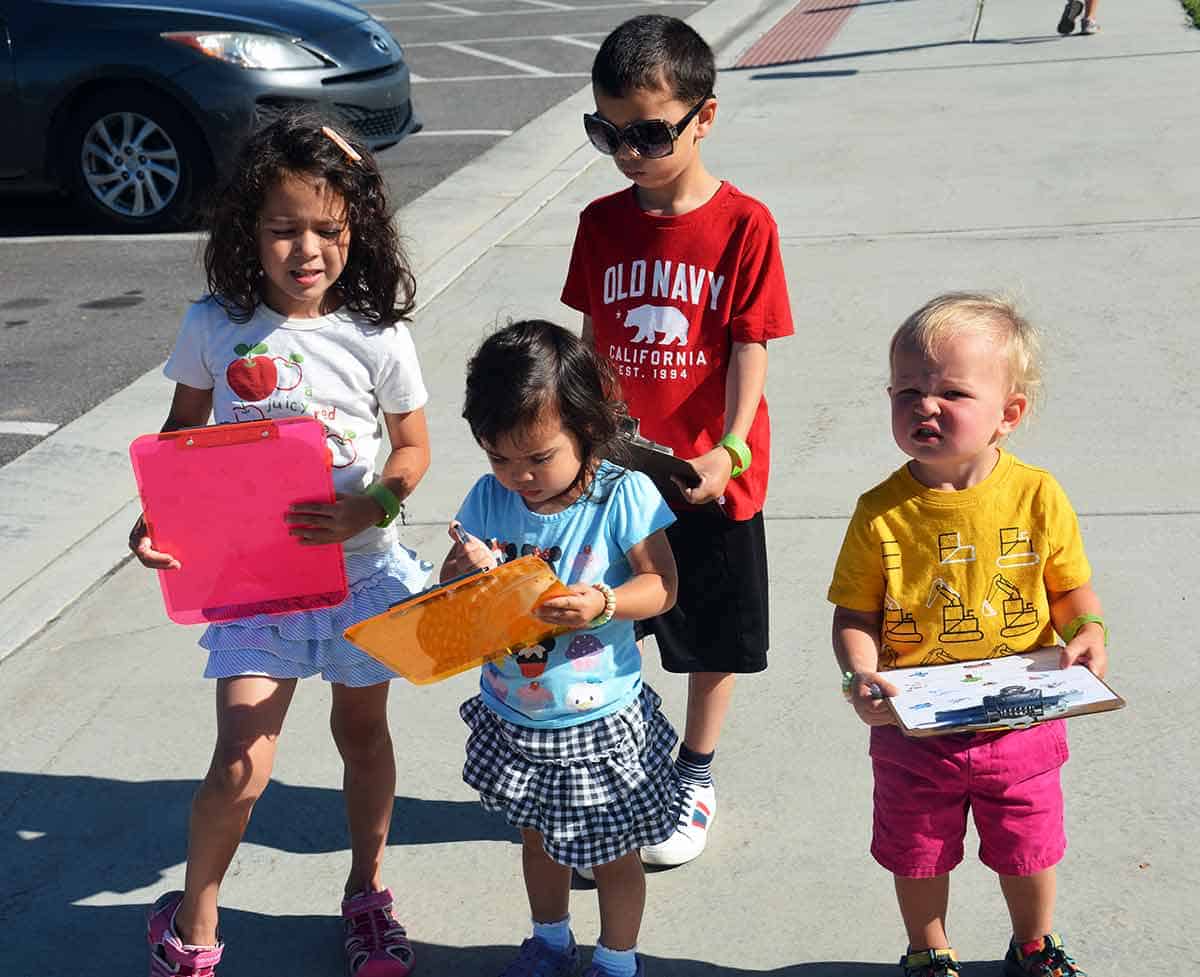 Have you ever read the book, The Listening Walk by Paul Showers? It's a story about a father, a daughter, and their dog who go on daily walks. They don't talk—they just tune into the sounds around them. It's all about being still and just listening.
Prior to taking your kids/grandkids on a listening walk, read to them The Listening Walk. Make a list (including pictures) of different things to listen to while in nature. Attach the list to a clipboard for each child and have them mark off the different sounds they hear. Click here to download our FREE listening walk printable.
To add to the fun, give each child/grandchild 2 bracelets:
masking tape bracelet that they can attach any light-weight "treasures" they find on their listening walk.
candy bracelet–the kind you bite off the colored round candies.
As you walk, point out different sounds you hear in nature—
trees rustling
birds singing
crickets chirping
bees buzzing
cars & trucks passing by
jets overhead
people talking
squeaky shoes
When you get home, have everyone share their experiences about the listening walk and any treasures they found along the way.
Making Walking Sticks for Your Nature Study

Do your kids/grandkids like to hike in nature? Then they need a walking stick!
These are fun and easy to make and will increase fine motor skills and bilateral coordination.
Plus, kids/grandkids LOVE sticks!

Here's what you need:
Supplies:
Long sticks. Go on a nature walk to find these. Make them the appropriate length for each child
Sandpaper
Yarn in different colors
Sharp knife
Directions
Sand the stick with sandpaper and cut off the rough edges of the stick with a sharp knife
Determine where your child/grandchild will hold the stick while they are hiking. This is the area that they need to cover in yarn.
Wind yarn around the area of the stick they will be holding—about 6-7" in length. Tie a knot at the end
Now, go on a hike and try out your new walking sticks!
Sensory Play: Water, Rocks, Sticks & Mud–Sensory Toys found in Nature's Playground

Have you ever known a child that doesn't love water, rocks, sticks, and mud? Kids can play for hours using these 4 unique "toys" found in nature's playground.
Check out your extended neighborhood and find a place where you can take your grandkids to experience nature toys.
Maybe it's the local canyons where your children/grandchildren can play in the water with plenty of mud to dig in, sticks to float and rocks to throw.

Playing with "nature's toys" helps a child's sensory development with:
Gross and fine motor development as they dig, scoop, sift, funnel and pour
Hand/eye coordination as they throw rocks, pick up and float sticks, etc.
Social skills
Cooperative play & sharing
Increase a child's love of exploring and discovering
Plan to stay for several hours. Pack a lunch, plenty of water, towels, sunscreen, and shades.
Painting Rocks & Building Mountains!

Rock painting is fun!
Have you ever found a painted rock on a hiking trail? Those painted rocks are called "kindness stones" or "kindness rocks." They were painted by someone who likes to leave inspirational messages on rocks found on hiking trails.
Have you ever been to "Painted Rock Canyon," in Utah? It's a highly scenic trail along the west slope of the Bighorn Mountains and just south of "painted rocks."
Either way, go on a rock hunt. Bring your treasures home and have your kids/grandkids paint and create wildly colorful rocks.
Give them a piece of cardboard covered in their favorite patterned cardstock and have them arrange their painted rocks to look like a colorful mountain slope—something like Painted Rock Canyon or even Stonehenge!
Add to their inspiration and creativity by asking them, "if you were up in the mountains and wanted to climb some painted rocks…
What would they look like?
How tall would your colored rocks be?
Would they be easy or hard to climb?

Supplies
10 different rock sizes per child/grandchild
Acrylic paints
Cardboard 12"x8"
Patterned cardstock
Directions
Go on a rock hunt and gather 10 rocks per child
Wash the rocks and let dry
Using acrylic paints, paint the rocks in colorful colors. Let dry
Cover a piece of cardboard with your favorite patterned cardstock. Glue in place
Arrange the rocks on the cardboard so they look like a mountain range. Glue in place

Nature Study Science: Making Fizzy Stars & More
As a kid, did you ever make something from baking soda and vinegar that exploded into a white fizz? These 2 little chemicals can create a lot of excitement and surprise! Here's how to make fizzy stars…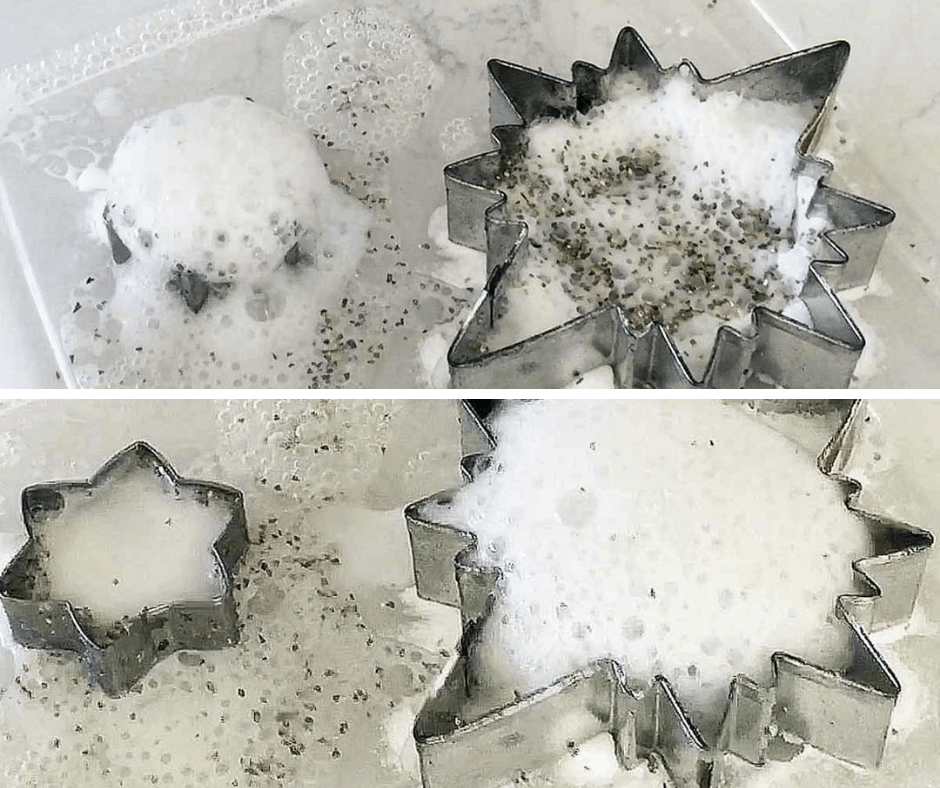 Supplies:
baking soda
white vinegar
silver glitter
flat container
Directions:
Put the cookie cutters into the flat plastic container
Pour baking soda into each cookie cutter star
Sprinkle glitter over the soda
Using an eye dropper, squirt vinegar into the cookie cutters with baking soda & glitter
The mixture will immediately fizz creating a fun fizzy star, grasshopper, flower, etc.
Continue pouring vinegar on the baking soda for more fizz, foam, and fun!
So, why do baking soda and vinegar produce a fizzy mixture?
They react because one is a base (baking soda) and one is an acid (vinegar). Because they are exchanging atoms, the reaction releases gas, the soda receives a proton and transforms into water and carbon dioxide and you get the fizzy exploding reaction.
Kitchen Nature Study: Making Edible Glaciers

Have you ever heard of edible glaciers? I created this title and recipe 30 years ago when I was reading books to my sons about glaciers and wanted to make something fun in the kitchen to complement our reading.
Glaciers are part of nature so read books about glaciers such as Interesting Facts About Glaciers: Geology for Beginners by Baby Professor. Then head to the kitchen to make these edible glaciers
Explain to your grandkids that glaciers are formed when layers of snow turn to ice.
This recipe is for a one-layer glacier and you can add different fruits to represent edible floating ice, dirt, fish, and rocks.

Edible Glaciers
Grandkids love making Jell-O. Using blueberry Jell-O, you can create a fun edible glacier--complete with rocks, dirt, and snow.
Author:
Sharlene Habermeyer
Ingredients
1 large package Blueberry Jell-O
½ cup fresh blueberries
½ cup each pineapple chunks, mandarin oranges (drained)–optional
½ cup crushed Oreo cookies
Whipping cream
Instructions
Follow the directions on the Jell-O package
After the Jell-O is completely dissolved, stir in the blueberries (rocks). You can also add pineapple chunks (floating ice), and mandarin oranges (fish)
Pour into an 8x8" glass pan
Set in the refrigerator
Let the grandkids crush the Oreo cookies in a plastic bag.
To Serve:
Spoon a square of the glacier into a bowl and add additional fresh blueberries
Squirt a dollop of whipping cream on top (fresh snow)
Sprinkle crushed Oreo cookies over the glacier (dirt)
Art Nature Study: Making a Rainbow Collage

Here's an art project you've probably seen before—making rainbows out of cardboard. Cardboard is a fun medium and allows your grandkids to experience different paper textures.  Inspiration: Cardboard Creations
These are easy to put together and valuable lessons are learned. This project increases scissor skills and creativity.  And creativity enhances problem-solving skills.
Supplies
Cardboard
Collage materials: small squares of colorful paper, glitter, pom-poms, straws, cotton balls, wooden sticks, feathers, etc.
Glue
Directions
Give each child/grandchild a pre-cut cardboard rainbow
Create a colorful rainbow using the collage materials
Tell them to think about what rainbows look like; why they are so colorful and try to make their rainbow fun and colorful, too
Last, as they are making their rainbows, share with them these fun rainbow facts:
Nature Study: Fun Facts About Rainbows

A rainbow happens when one part of the sky is sunny and the other part of the sky is raining
The colors of the rainbow are red, orange, yellow, blue, green, indigo and violet
If you were to look at a rainbow with someone standing next to you—they would see the rainbow slightly different because they are seeing different raindrops Source
Art Nature Study: Creating a Nature Mural

These murals can be made individually (11×14 cardstock) or on a long butcher paper mural. All you need is plenty of glue and nature-like materials for your kids/grandkids to create their mural
After completing these pictures–ask your grandkids what they love most about nature.
Nature Study Books

Books and reading aloud to your grandkids are an investment in their future and is related to their success in school.
We read books every time the grandkids come to visit. Here are a few of our favorite nature books:
Do you have a favorite nature activity that you do with your grandkids? Please share in the comment section below.


Want to remember this post? Post, "How to Have Fun on a Nature Study with Grandparents" to your favorite Pinterest board.