Inside: Looking for dinosaur activities for grandkids to do at their grandparent's house? Here are 10 creative & educational activities your grandkids will love!
Having Fun with Dinosaurs at Your Grandparent's House

Dinosaurs. The very word strikes fear, curiosity, and wonder into the hearts and minds of children everywhere.
And fun!
Kids love dinosaurs (so do grandmas). They love to paint, color, and read about dinosaurs. They love to see them in museums and on the silver screen. And, when grandparents offer dinosaur activities—grandkids are in 7th heaven!
So, this week the theme at grandparent's house is…dinosaurs!
With all these grandparent/grandchildren activities—consider "decorating" the room your grandkids do their projects in. This time with dinosaur pictures and books. I changed a utility room in our house into a "grandkids studio." It's kid-proof and takes the worry out of paint dripping on the carpet, or crayon marks on the walls—it's designed with creative grandkids in mind
So, let the dinosaur fun begin…
Arts & Crafts at Grandparent's House: Making Dinosaurs with Colorful Pasta

Here is a great project for teaching fine motor skills and bilateral coordination. Your kids/grandkids are creating colorful dinosaurs using different colors of pasta.
We used a dinosaur template; traced them on colorful cardstock; cut them out and arranged them on black posterboard.
Supplies
Cardstock in bright colors
Scissors
Black posterboard
Pasta—different colors and shapes
Glue
Plastic bowls

Directions
Either make or purchase colored pasta to decorate your dinosaurs with. To make: take 2 cups of dry pasta, 1/3 cup rubbing alcohol, and 5-7 drops of food coloring. Mix together and put in a plastic bag. Let sit for 30 minutes (turning frequently) and pour out on a sheet of parchment paper to dry overnight.
Cut out 4 different dinosaurs from the templates; arrange them on a black poster board; glue them in place
Glue the pasta onto your dinosaurs
Discovering Dinosaur Fossils at Grandparent's House
Here is a fun activity to teach your kids/grandkids all about dinosaur fossils.
You can use cookie dough (for edible dinosaurs), air-dry clay, or Play-Doh and you'll need dinosaur skeletons to push into the dough leaving a dinosaur imprint fossil
Supplies
Sugar cookie dough
Play-Doh
Rolling pin
5" round circle (we used a mayonnaise lid)
Directions
Make a batch of sugar cookie dough
Roll out the dough and cut out 5" circles
Using the dinosaur skeletons, press into the dough making certain you're getting as much of the skeleton as possible
Bake your cookies—and eat your fossils!
OR use Play-Doh to create colorful dinosaur fossils.
Ice-Trapped Dinosaurs

Here is a fun dinosaur activity that will teach your kids/grandkids how dinosaurs became extinct during the Ice Age and became encased in ice.
You're releasing the ice-encased dinosaurs by using cold water, then baking soda & vinegar, and finally hot water to set the dinosaur free.
Supplies
Deep muffin tin
Water (cold and hot)
Baking soda
Vinegar

Directions
Put a plastic dinosaur in each muffin tin
Fill water to the top of each muffin
Freeze
Pop-out each ice muffin and put it in a shallow pan—for each child
Using cold water and an eye dropper, squirt the water over the top of the ice-encased dinosaur.
Next, use baking soda and vinegar over the ice—watch it fizz and foam
Last, pour hot water over the dinosaur
Because you are releasing the dinosaur in steps—cold water, baking soda & vinegar, hot water—it takes time.
Cooking  at Grandparent's House: Making Dinosaur Pancakes

Make dinosaur pancakes from scratch with your grandkids.
Supplies:
Large griddle
Blueberries (optional)
Cooking oil for grill
Pancake batter (either from a package or make from scratch)
Large spatula
Directions
Make up a batch of pancake batter
Coat the inside of the cookie cutters with oil before putting them directly on the griddle
Spoon batter into each cookie cutter
Sprinkle blueberries on top
Use a spatula to turn the entire cookie cutter over to cook each side

Grandparent's House: Painting Wooden Dinosaurs
If your kids/grandkids love to paint, they will enjoy painting these wooden dinosaurs. Purchase wooden dinosaurs and tempera paints at the Dollar Store or on Amazon.

Watch what colors your grandchildren choose to paint with. Some grandkids choose the same paints over and over while others like lots of different colors.
It's important for kids to be exposed to lots of colors. The reason? Colors have vibrational frequencies that actually increase our positive energy levels and can
Influence us emotionally and physically
Kick-start creative juices
Increase confidence levels
Brighten moods.
Art & Science: Painting on Ice with Dinosaurs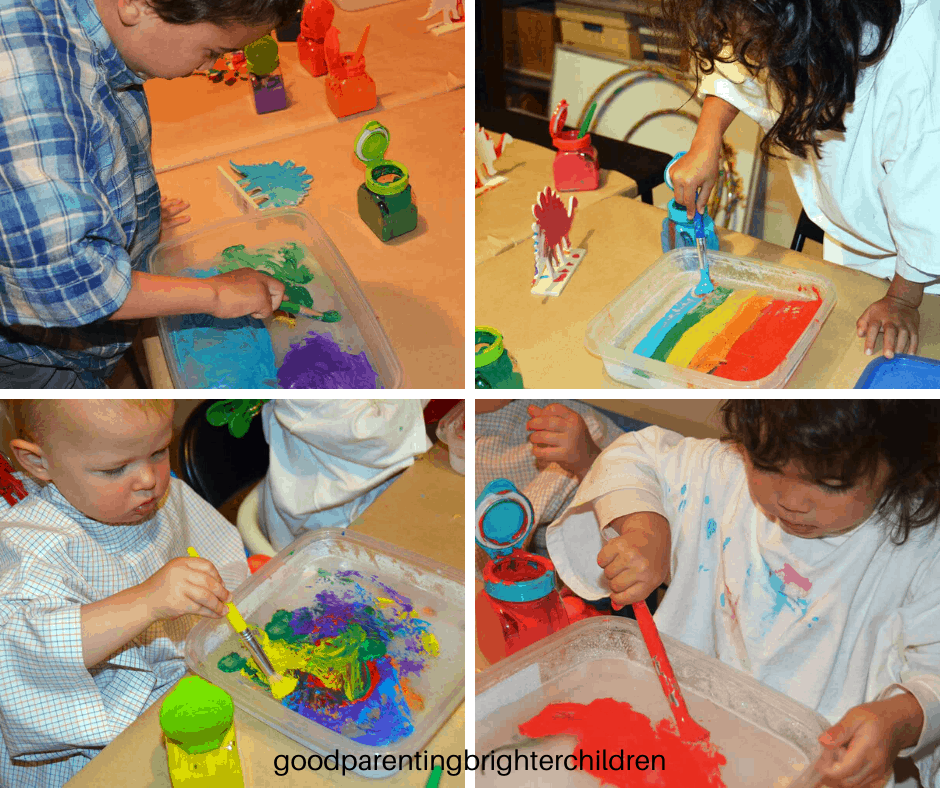 Your grandchildren will LOVE this project of painting on ice.  Add a little science and explain that many of the dinosaurs became extinct because of the Ice Age which froze (encased) them in ice.
Directions & Supplies:

 
Purchase square plastic containers—12 x 12 for each child (Dollar Store)
Fill each container with water
Drop several dinosaurs into each container
Freeze
Use tempera paints and brushes to paint on the ice
Throughout the day watch the ice melt and the colors blend to create beautiful designs. Ask your kids/grandkids what they see in the melting ice and colors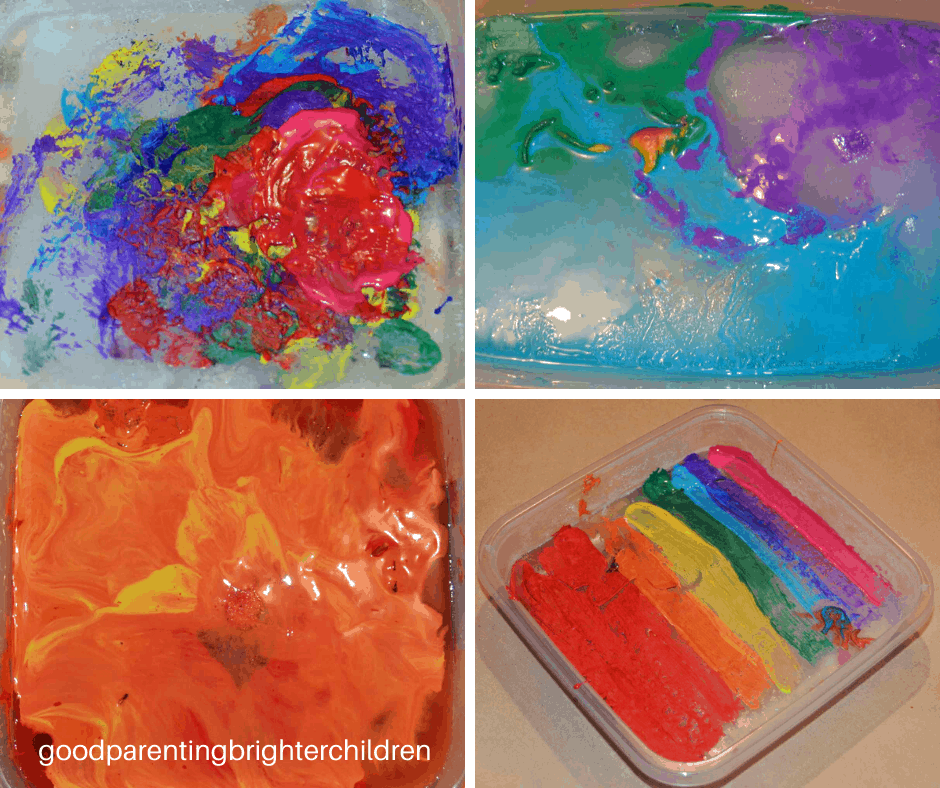 Asphalt Archeology: Digging for Dinosaur Bones at Grandparent's House

Let your kids/grandkids pretend they are archeologists digging for dinosaur bones. Give each child a medium-sized paintbrush to dig for bones and explain that when archeologists are digging in areas where there may be dinosaur bones, they have to be very careful not to damage the fragile bones.
Directions & Supplies:
Purchase plastic dinosaur bones
Bury the bones in the sandpile
Give each grandchild a paintbrush to "dig" and find the bones
Games at Grandparent's House: Scavenger Hunt for Dinosaur Eggs
Try this great dinosaur egg hunt!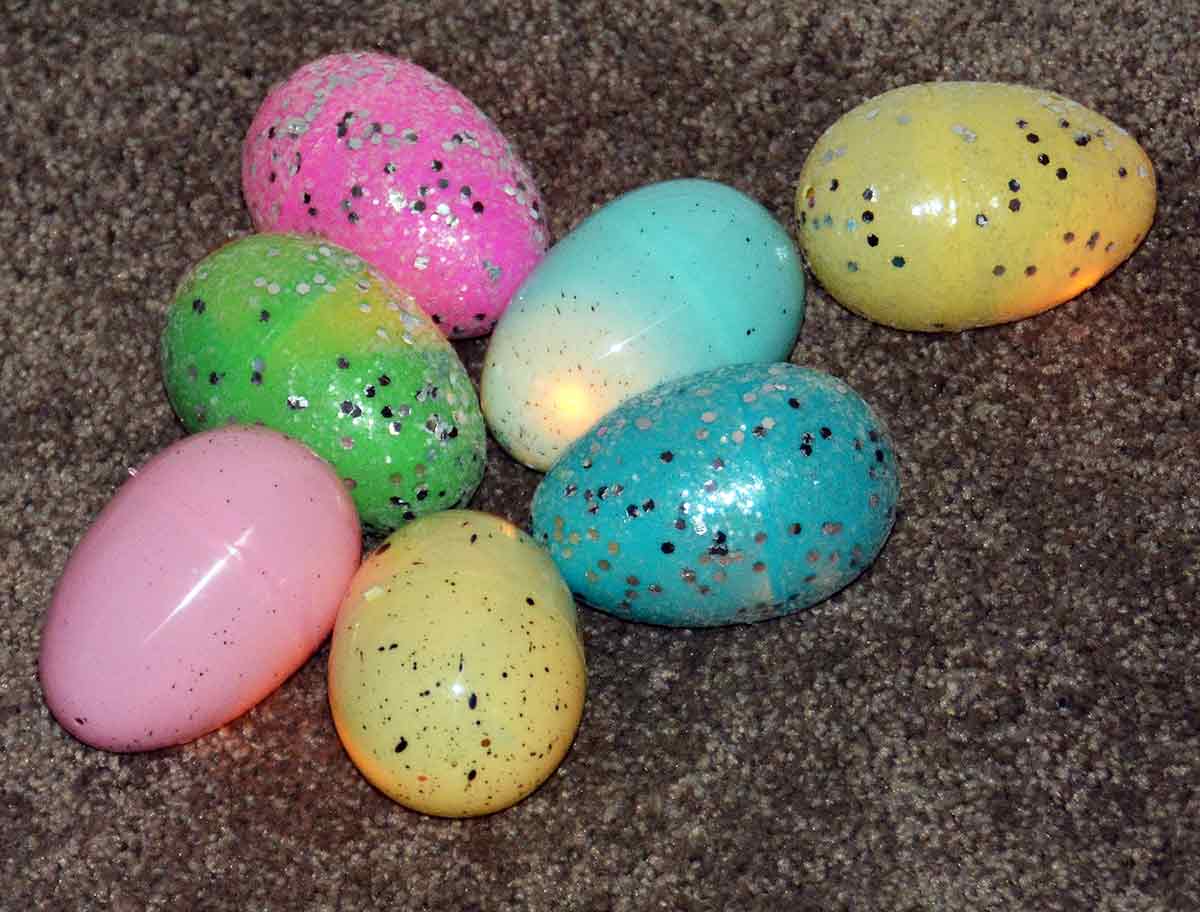 Directions & Supplies:
Buy at least 20 large plastic eggs 
Inside each egg put a plastic dinosaur and a small LED tea light. Right before the hunt—turn on the light inside the egg to glow in the dark
Give your kids/grandkids a basket to put all the dinosaur eggs they find.
Songs to Sing About Dinosaurs
Ever heard of Laurie Berkner? She's a children's musician and kids love her! Laurie recorded a fun song about dinosaurs that combines music and movement called: "We Are the Dinosaurs."
How to use the music
Let each child/grandchild choose a rhythm instrument. Check out Jamtown–they have unusual rhythm instruments from around the world.
March around the room; clang your instruments and sing to the music
Here is a video of the grandkids singing and using their rhythm instruments with this song.
Another great dinosaur song is: "My Name is Stegosaurus" from the CD, "Our Dinosaur Friends for the Early Years." I still have the cassette of this—a real dinosaur!
Here are the lyrics and click here to find the music on YouTube. Grab your kids/grandkids and sing, dance, and move to the music.

My Name is Stegosaurus
My name is Stegosaurus
I'm a funny-looking dinosaur
For on my back are many bony plates
And on my tail, there's more
My front two legs are very short
My back two legs are long.
My body's big, my head is very small
I'm put together wrong!
Sometimes another dinosaur comes by
And wants to fight!
I don't use fists, I use my tail
It has four sharp, sharp spikes.
My name is Stegosaurus
I'm a funny-looking dinosaur
For on my back are many bony plates
And on my tail, there's more
Music and movement increase brain organization and builds the motor, visual and auditory areas of the brain all at once—which translates into kids who read better, have a stronger vocabulary and are better at math. Check out this blog for more information.
Books About Dinosaurs

Start out each morning reading books about dinosaurs—your grandchildren will be enchanted by the pictures, the stories, and the history behind these amazing creatures. Here are some suggestions to get you started:
Do you have any fun dinosaur activities that your kids or grandchildren love? What about other fun activities to do at your grandparents' house? Please comment in the section below.


Want to remember this post? Post, "How to Have Fun with Dinosaurs at Grandparent's House" to your favorite Pinterest Board.


FAQ's
What do you do at your grandparent's house?
 Depending on the ages of your grandchildren, there are many things you can do with your grandchildren.
Read books, watch movies, play board games, talk, do arts and crafts projects, enjoy music together, play in the sand, go for a walk—the list is endless. Click here for more ideas.
If you start doing fun things with your grandchildren when they are young, they will want to visit you all the time, and bonds of love and caring will develop between you and your grandkids.
How can I make my grandparents happy?
If you want to make your grandparents happy—visit them often! More than anything else, a visit from a grandchild spells "love" to grandparents.
If you are not close by—call, text, email, or write to them. Social media is a wonderful way to stay in touch with grandparents no matter if they live down the street or hundreds of miles away.
Remember them with a card on special occasions—birthdays and holidays. There are examples of grandparents dying and what is left behind as treasured possessions are cards and letters from their grandchildren.
These are simple yet profound ways to make a grandparent happy.
How do you help your grandparents or old people?
It depends on what your grandparent needs. Most grandparents would love regular visits from their grandchildren. If that's not possible, a phone call, a text, or even a card on special occasions tells a grandparent that you love and are thinking about them.
If you live close by—visit them and go for a walk. Show interest in what they did as a child, a teen, and a young adult. Many grandparents love to talk about what they did as young people and grandchildren who show interest in their lives will bring them great joy.
What can I do with my 7-year-old granddaughter?
A 7-year-old granddaughter is a perfect age for so many activities. Ask her what she likes to do—does she like to do arts and crafts? Does she like to cook or bake in the kitchen? What about a visit to a park or library? Kids of all ages love going to a movie or listening to music.
Read books to her, go on a nature walk, birdwatching, or go to a water park. Fun indoor activities include board games, puzzles, and drawing, painting, or learning to knit or sew.
What passions do you have? Share those passions with her—that's how legacies are passed down.
Check here for more ideas.