Inside: Here are 9 projects and activities for grandparents to introduce their grandchildren to bugs and insects. Exciting, fun, and stimulating for even the youngest of grandkids.
Discovering Bugs and Insects with Grandparents

When Sophia Spencer was 2 ½ -years old, her mother took her to a butterfly conservatory. A beautiful butterfly perched on her shoulder and did not fly away. She was mesmerized and it triggered in Sophia a fascination for bugs and insects—particularly grasshoppers!
Seeing her passion for bugs, her mother wrote the entomological society looking for a bug scientist to be a pen pal for her daughter. The response was overwhelming! Using the hashtag #BugsR4Girls, scientists tweeted Sophia encouraging her to continue her interest in bugs, and sent her letters, photos, and videos to support her in her bug fascination.
Sophia is now 13 years old and has appeared on Good Morning America, The Today Show, and NPR. She has also co-authored a children's book: The Bug Girl: A True Story to share with others her passion for bugs and insects.
Bugs and Insects: 8 Fun Activities to do with Grandparents
As a child, were you fascinated with bugs, insects, or spiders? Or were you afraid of those crawly creatures?
Fascinated or scared, discovering bugs and insects at your grandparent's house seems to be more fun and less scary (especially when Grandma's nearby).
Here are some fun ideas all centered around the theme: Bugs and Insects…
#1: Finding Bugs and Insects in Nature
Grab your kids/grandkids and go hunting for bugs and insects. Take binoculars, a bug house, and tweezers (to pick up the bugs), and let the hunt begin!
We found dead bees, red ants, roly-polys, spiders, butterflies, and best of all, my little 2-year-old granddaughter found a big beetle. She even touched it to see if it was alive (it was). We put all of our "finds" in the bughouse.
After examining everything "up close and personal," we let them all go.
Summer is a good time of the year to find these critters, but we found that late in the afternoon or early in the morning are the best times.
Read books about bugs and insects (below) prior to going on your hunt—it makes the activity more meaningful and helps with understanding bugs better.
#2: Art: Yarn-wrapped Bugs and Insects 

This bug project teaches fine motor skills as your kids/grandkids wind yarn over a stick or clothespin to create a bug.
Here's what you need:
Supplies:
Sticks: During your bug hunt, look for interesting sticks.
Clothespins
Yarn
Corrugated cardboard for the wings (Michael's)
Googly eyes
Pom-poms
Glue

Directions:
Pick out 2 sticks in nature and a clothespin.
Wrap the yarn around and around the stick. They can change yarn colors and make their bugs multi-colored
Wings: if you want wings on your bug, draw them on the corrugated cardboard, cut out, and place them on your bug. Then wind the yarn around the wing to attach it to the bug.
If you are making a centipede-type bug, take small sticks and hot-glue gun the little sticks to the larger stick before winding the yarn around it
When completed, glue the end of the yarn or tape it to the back of the bug
Glue pom-poms for a face and googly eyes
Thanks, Art Bar for this fun idea!
#3: Art: String Art Bugs and Insects

Did you ever do string art as a child? It's a fun activity with lots of possibilities. Here's what you'll need:
Supplies:
Cardstock paper: we used 8.5×11″
Tempera paints
String cut in 15-inch lengths. You will need one for each color you are using
Googly eyes

Directions:
Fold the paper in half horizontally
Emerge the string into the paint until completely covered
Lift the string up and run your fingers down the string to remove excess paint
Put the string in any design on ONE side of the paper
Fold the other side of the paper over the string
Gently pull the string out of the paper. You can wiggle the string as you're pulling it out
Open up the paper and look at your string art. Can you see a bug?
Glue on googly eyes
#4: Sensory Play: Digging for Bugs in the Sandpile with Your Feet & Making Bugs from Playdoh
Here are some great sensory bug activities to do with your kids/grandkids. Kids need sensory activities to grow and develop. Discover different ways of adding sensory play to the activities you do with your kids/grandkids.

For a great sensory activity, bury some plastic bugs in your sandpile and let your kids/grandkids find them with their feet.
Or make bugs out of playdoh. To increase the sensory experience and add beads, glitter, little rocks, small Legos, etc., to the playdoh.
Why are sensory activities important for children? Sensory activities support children in the following ways:
Language development
Fine and gross motor skills
Problem-solving skills
Social interaction
Increases the child's ability to learn
#5: More Sensory Activities: Wiggly Rope Bug & Monster Bug

Sometimes the simplest games are the most fun for kids/grandkids. Here are two games we play all the time: Wiggly Rope Bug and Monster Bug.
For Wiggly Rope Bug you need a rope about 10-12 feet long. One person at each end wiggles the rope close to the ground so the kids/grandkids can hop and jump over the rope without stepping on the rope.
Monster Bug requires no preparation and costs nothing. It's like Hide-and-Seek only we call it "Monster Bug." My husband and I hide our eyes and count to 25 and the grandkids run and hide. Our house has lots of nooks and crannies which makes it fun to hide in. Then we roar like a monster bug and look for the kids. Hands-down, it's their favorite activity.
#6: Making an Edible Caterpillar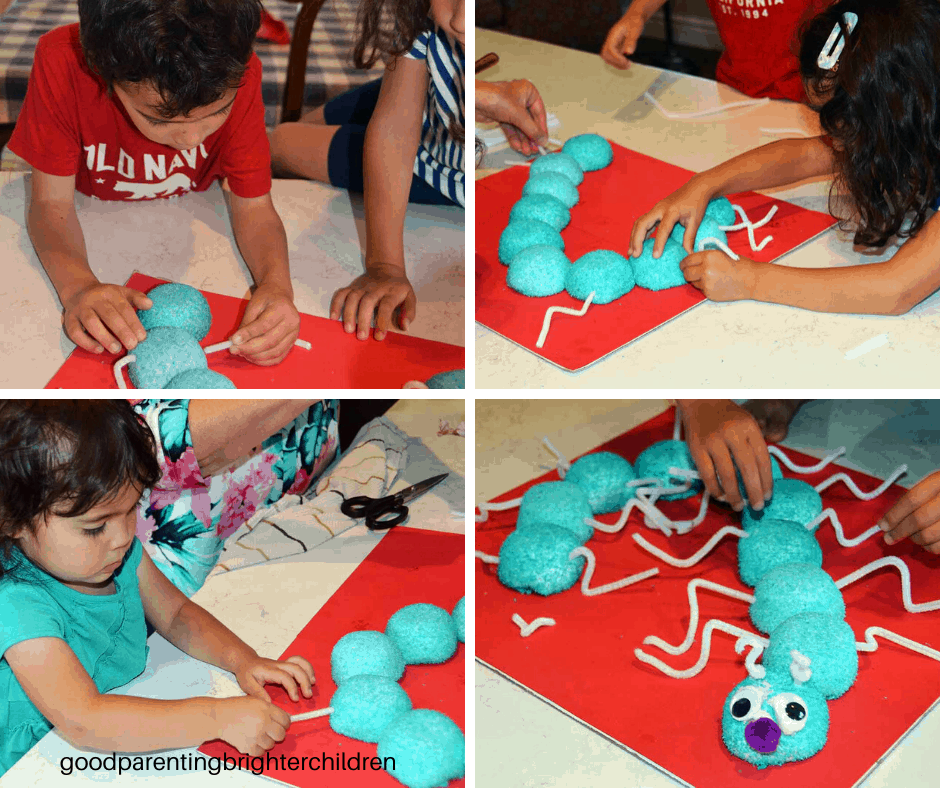 Making caterpillars out of Hostess snowballs has been around since I was a kid. This color was perfect to make our bug.
Here's what you'll need:
Supplies
8-10 Hostess cupcake snowballs
A large piece of cardboard to put the caterpillar on –cover in colored paper
Pipe cleaners
Googly Eyes
Pom-poms
Frosting (white)
Directions
Remove all the snowballs out of their wrappers
Arrange the snowballs on the cardboard—winding them around like a caterpillar
Cut the pipe cleaners in half and bend them like a caterpillar leg. Put lots of legs around the caterpillar.
Use frosting and put on the googly eyes, pom-pom mouth, and antennas.
These cupcakes have no nutritional value whatsoever so when your kids/grandkids are done; pictures are taken and everyone's had ONE bite–find a garbage can and throw them away.
#7: Create a Bug Mural

This is the perfect messy outdoor activity to do with your kids/grandkids. All you need are toilet paper rolls, paper towel rolls, and lots of cardboard inserts. Hot-glue all the cardboard inserts onto a large piece of cardboard; provide lots of tempera paints and let the kids/grandkids create and paint to their heart's content. While the paint is drying, give them fluorescent paints to color big bugs.
The grand finale is putting it all together–glue the bugs onto the painted cardboard mural, stuff the toilet paper rolls with tissue paper and you have a Bug Mural worth saving!
Supplies
Cardboard inserts
Toilet paper and paper towel rolls
A large piece of cardboard 50×24″
Hot-glue
Large paintbrushes
Tissue paper

Directions
Hot glue the cardboard inserts onto the large piece of cardboard creating a mural
Using different colors of tempera paints, paint the cardboard inserts
Using fluorescent markers, paint the template bugs you have downloaded
Glue the bugs onto the mural
Stuff the toilet paper rolls with different colors of tissue paper
#8: Books About Bugs
Here are some great books about bugs to read to your children or grandchildren–and create memories at the same time.

Take your kids/grandkids to the library or purchase books from Amazon and create your very own "Book Nook" in your home (used bookstores are also great places to find books). Reading books to your kids or grandkids is the best investment you can make for them.
#9: Movie: A Bug's Life
After lots of activities, it's nice to take a break and watch a movie. Our choice? "It's a Bug's Life." It's currently unavailable but check your library or Disney+ channel for a copy.
Pictures of Bugs and Insects are Worth 1000 Words!
One thing our grandkids enjoy is the pictures I put on the walls where they create their projects. The pictures coincide with our weekly theme and add a fun touch to the room.
These pictures are from old calendars I've saved over the years. Look around for different calendars you think would work for different activities you do with your grandkids.
When I was in my Master Gardening program, one section was on bugs and insects. The professor brought in these enormous grasshoppers from Florida. They don't jump or fly. I showed the pictures to my grandchildren and they were mesmerized!

What activities have you done lately with your grandchildren? Please share in the comment section below.





FAQ's 
Are insects and bugs the same thing? 
"Bug" is the word that most people use to describe anything that flies, crawls, or creeps. But scientists use the word "arthropod," instead of bug or insect. Arthropods do not have backbones, the skeleton is on the outside of the body and the body is divided into segments.
There are two main types of arthropods: arachnids (spiders) and insects (bees, crickets, flies, caterpillars, beetles, etc.).
What kind of bugs are insects? 
The word, "bugs" is a general term that can refer to one of the categories of anthropods: an insect or spider. Insects are one of the main types of arthropods and include bees, crickets, flies, caterpillars, ants, beetles, fleas, etc.
Are spiders insects or bugs? 
Spiders are not insects. They belong to a class called arachnids. Insects belong to a class called Insecta and both spiders and insects are part of a larger group called arthropods.
According to Wikipedia, insects are the largest group within the arthropod phylum.