Inside: Here are 43 picnic ideas for the whole family to enjoy. Involve your kids in the planning and preparing; focus on healthy foods; entertaining fun and creating lasting memories.
Picnic Ideas for Everyone
Does your family love picnics? Summer is a great time for picnics, but in my experience—all seasons of the year are good times for a picnic—even winter. It may have a few challenges, but with a little creativity, a picnic in the snow is possible.
I came from a family of very modest means. Summer was not synonymous with vacations. But it did mean family picnics. And we created some fun ones that made us feel like we were going on a fancy vacation.
I wish I could say our family came up with the idea of "picnics posing as vacations," but alas, we were not that clever. We borrowed the idea from another family whose circumstances were similar to ours. The mother in that family was a creative woman who wanted to give her kids an "away-from-home" experience by creating imaginative picnics.
So, our family copied her (although our picnics were dull in comparison).
After I got married, I wanted to have a picnic tradition with our kids. However, they were not a substitute for family vacations–they were something our kids loved doing and a way to relax and have fun.
Here are 43 ideas, suggestions, toys, games, food, menus, etc., to use as a springboard when planning picnics for your family. Be creative—theme your ideas and remember—it's possible to take your children to distant lands all wrapped up in a picnic!
None of these are specific to a holiday or time of the year which makes them more universal. Whether you're celebrating the 4th of July, Memorial Day or one of the fall holidays–these picnic themes will work. And–be sure and include grandparents, aunts, uncles, and cousins–make it a fun family affair!
15 Locations for Family Picnics
There are many places you can take your family for a picnic depending on where you live. Here are 15 suggestions, but put on your thinking caps; talk to your kids and vary the spot from one picnic to the next.
Parks
Mountains
Beach
Canyons
Forest
Lake
A fun place in your city
A nearby city or town
Your backyard
Summer concerts
Festivals
Fairs (Renaissance Fairs, Craft Fairs, etc)
Sporting Events
The Library (the grounds around the library)
The Mall
Picnic Ideas: 10 Preparation Tips
All picnics require planning and a few basics. Here's a list of 10 things you may need:
#1: The Proverbial Picnic Basket  
Purchase a sturdy picnic basket or picnic backpack. Check out: HomeGoods, Michael's, Jo-Ann's, or Amazon. If you don't want a basket for your picnic, consider a fun bucket, container or cooler.
#2: Picnic Tablecloth
You can purchase amazing tablecloths at HomeGoods—and they have a great selection of plastic-coated tablecloths that are perfect for picnics at great prices. If you are going to "theme" your picnic, look for tablecloths that will match your theme.
#3: Picnic Necessities: Cutlery, Cups, Plates & Napkins
The cups, plates, napkins, and cutlery are essential for a picnic. You have two choices; disposable (recommended) or inexpensive "real" plates, silverware, etc. Check out the Dollar store, Target, or Wal-Mart for disposable picnic necessities. The advantage to disposable is obvious—you can throw them away and eliminate washing.
#4: Candles: Not Necessary but a Nice Addition
There are so many wonderful LED candles—grab a few for your picnics. They come in handy when you have a sunset or midnight madness picnic and they are just plain fun to add to the ambiance of the occasion. I would NOT suggest real candles—can be dangerous around kids.
#5: Insulated Containers
Check out this insulated cooler to keep foods cold. And check out this insulated cooler for transporting and keeping foods hot.
Another alternative that works for keeping food hot is wrapping the hot food in several layers of newspapers; putting the dish into two brown paper bags. Most hot foods will stay warm for 2-3 hours if you use the newspaper/paper bag method.
#6: Ice Jug or Cooler
Sometimes a cooler or ice jug is necessary to keep your drinks and other foods cold. A smaller ice jug is great for transporting ice to put in your drinks. And a cooler is great for transporting all your foods that need to remain cold. The disadvantage: you have to put ice in the cooler which makes it heavy to transport.
#7: Decorations to Theme Your Picnic
If you theme your picnic or are having a picnic to celebrate a holiday or birthday, consider adding some fun decorations—balloons, streamers, centerpieces, posters, etc. The Dollar Store is perfect for finding lots of cheap decorations to turn your picnic into a fun celebration or to give the feeling you're visiting a foreign country.
Also, purchase items in the "off-season," to save for later. I've also found that as I cruise around the Dollar Store, my creative juices start flowing and a picnic theme I never considered pops into my head. Keep your eyes peeled for fun ideas!
#8: Picnic Chairs or Blankets
Investing in picnic chairs or a blanket is a good idea if you will be picnicking at the beach other places where there aren't tables or chairs. Check out Amazon—a big selection and less expensive.
#9: Make Your Picnic Healthy
When choosing foods for your picnics, please don't overload your kids on sugar or unhealthy snacks. I've added recipes that contain plenty of fruits and veggies and small doses of sugar (we just can't get completely away from that white sweet stuff!).
#10: 12 Toys & Games for Brain-Building, Outdoor Fun
Depending on your picnic location, bring toys and games for outdoor play. There are links to 12 toys and games for kids and brain-building fun. Consider these 12 outdoor toys:
6 Family Picnic Ideas (the menus)
Here are 6 family picnic themes and menus. I've included one or two recipes from each menu and linked to recipes on my blogs. Some recipes are from friends or have been in my family for years. Others are not included because you'll find dozens just like them online. I've kept each picnic to 4 food items, but you can add according to your family's needs.
Include your kids in the DIY planning, the baking, the cooking and anything to help them feel a part of creating a memory-building family tradition.
Picnic Idea #1: Concert in the Park 
Menu:
Chinese Chicken Salad
Marinated Veggies
Trader Joe's Oat Bran Muffins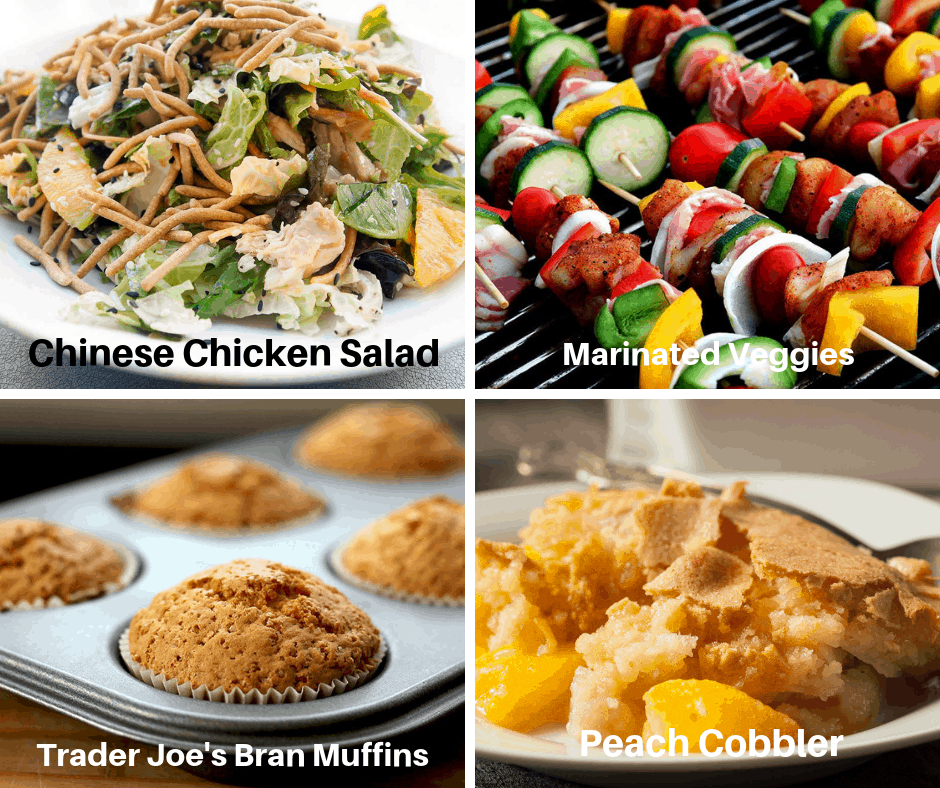 Picnic Idea #2: Welcome to________ (Los Angeles)
This can be a fun picnic idea when family or friends come to visit you. Insert your city in the title or the name of a country.
Menu: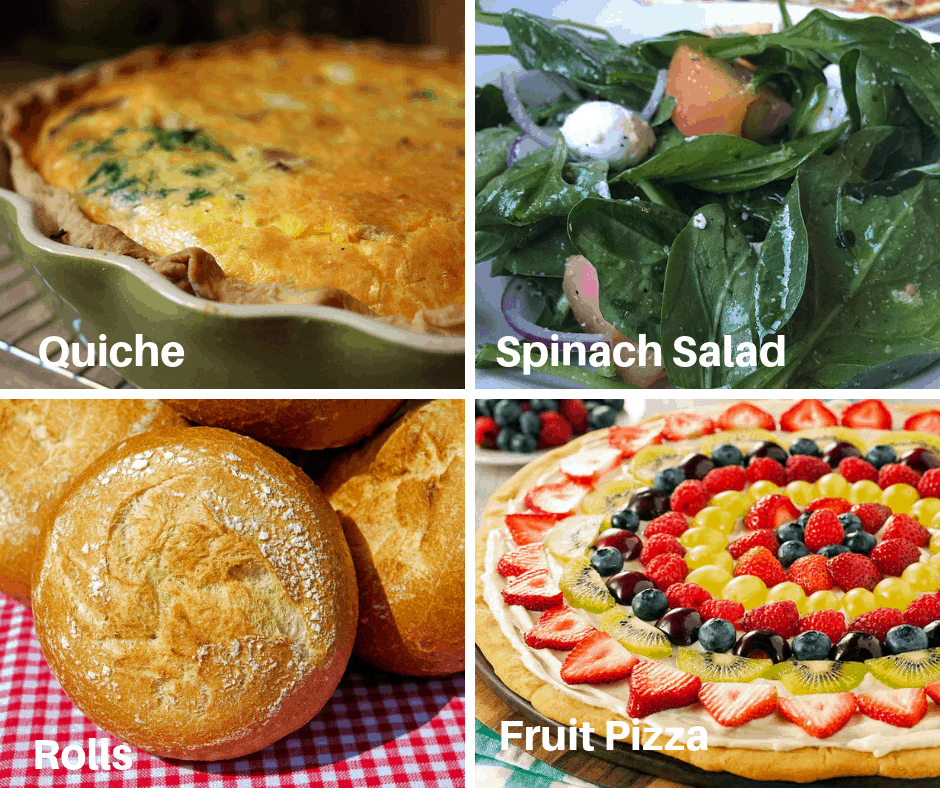 Picnic Idea #3: Sunset at the Beach

(or any nature spot in your town)
This picnic is easy to transport except for the ice cream. However, homemade ice cream tends to be very hard when frozen and takes almost 30 minutes to unthaw. Put in an insulated bag for transporting.
Menu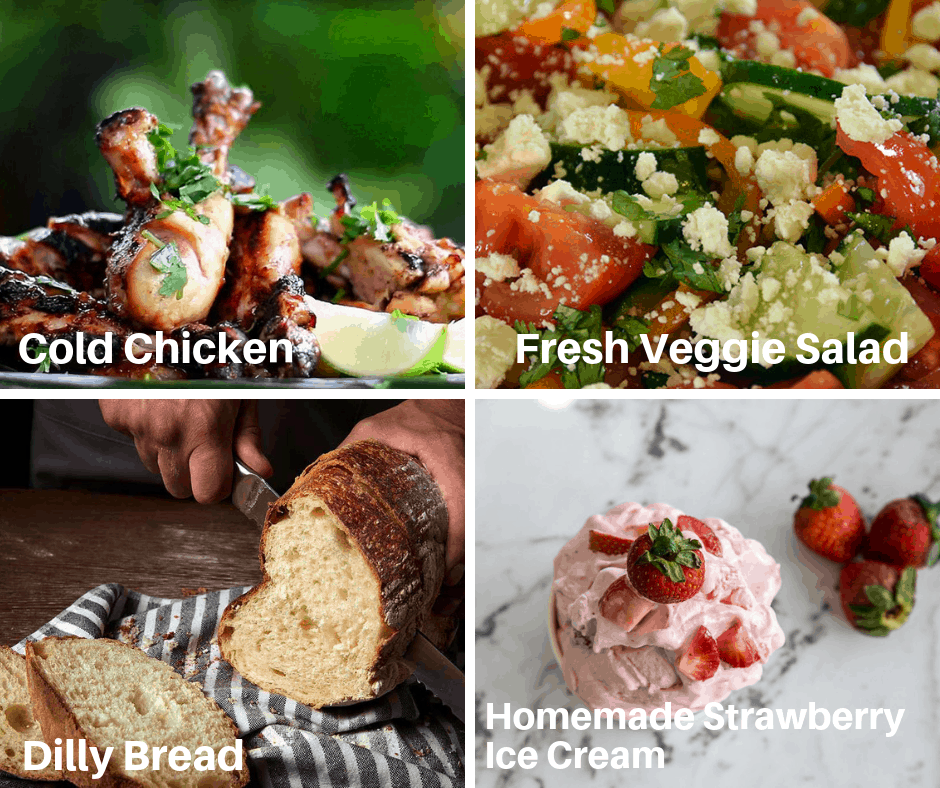 Picnic Idea #4: "In the Hood" Winter or Summer Picnic 
Pop-up the hatch of the car; set out your picnic and have everyone grab their food and eat inside the car. Crank up the stereo and have a family sing-a-long.
Menu
Chicken & Corn Tostada Salad
Fresh Fruit Kabobs
Rolls
Darn Good Chocolate Cake
Picnic Idea #5: Picnic Under the Stars
This picnic can be celebrated at dusk at any great location.
Menu:
Pasta Salad with Sun-Dried Tomatoes
Cold Shrimp w/horseradish or cocktail sauce
Rolls
Lemon Bars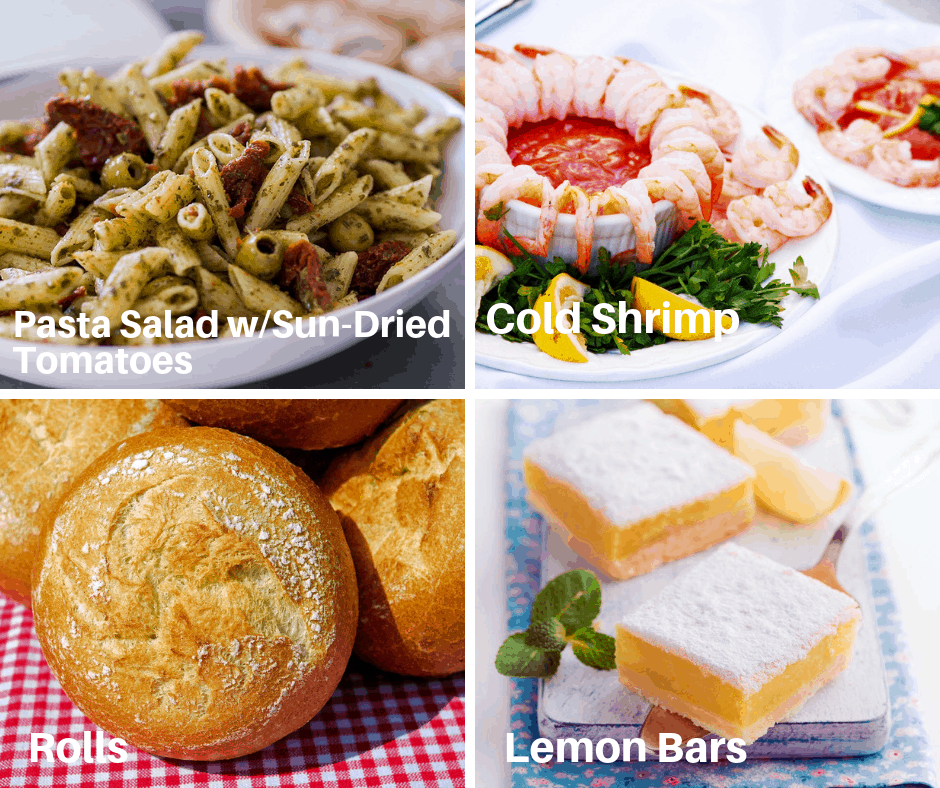 Picnic Idea #6: Rally Round the Barbeque
Menu:
Barbeque hamburgers, chicken, beef, hotdogs, etc
Mom's Best Baked Beans
Nachos & Cheese
The fun part about this picnic is you can do it at home with all the conveniences at your fingertips. And, what would a barbeque be without baked beans and homemade ice cream?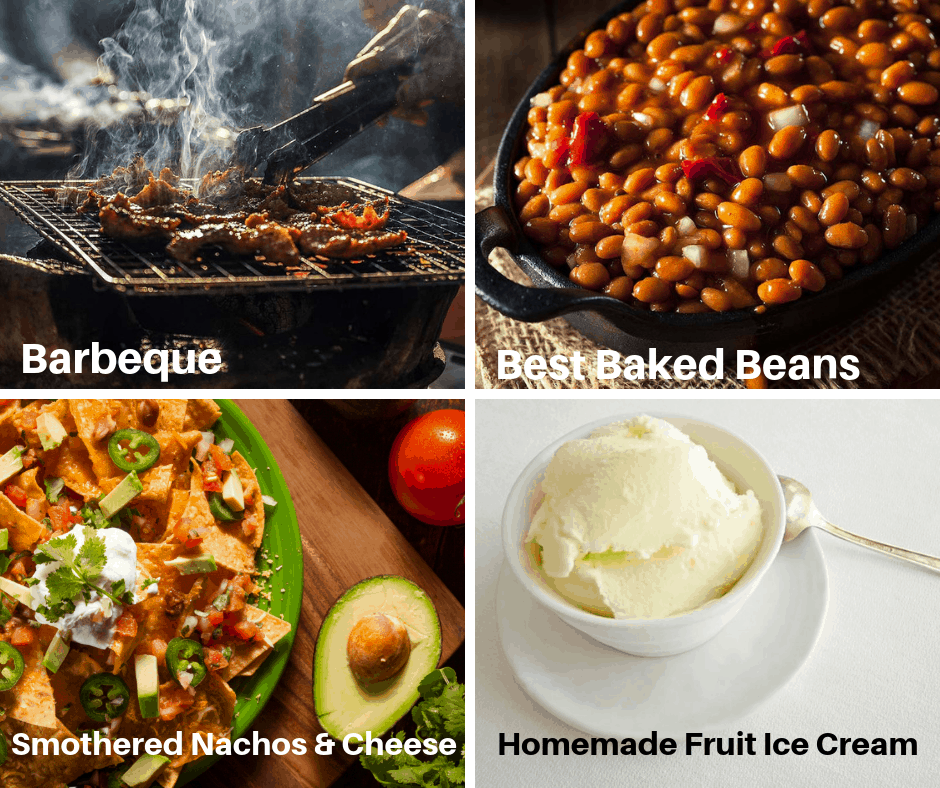 Snack Foods
So you don't run out of food, take along some additional snack foods. The great outdoors makes everyone hungry for sweet, salty snacks.
Watermelon
Popsicles
Popcorn
Grapes or other finger-fruits
Veggie Tray
Chips & Dip
Nuts or Seeds
S'Mores (not just a camping dessert)
Bottled Water
Juice boxes
Picnic Ideas: A Family Tradition
So grab your kids; plan the perfect, healthy family picnic, immortalize your event with pictures and you're on your way to creating a lasting family tradition.
Does your family love to picnic? If so, what are your experiences? What fun places have you had family picnics? Any favorite recipes you'd like to share? Please comment in the section below.