Inside: Here are 43 picnic ideas for the whole family to enjoy. Involve your kids in the planning and preparing; focusing on healthy foods; entertaining fun and creating lasting memories.
Picnic Ideas for Everyone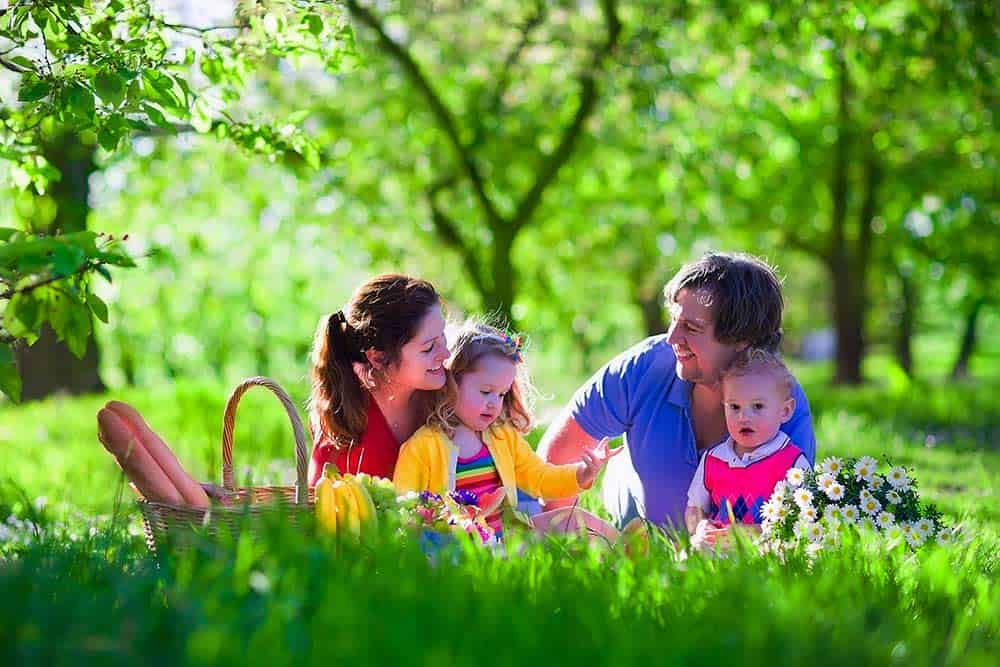 Summer is a great time for picnics, but in my experience—all seasons of the year are good times for a picnic—even winter. It may have a few challenges, but with a little creativity, a picnic in the snow is possible.
Here are 43 ideas, suggestions, toys, games, food, menus, etc., to use as a springboard when planning picnics for your family. Be creative—theme your ideas and remember—it's possible to take your children to distant lands all wrapped up in a picnic!
None of these are specific to a holiday or time of the year which makes them more universal. Whether you're celebrating the 4th of July, Memorial Day, or one of the fall holidays–these picnic ideas and themes will work.
Picnic Ideas: 15 Locations for Family Picnics

There are many places you can take your family for a picnic depending on where you live. Here are 15 suggestions:
Parks
Mountains
Beach
Canyons
Forest
Lake
A fun place in your city
A nearby city or town
Your backyard
Summer concerts
Festivals
Fairs (Renaissance Fairs, Craft Fairs, etc)
Sporting Events
The Library 
Picnic Ideas: 10 Preparation Tips

All picnics require planning and a few basics. Here's a list of 10 things you may need:
#1: The Proverbial Picnic Basket  
Purchase a sturdy picnic basket or picnic backpack. If you don't want a basket for your picnic, consider a fun bucket, container or cooler.
#2: Picnic Tablecloth
You can purchase amazing tablecloths at HomeGoods—and they have a great selection of plastic-coated tablecloths that are perfect for picnics at great prices. 
#3: Picnic Necessities: Cutlery, Cups, Plates & Napkins
The cups, plates, napkins, and cutlery are essential for a picnic. You have two choices; disposable (recommended) or inexpensive "real" plates, silverware, etc. Check out the Dollar store, Target, or Wal-Mart for disposable picnic necessities. Afterward, you can throw them away and eliminate washing.
#4: Candles: Not Necessary but a Nice Addition
There are so many wonderful LED candles—grab a few for your picnics. They come in handy when you have a sunset or midnight madness picnic and they are just plain fun to add to the ambiance of the occasion. 

#5: Insulated Containers
Check out this insulated cooler to keep foods cold. And check out this insulated cooler for transporting and keeping foods hot.
Another alternative that works for keeping food hot is wrapping the hot food in several layers of a newspaper; putting the dish into two brown paper bags. Most hot foods will stay warm for 2-3 hours if you use the newspaper/paper bag method.
#6: Ice Jug or Cooler
Sometimes a cooler or ice jug is necessary to keep your drinks and other foods cold. A smaller ice jug is great for transporting ice to put in your drinks. And a cooler is great for transporting all your foods that need to remain cold. 
#7: Decorations to Theme Your Picnic

If you theme your picnic or are having a picnic to celebrate a holiday or birthday, consider adding some fun decorations—balloons, streamers, centerpieces, posters, etc. The Dollar Store is perfect for finding lots of cheap decorations to turn your picnic into a fun celebration or to give the feeling you're visiting a foreign country.
Also, purchase items in the "off-season," to save for later. 
#8: Picnic Chairs or Blankets
Investing in picnic chairs or a blanket is a good idea if you will be picnicking at the beach or other places where there aren't tables or chairs. Check out Amazon—a big selection and less expensive.
#9: Make Your Picnic Healthy
When choosing foods for your picnics, please don't overload your kids with sugar or unhealthy snacks. I've added recipes that contain plenty of fruits and veggies and small doses of sugar.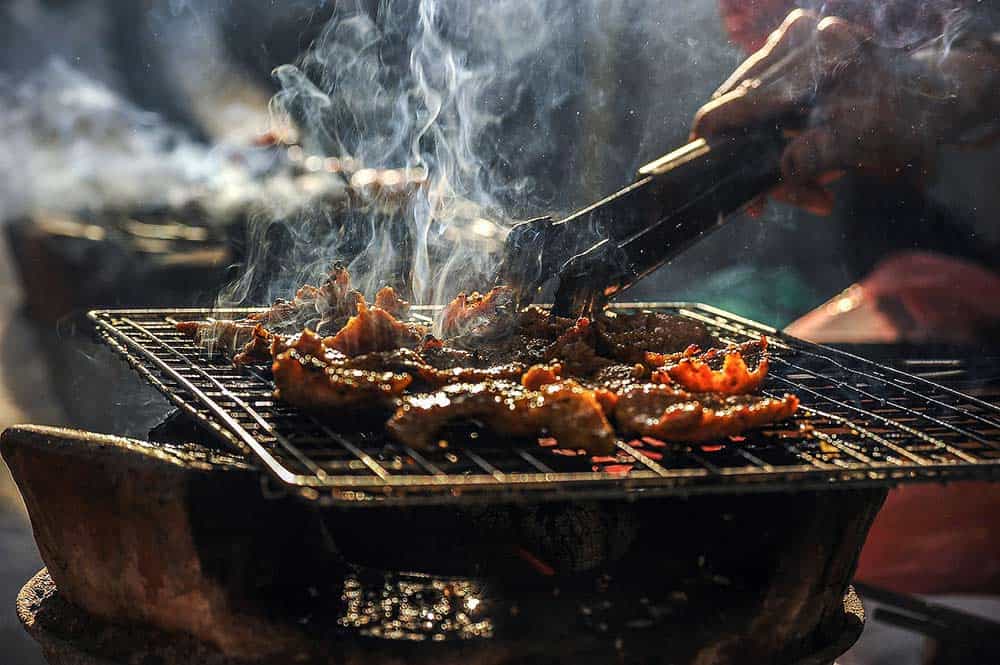 #10: 8 Toys & Games for Brain-Building, Outdoor Fun
Depending on your picnic location, bring toys and games for outdoor play. Consider these 8 outdoor toys:

6 Family Picnic Ideas (the menus)
Here are 6 family picnic themes and menus. I've included one or two recipes from each menu and linked other recipes to my blogs. Each picnic has 4 food items, but you can always add more.
Picnic Ideas #1: Concert in the Park 

Next time you go to a concert in the park–take along a yummy picnic to enjoy! 
Menu:
Chinese Chicken Salad
Marinated Veggies
Trader Joe's Oat Bran Muffins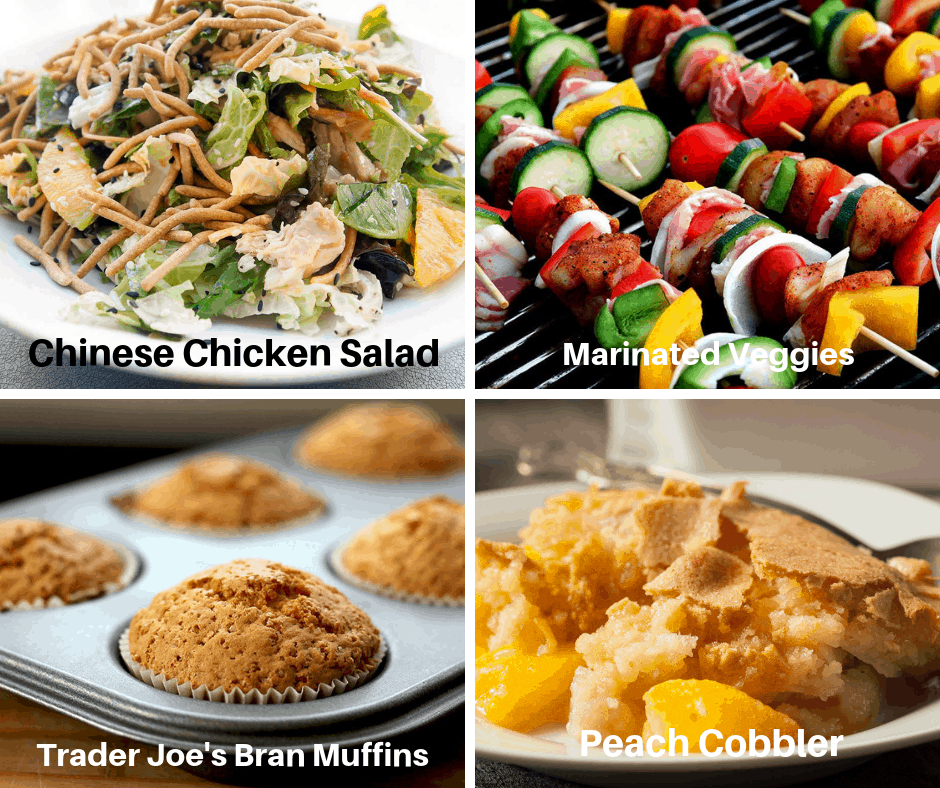 Marinated Veggies
This is easy to put together but requires the veggies to marinate--from 4 hours to 24 hours. Make this recipe a day ahead
Author:
Good Parenting Brighter Children
Ingredients
3 carrots (1/4-inch slices)
1 small head cauliflower
½ pound French green beans
1-2 broccoli stems
½ pound fresh whole mushrooms
½ cup red wine vinegar
1 teaspoon dry mustard
1 teaspoon dry basil
2 Tablespoons minced dry onions
½ teaspoon oregano leaves
½ teaspoon black pepper
2 ½ teaspoons garlic salt
¾ cup of vegetable oil
10 cherry tomatoes
2 zucchinis, cut into slices
Instructions
Steam to almost tender the carrots, cauliflower, green beans, and broccoli
Add the mushrooms and steam for another 3 minutes
Rinse with cold water and drain well
Cover the mixture with the rest of the ingredients except the tomatoes and zucchini.
Marinate 4-24 hours
Before serving, add the cherry tomatoes and zucchini
Option: after marinating, you can put the veggies on skewers and grill
Trader Joe's Bran Muffins
Author:
Good Parenting Brighter Children
Ingredients
2 ¼ cup Trader Joe's Oat Bran
¼ cup brown sugar
½ cup chopped walnuts
½ cup raisins
2 teaspoons baking powder
½ teaspoon salt
¾ cup dry milk powder
1 ½ teaspoon ground ginger
¼ teaspoon ground black pepper
3 egg whites
¼ cup honey
2 Tablespoons vegetable oil
¾ cup warm water
Instructions
Preheat the oven to 375 degrees
Butter and flour muffin tins or line with paper liners
Combine dry ingredients
Combine all the liquid ingredients in one bowl
Combine wet and dry ingredients and stir until blended (don't over stir)
Allow to sit for 10 minutes
Bake for 15 minutes or until brown and slightly firm to the touch
Picnic Ideas #2: Welcome to________ (Insert the name of your city)
This can be a fun picnic idea when family or friends come to visit you and you welcome them with a picnic! 
Menu: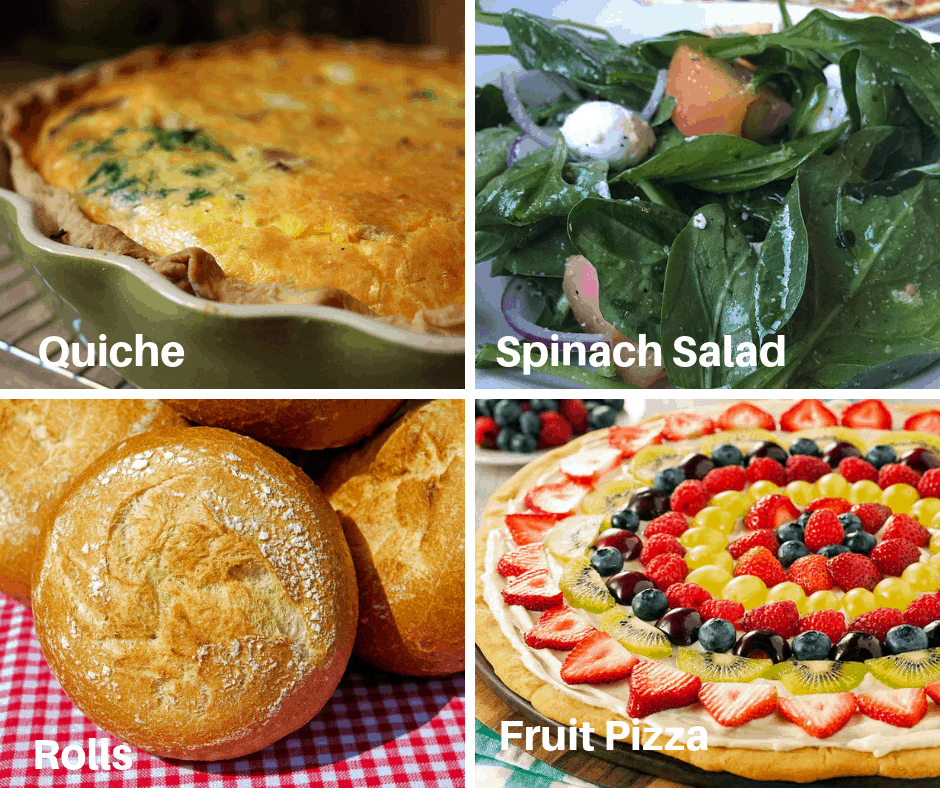 Fruit Pizza
Author:
Good Parenting Brighter Children
Ingredients
Dough—you can use a sugar cookie dough recipe or use refrigerated sugar cookie dough from the store
Grease a round cookie sheet
Spread sugar cookie dough evening around the cookie sheet
Bake at 350 degrees for 20 minutes; cool
1 8 oz package cream cheese
½ cup of sugar
1 teaspoon vanilla
1 cup cool whip
1 ½ cups of sugar
3 Tablespoons cornstarch
1 cup of orange juice
¾ cup of water
¼ cup of lemon juice
Dash of salt
Fruit in season: strawberries, raspberries, blueberries, kiwi, mandarin oranges, peaches, grapes
Instructions
Mix together until smooth the cream cheese, sugar, vanilla, and cool whip.
Spread on cooled sugar dough.
Combine in a pot the sugar, cornstarch, orange juice, water, lemon juice, and salt.
Bring the mixture to a boil and cook until thick.
Cool; spread and layer over mixture
Arrange the fresh fruit you have chosen as the topping. Arrange in a circular fashion
Refrigerate for at least 30 minutes
Picnic Ideas #3: Sunset at the Beach (or in the mountains)

This picnic is easy to transport except for the ice cream. However, homemade ice cream tends to be very hard when frozen and takes almost 30 minutes to unthaw. Put in an insulated bag, packed with ice for transport.
Menu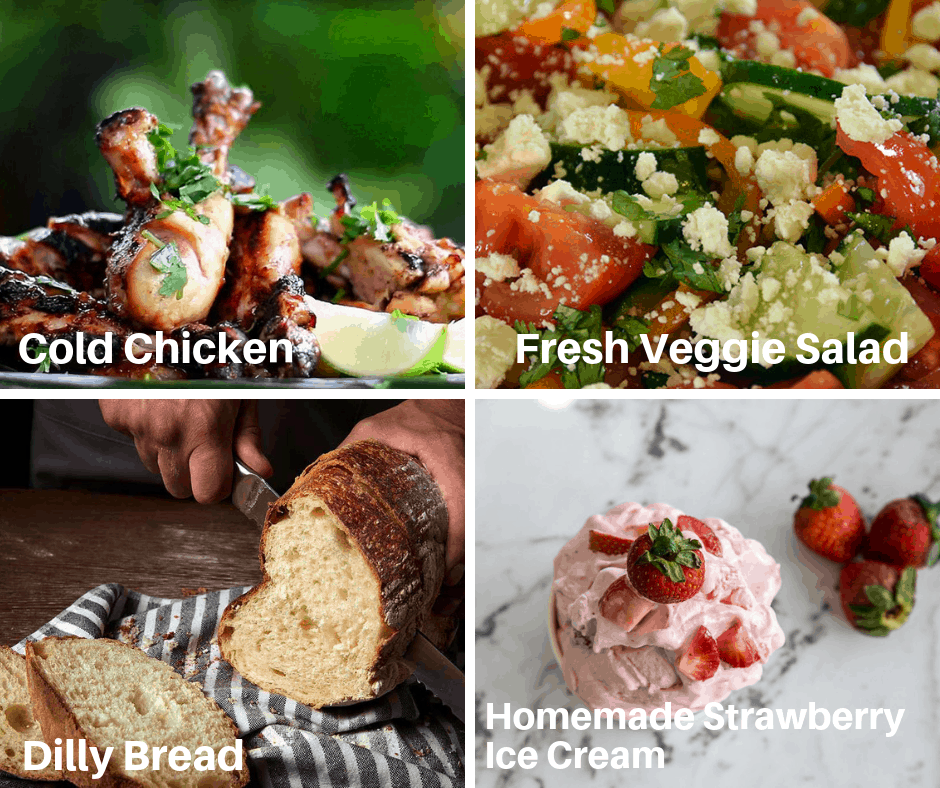 Dilly Bread
This was a recipe my uncle (a professional baker) gave to me many years ago
Author:
Good Parenting Brighter Children
Ingredients
1 package of dry yeast
¼ cup of warm water
1 teaspoon sugar
1 cup cottage cheese
2 Tablespoons sugar
1 Tablespoon minced dry onion
1 Tablespoon butter
2 tablespoons dill seed
1 teaspoon salt
¼ teaspoon baking soda
2 ½ cups flour
Cornmeal
Instructions
Dissolve the yeast in the water with 1 tsp. sugar
Warm cottage cheese and put in a bowl
Add the sugar, dried onion, butter, dill seed, salt, and baking soda
Mix together
Add the yeast mixture; mix well
Add the flour, and mix until it forms a dough
Put the dough in a buttered dish
Let rise until double; about 1 ½ -2 hours
Form into a round loaf
Prepare a cookie sheet that has been greased with shortening and cornmeal sprinkled on it
Place the bread dough on the cookie sheet
Let rise until double—about 45 minutes
Brush with melted butter before putting it in the oven
Bake at 350 degrees for 40-45 minutes
Picnic Ideas #4: "In the Hood" Winter or Summer Picnic 

Pop up the hatch of the car; set out your picnic and have everyone grab their food and eat inside the car. Crank up the stereo and have a family sing-a-long.
Menu
Chicken & Corn Tostada Salad
Fresh Fruit Kabobs
Rolls
Darn Good Chocolate Cake

Chicken & Corn Tostada Salad
This is a recipe given to me by my friend, Mary Madrid
Author:
Good Parenting Brighter Children
Ingredients
¼ cup apple cider vinegar
3 Tablespoons honey
1 ½ teaspoon cumin
¼ teaspoon salt
⅛ teaspoon black pepper
1 Tablespoon olive oil
2 whole chicken breasts, skinned, deboned, cut into strips
½ teaspoon garlic salt
1 package (16 oz) of sweet frozen corn
1 cup chopped plum tomatoes
1 (15 oz) can of black beans; rinsed and drained
5 green onions (scallions) thinly sliced including tops
2 medium avocadoes, peeled, chopped
1 head butterhead, Boston, or Bibb lettuce; torn into bite-size pieces
1 small red bell pepper
2 cups (8 oz) shredded Monterey Jack cheese
3 cups slightly crushed blue corn tortilla chips
Instructions
In a jar with a tight-fitting lid combine the dressing ingredients: vinegar, honey, cumin, salt, and pepper. Shake well and set aside
Heat oil in a large skillet over medium heat until hot
Add chicken. Cook until no longer pink (5-10 minutes)
Transfer chicken to a very large bowl; sprinkle with garlic salt
Prepare corn according to package directions; drain
Stir corn with chicken
Cover and refrigerate for 30 minutes
Add tomatoes, black beans, onions, avocados, lettuce, and red pepper to the chicken mixture; toss to combine
Shake dressing; pour over salad mixture
Toss lightly
Just before serving, add the cheese and tortilla chips
Toss gently
Serve with bowls of sour cream and salsa
Darn Good Chocolate Cake
This is a fabulous chocolate cake recipe given to me by my friend Carolyn Allen
Author:
Good Parenting Brighter Children
Ingredients
1 package devil's food cake mix
1 (3.9 oz) box instant chocolate pudding mix
4 large eggs
1 cup sour cream
½ cup of warm water
½ cup of vegetable oil
1 ½ cups semi-sweet chocolate chips
1 cup walnuts, chopped (optional)
Instructions
Add all the ingredients together in a mixer except for the chocolate chips
Blend for 1 minute
Scrape the bowl, then mix for another 2 minutes
Stir in chocolate chips
Pour into a well-greased Bundt pan
Bake at 450 degrees for 45 minutes
Check for doneness—stick in a knife but also juggle the pan. If it moves, cook longer
Let cool for 20 minutes then flip over onto a plate
Best when completely cool.
Freezes well
Note: Do NOT use the Betty Crocker deluxe moist—it's too moist and will not work as well.
Picnic Ideas #5: Picnic Under the Stars

Celebrate this picnic at dusk at any great location.
Menu:
Pasta Salad with Sun-Dried Tomatoes
Cold Shrimp w/horseradish or cocktail sauce
Rolls
Lemon Bars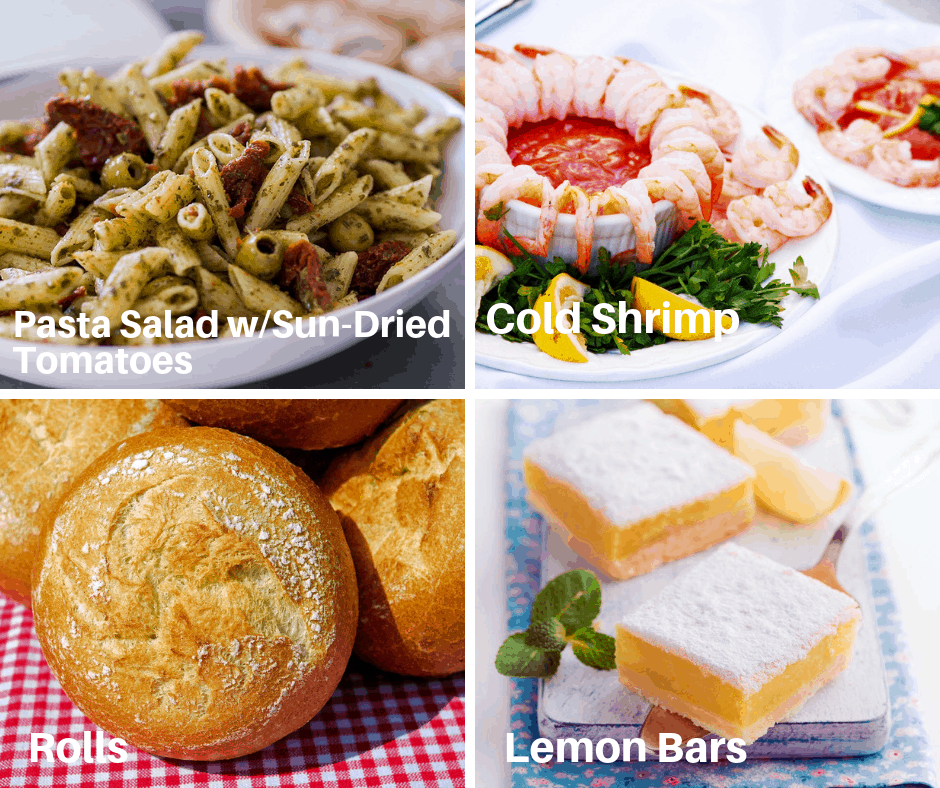 Pasta Salad with Sun-Dried Tomatoes
A delicious pasta salad shared by my friend Cami Hoopes (a gourmet cook)
Author:
Good Parenting Brighter Children
Ingredients
½ pound fusilli pasta or any pasta shape you prefer
Kosher salt
Olive oil
1-pound ripe tomatoes, diced
¾ cup black olives
1-pound fresh Mozzarella cheese, diced
6 sun-dried tomatoes in oil, drained and chopped
5 sun-dried tomatoes in oil, drained
2 Tablespoons red wine vinegar
6 Tablespoons olive oil
1 garlic clove, minced
1 teaspoons capers, drained
2 teaspoons kosher salt
¾ teaspoon black pepper
1 cup freshly grated Parmesan cheese
1 cup packed fresh basil leaves; julienned
Instructions
Cook the pasta in a large pot of boiling, salted water with a splash of oil to keep it from sticking
Boil for 12-minutes or according to the directions on the package
Drain well and allow to cool
Place the pasta in a bowl; add the tomatoes, olives, mozzarella, and chopped sun-dried tomatoes
For the dressing: combine the sun-dried tomatoes, vinegar, olive oil, garlic, capers, salt, and pepper in a food processor and combine until almost smooth
Pour the dressing over the pasta
Sprinkle with the parmesan cheese, and basil, and toss
Picnic Ideas #6: Rally Round the Barbeque

The fun part about this picnic is you can do it at home with all the conveniences at your fingertips. And, what would a barbeque be without baked beans and homemade ice cream?
Menu:
Barbeque hamburgers, chicken, beef, hotdogs, etc
Mom's Best Baked Beans
Nachos & Cheese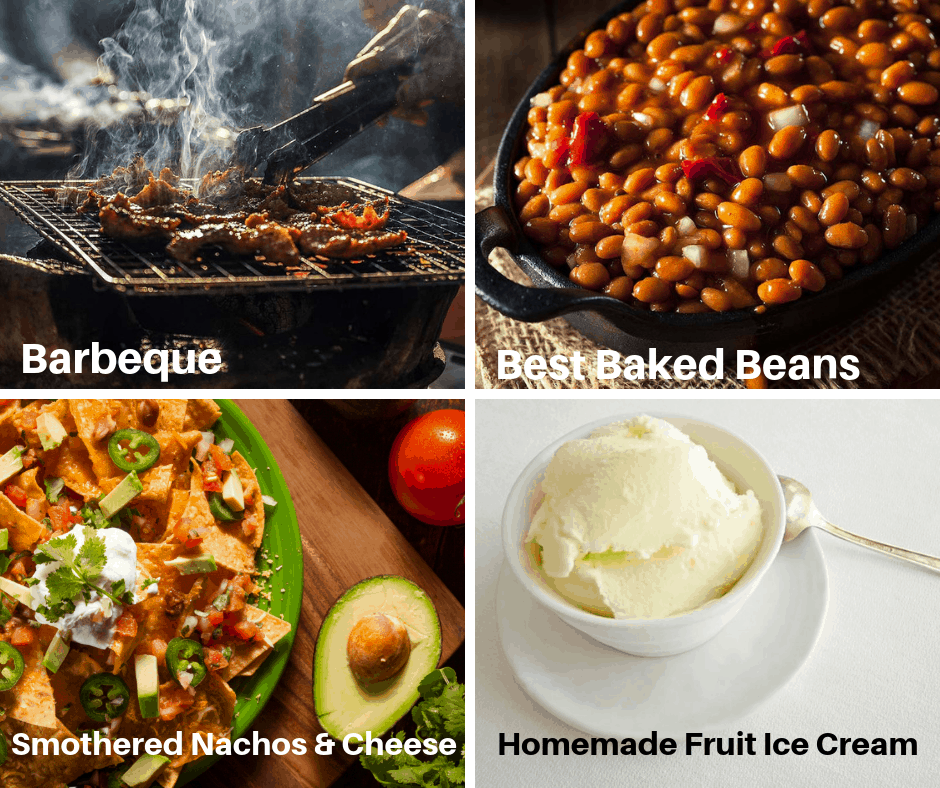 Mom's Best Baked Beans
This is a recipe from my friend Lisa Condie
Author:
Good Parenting Brighter Children
Ingredients
2 ½ cups pork & beans
2 ½ cups chili beans
8 slices of bacon, uncooked, cut into pieces
½ cup brown sugar
1 cup catsup
2 Tablespoons chili powder
1 ½ cups Monterey Jack cheese diced in cubes
½ onion, chopped
Instructions
Mix all the ingredients together in a large dish suitable for the oven
Bake in the oven at 325 degrees for 1 ½ to 2 hours; stirring occasionally
Snack Foods
So you don't run out of food, take along some additional snack foods. The great outdoors makes everyone hungry for sweet, salty snacks.

Picnic Ideas: A Family Tradition
So grab your kids; plan the perfect, healthy family picnic, immortalize your event with pictures and you're on your way to creating a lasting family tradition.
What fun places have you had family picnics? Any favorite recipes you'd like to share? Please comment in the section below.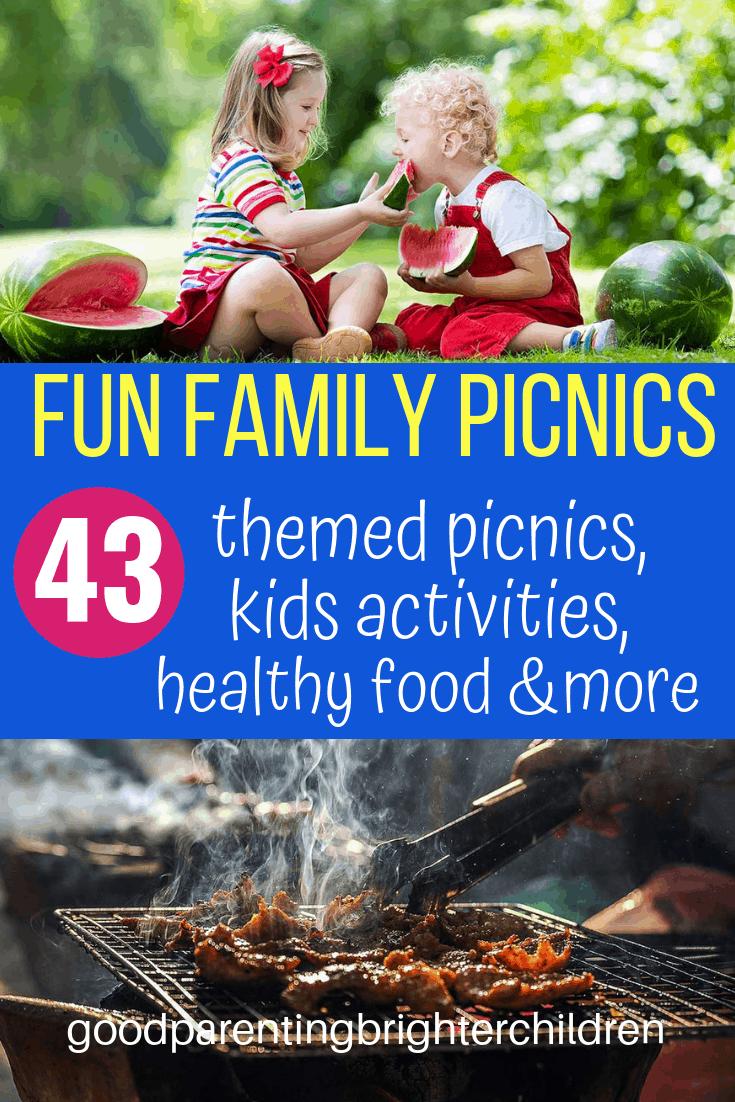 FAQ's
What kinds of food do you take on a picnic?
Any foods that are easy to transport and don't need to stay piping hot. Pasta or potato salads, barbeque beans, green salads, rolls, cold chicken, shrimp, marinated veggies, fruit kabobs, veggie trays, assorted chips and dips, drinks such as water or sodas, cookies, cakes, watermelons, and even ice cream. For foods containing mayonnaise or sour cream, use a cooler to transport
How do you make a good picnic?
Put together your family's favorite foods that are easy to transport to a picnic location. Make your picnic unique and give it a "theme," such as "Rally Round the Barbeque Picnic," or "Picnic Under the Stars," or "Sunset at the Beach Picnic." The most important part of any picnic is the people who come–families, children, teens, cousins, aunts, uncles, and friends. Picnics create friendship and comradery.
What should I bring for a picnic?
So far as food goes, bring your favorite dishes that are unique to your family; easy to transport and something everyone loves. For equipment bring a picnic basket, insulated containers, plates, cups, and cutlery, ice jugs and coolers, decorations, picnic chairs, and blankets. And it's always a good idea to bring games such as badminton, bean bags, assorted balls, croquet sets, bubble machines and frisbees to use after everyone eats.