Inside: If your kids like cooking and baking in the kitchen, they will have fun with this award-winning quiche recipe. It will give them an opportunity to get their "hands wet" as they make a pie crust, chop vegetables, grate cheese and layer ingredients. Another great learning curve in the kitchen!
Award-Winning Quiche Recipe
Here is our family's favorite quiche recipe that we've been making for 30 years. It's scrumptious, easy to make and versatile. It can be served for breakfast, lunch or dinner. 
I call this an award-winning quiche recipe because it never fails to please. It's delicious for even the pickiest of palates; it's a recipe that doesn't ever seem to flop and it's amazing hot or cold. Given all that, I think it deserves the designation, "award-winning quiche."
Award-Winning Quiche Recipe: Boursin Cheese Quiche
Boursin Cheese Quiche: Healthy Smart Kids in the Kitchen
Author:
Sharlene Habermeyer
Ingredients
Pre-baked pie shell (to fit a 9-10-inch quiche dish)
1 cup shredded Swiss cheese
¼ cup chopped green onions (scallions)
¼ cup chopped black olives
1 small tomato, seeded and diced
3 eggs
½ cup whipping cream
1 (5 oz) package Boursin Spice Cheese (I get mine at Costco)
Instructions
Preheat oven to 375 degrees
Sprinkle ¾ cup Swiss cheese on the bottom of the pie shell
Sprinkle green onions, black olives, and tomato over Swiss cheese
In a medium bowl, mix the eggs, cream, and Boursin cheese with a fork. The end result will be lumpy, but it won't affect the final result.
Pour mixture over the vegetables
Sprinkle with remaining ¼ cup Swiss cheese
Bake on the bottom shelf of the oven for 35 minutes until puffed and golden brown
Let stand for 5 minutes before serving.
Cut into wedges
Makes 6-8 servings
Notes
If you are near a Costco, they carry Boursin cheese. It comes in a 3-package container with different varieties. I've used all the kinds in this recipe and they taste divine!



Healthy Tip #1: What is quiche and where did it originate from?
Quiche means "open tart or flan." It originated in France but is made all over the world. Quiche consists of a pastry crust filled with eggs, cream, cheese, meat, vegetables and/or seafood. It can be served hot or cold for breakfast, lunch or dinner. Considering all the eggs and veggies, quiche is very healthy.
Healthy Tip #2: Different Kinds of Cheeses Used in this Quiche
Introduce your kids to some of the different kinds of cheeses used in a quiche.
Boursin cheese
This cheese is used in this recipe. It's a soft creamy cheese that comes in a variety of flavors. Both the flavor and texture are similar to cream cheese (just a lot better). Boursin is a brand of Gournay cheese and was developed in 1957 by Francois Boursin, a cheesemaker from Normandy. His first flavor was Garlic and Fine Herbs.
Swiss Cheese
Swiss cheese is a yellow medium-hard cheese with a lot of holes and resembles Emmental cheese which was first developed in Emmental in Switzerland. It has a tangy flavor and is used in many quiche recipes. However, not all swiss cheese has holes—it depends on how it is made.
Gruyere Cheese
I added this cheese to the list because a lot of quiche recipes call for this type of cheese. Note that you can use swiss cheese as a substitute for gruyere cheese because gruyere is a smooth-melting type of swiss cheese.
Healthy Tip #3: The Versatile, Nutrient-Dense Egg
The main ingredient in a quiche is eggs. Eggs are an amazing food. So much so that I dedicated an entire blog about eggs. They are loaded with protein, essential vitamins and minerals such as choline which is an important nutrient that will build your children's brains. 
Healthy Tip #4: Making a Pie Crust
I have to confess—I hate making pie crusts! All the ones I've made from scratch…flop! So, when it comes to making a pie crust, I opt for the store-bought pie crust mix that you add water to, roll out and arrange in the pie pan. Those crusts were easy for my kids and they always had the right flakiness and texture. 
Here is a recipe from my friend for her fool-proof pie crust recipe. If it doesn't work for you or if your kids have difficulty with it—go buy a pie crust mix. 
Joanna's Fool-Proof Pie Crust Recipe: Healthy Smart Kids in the Kitchen
Author:
Sharlene Habermeyer
Ingredients
2 cups sifted flour
½ tsp. salt
¾ cup shortening
⅓ cup COLD water
Instructions
Mix all the ingredients together. Don't over mix
Roll out and put into a pie pan or quiche dish
Bake at 450 degrees for 15 minutes
Healthy Tip #5: Six Different Things Learned When Making Quiche
Your preteens and teens will learn skills such as:
How to read a recipe and follow directions
How to make a pie crust
How to form the pie crust into the quiche pan and create pretty edges
Since the quiche requires the pie crust to be baked before adding all the other ingredients—your child will learn that sometimes a recipe calls for a baked pie crust and sometimes not. It depends on what you are making.
The process of measuring, mixing, and chopping ingredients
Gain an understanding that a quiche is a layered food—each layer is important to the success of the final product
4 Kitchen Science Tips When Cooking With Eggs
Eggs are filled with amazing science and having a broad understanding of the science behind eggs will help your kids in the kitchen. Here are four kitchen science tips for your kids when hard-boiling an egg:
Kitchen Science Tip #1: How to Hard-Boil an Egg (to perfection)
Here a recipe for the perfect hard-boiled egg. If your children follow this recipe, they will end up with a picture-perfect hard-boiled egg:
Take the number of eggs you are hard-boiling out of the fridge and set them on the counter for 30 minutes. 
Bring the water to a boil
Carefully lower the eggs into the boiling water
Set a timer and boil the eggs for 14 minutes, uncovered.
When the timer goes off, turn off the heat; remove the pot off the burner
Set the timer for 3 minutes allowing the eggs to "simmer" in the hot water
When the timer goes off, pour off the hot water and run very cold water over the eggs for 3 minutes
Remove the eggshell off the eggs. Wrap in paper towels and refrigerate
Kitchen Science Tip #2: Why Do You Need Room Temperature Eggs for Hard Boiled Eggs?
Room temperature eggs usually don't break when you put them into boiling water. There is an air pocket inside eggs which can cause the shell to crack when you place a cold egg in boiling water. The heat of the water expands the trapped air which creates atmospheric pressure. This pressure causes the fragile cold eggshell to crack releasing the trapped gas inside the egg. An egg that is at room temperature usually does not have this pressure issue and will not crack.
Kitchen Science Tip #3: Why is it Easier to Peel a Hot Egg Rather than a Cold Egg?
As your hard-boiled egg cools off in the refrigerator, the egg white begins to stick to the shell's membrane and makes it difficult to peel a cold egg. Try these tips:
Gently crack the warm egg on a hard surface so the shell breaks
Start at the larger end of the egg to peel
Peel under cold running tap water
Kitchen Science Tip #4: How to Prevent Green Around the Yolk
Your child may notice that some eggs have a green color around the edge of the yolk. It's called ferrous sulfide and even though it's harmless, it doesn't look appetizing. It happens for two reasons:
The egg's been cooked too long
You've used extreme heat when boiling the egg
The sulfur (a mineral) in the egg combines with the iron (another mineral) in the yolk to form this harmless green substance. Here are 3 tips to avoid this:
Use fresh eggs. Ferrous sulfide develops more quickly in old eggs
Never cook the eggs longer than 15 minutes. 
Once the 14 minutes are over and the additional 3 minutes in the hot water, then quickly cool down the eggs in very cold water
4 Books for Healthy Smart Kids in the Kitchen
Here are some wonderful books about eggs and quiche to enjoy with your children and teens.
Have you made a quiche with your children? What was your experience? Do you have a favorite family quiche recipe you'd be willing to share? What is your "secret" for making the perfect quiche? Please respond in the comment section below.


Want to remember this post? Post, "Award Winning Quiche Recipe: Healthy Smart Kids in the Kitchen" to your favorite Pinterest Board!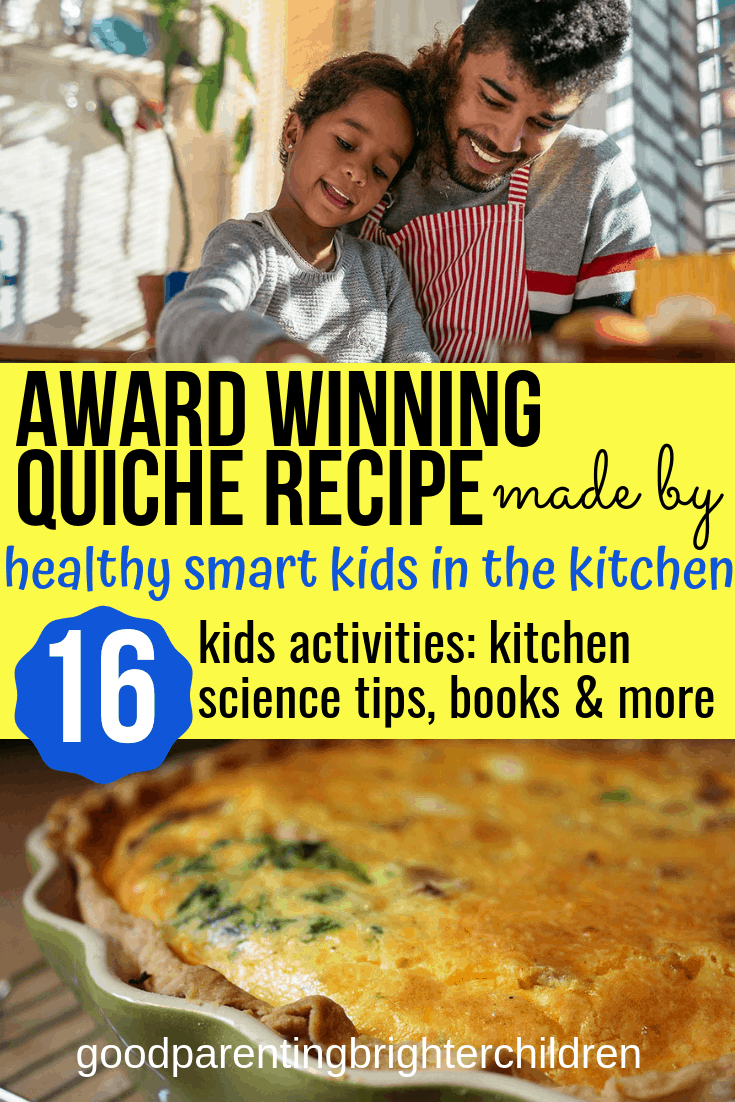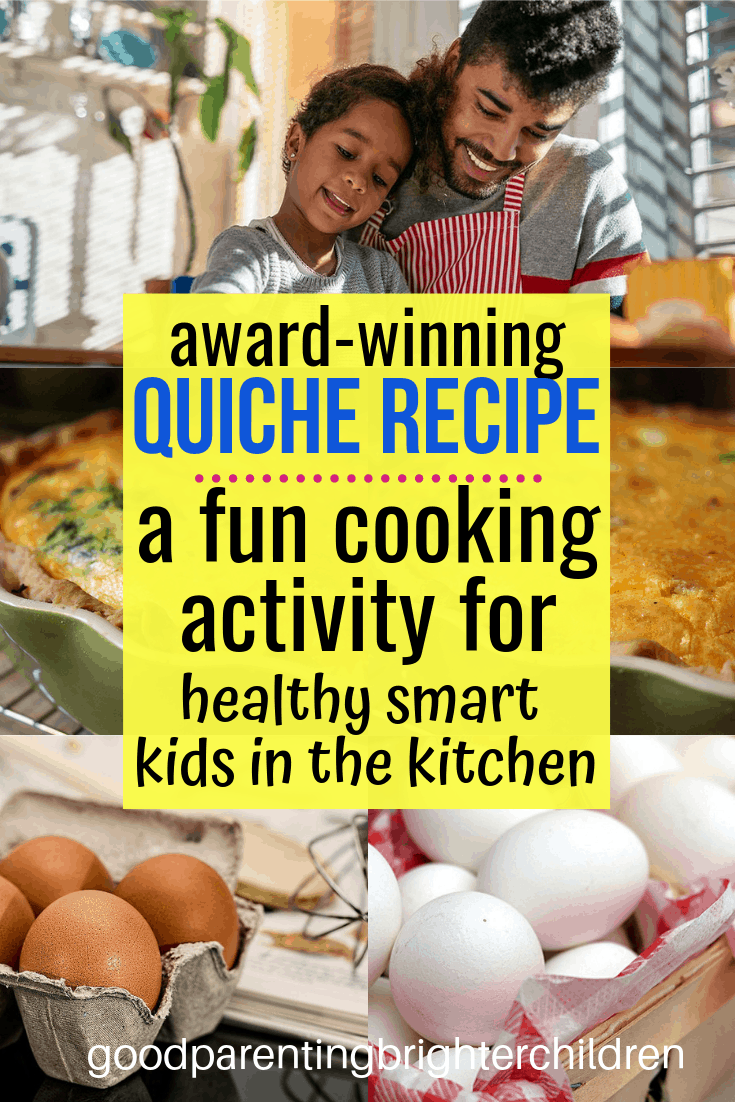 FAQ's
What meal is quiche?
Quiche can be eaten for breakfast, lunch, or dinner. If served for dinner, pair it with a fresh spinach salad, a French roll, and a little fruit. Considering all the eggs and veggies in quiche–it's very healthy.
Is quiche served cold?
Quiche can be served cold, but the eggs, cream, cheeses, veggies, and meats in a quiche taste best when served hot or at room temperature.