Inside: Here are 8 of the most amazing & fun activities for Valentine's Day! Grab your grandkids and kids and let the fun begin! There is something for everyone—arts & crafts, kitchen, nature, games, and more.
Activities for Valentine's Day

Growing up, Valentine's was one of my favorite holidays. I loved creating valentine's cards for everyone in my school class and neighborhood. Back then, kids would drop off valentines on friends' porches, ring the doorbell and run away.
Did you know that this holiday started in 270 AD? According to legend, a priest named Valentine prior to being martyred, gave a letter to the jailer's daughter signed, "from your Valentine." Another legend states that St. Valentine defied the emperor's orders and married couples to save the husbands from going to war. Hence the reason this holiday is associated with love.
From these legends, the holiday took flight and today St. Valentine's Day is affectionately celebrated by exchanging Valentine's greeting cards, flowers, and chocolate with family and friends.
We celebrated this holiday with gusto with the grandkids—8 exciting activities for Valentine's Day!
#1 Valentine Ornaments Made from Nature

This activity combines Valentine's with nature. We made Valentine ornaments and hung them on our snow-covered lilac tree outdoors. It was snowing and the next morning, our frozen creations were still there—now with icicles and snow hanging from them.
It's a simple activity and the result is stunning. Take things found in nature—cranberries, winter fruits of oranges and grapefruit, branches from pine trees and add some felt valentines, sequins, and string. Have each grandchild arrange their creations in a square muffin tin; add some water; freeze; pop out of the tin, and hang on a designated outdoor Valentine's tree.

Supplies
Square muffin tin (Michael's)
Striped string (Dollar Store)
Fresh cranberries
Oranges & grapefruits cut into sections
Branches of pine trees
Felt hearts
Sequins
Water
Directions
Arrange the cranberries, oranges, grapefruit, pine branches, felt hearts, and sequins into each square muffin tin
Lay down a string that can be used to hand the ornament on
Pour water over all.
Freeze
Remove from tin and hang on an outdoor tree

#2 Activities for Valentine's Day: Newspaper Hearts
I saw this on @youngschoolartwithmr.g and loved it. He drew hearts on newspaper and the class painted over them with watercolors. However, when I did a test run, the newspaper curled. So, I turned to my plan #B.
I scanned different pages from our newspaper and printed them out on different colors of cardstock. The grandkids cut them out and arranged them on black paper. Using tempera paints, they stamped hearts, and circles on their paper.
The result? A  collage of Valentine fun!

Supplies
Newspaper
Scanner
Colored cardstock paper
Black poster paper
Tempera paints—red, pink & white
Toilet paper rolls
Cookie cutters—heart-shaped and round
Potato masher
Scissors
Glue
Directions
Scan pages from your newspaper
Using colored cardstock—print out several different colors of newsprint paper
Draw hearts on the newspaper/colored cardstock.
Cut out the hearts
Arrange and glue the hearts on the black poster paper
Using toilet paper rolls, squeeze one end together to form the end of the heart and push in the other end to form the top of the heart
Take the heart-shaped toilet paper rolls, cookie cutters & potato masher—dip in red, pink, and white tempera paints and stamp over your newspaper hearts.
#3 Activities for Valentine's Day: Making Layered Finger Jell-O Hearts in the Kitchen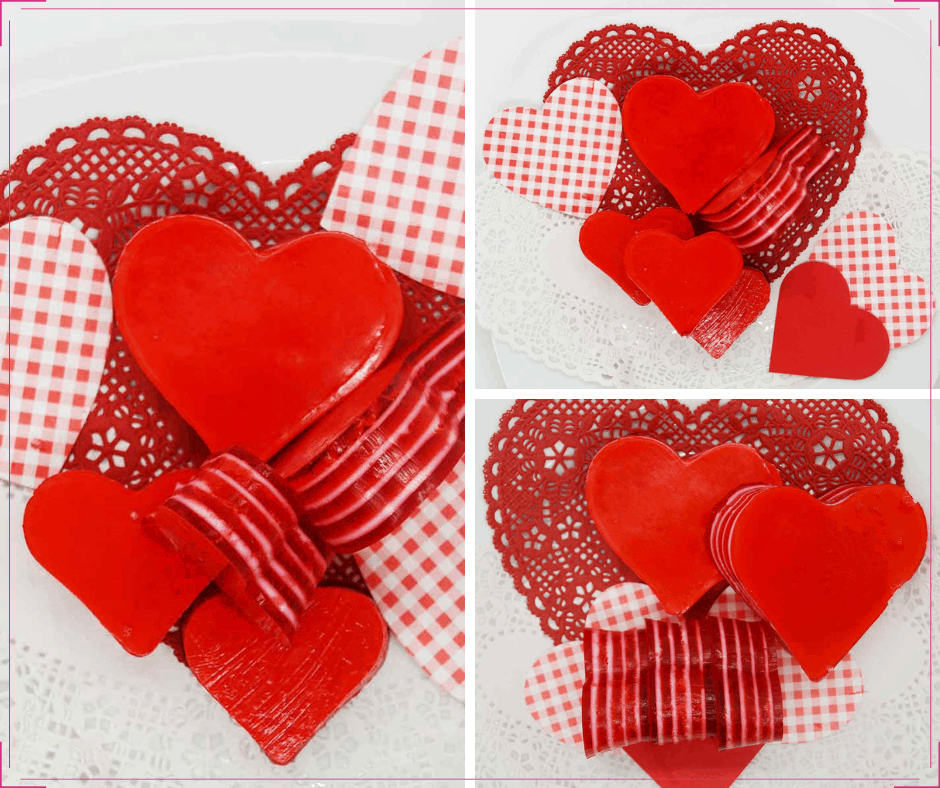 This activity takes a bit of concentrated time. It's 9 layers of Jell-O. For Valentine's, we did red Jell-O and a white layer.
Because this recipe takes 90 minutes to make and you're working with hot water and timing is everything—I made the Jell-O and the grandkids helped with creating the Jell-O heart shapes.
It's finger Jell-O meaning your grandkids/kids can pick it up and eat it—no need for a spoon.
Here are the recipe and directions. (had this recipe since 1979 & it's been our kids' & grandkids' favorite ever since!).

Layered Valentine Finger Jell-O
Author:
Sharlene Habermeyer
Ingredients
5 boxes of Jell-O (3 oz.) For this project, we used 5 boxes of Strawberry Jell-O
7 packages Knox gelatin
1 can sweetened condensed milk
Boiling water
Instructions
Lightly grease a 9x13" pan
Dissolve 2 envelopes of gelatin with 1 cup boiling water in a glass dish. Drizzle in 1 can of sweetened condensed milk. Set aside in a warm place (oven at 200 degrees) so that it does not set-up. You will be using ½ cup of this mixture between the colored Jell-O layers
Take one package of Jell-O, one envelope of gelatin, and one cup boiling water; mix until dissolved.
Pour the dissolved Jell-O into the 9x13" pan. Refrigerate 10 minutes or until sticky to the touch
Remove from fridge and pour ½ cup of the sweetened condensed milk mixture over the Jell-O. Refrigerate for 10 minutes or until sticky to the touch
Repeat with another red Jell-O layer; then a white sweetened condensed milk layer
Continue this process until you have used up all the 5 packages of Jell-O and the sweetened condensed milk layer for a total of 9 layers. The last layer will be a colored Jell-O layer
Refrigerate until firm
Using Valentine heart cookie cutters, press into the Jell-O to make beautiful layered Valentine hearts!
#4 PlayDoh Valentine Hearts

If you want a fun and easy activity for Valentine's Day—try making colorful PlayDoh hearts. Inspiration: @mericherryla.
I changed some things to make it more challenging for my grandkids. I did not use a craft maker that flattens playdoh or clay. Instead, I had the grandkids use some "elbow grease" and flatten the playdoh with a rolling pin and push the playdoh out of a garlic press. This increases their proprioception and fine motor skills—all-important for learning, attention, and focus.

These hearts are colorful and beautiful and your grandkids/kids will have a great time making them.
Supplies
PlayDoh in different colors
Rolling pins
Garlic press
Paper red heart
Directions
Take a piece of PlayDoh and with a rolling pin, roll out until thin
Scrunch up the playdoh into a flower-like shape (any shape works)
Place around the red paper heart
Repeat with different colors of PlayDoh
Using a garlic press (IKEA), squeeze out the PlayDoh to make "worm-like" shapes. Put in the center of the heart.
#5 Activities for Valentine's Day: Picasso-Like Handprints for Parents

Picasso is known as the "Father of Modern Art," and so for Valentine's Day, we decided to make 3 Picasso-like handprints of mom, dad, and child.
After tracing the handprint of each parent and child, the grandkids decorated them using markers, dot markers, and oil pastels.
This was a mixed-media project because they also painted a piece of canvas all the colors of Valentine's Day to be used to mount the handprints on.
Last, they put a heart on the top of their hand; wrote love notes to their parents, and put everything into heart-decorated big envelopes
Before starting this project, show your grandkids/kids some of the artwork of Picasso so they can see his "rose" and "blue" art periods.

Supplies
Cardstock paper
Colored markers, dot markers, oil pastels
Glue
Canvas
Tempera paints: red, pink, white
Paintbrushes
Glitter
Valentine sticker hearts
Envelopes 10×13"
Directions
On cardstock paper, trace one handprint of mom (RH), dad (LH), and child (RH)
Have the grandkids color and decorate the handprints
Give each child a canvas, paints, and brushes and have them paint their canvas
While the canvas is wet, sprinkle glitter
Intertwine the parent's handprints; put the child's handprint on top and glue on the canvas
Stick a Valentine heart on the top of the child's hand
Have the grandkids write love notes to their parents
Put everything in the envelope
Have your grandkids deliver their "Picasso-like" Valentine's hands to their parents.
#6 Game: Making Valentine Puzzles

This is an easy-peasy activity to use during the month of February. Either purchase some Valentine clipart (like I did) or download free Valentine's photos.
Cut each image into 3-5 vertical lines, laminate, and have your grandkids/kids put the pieces together.
Puzzles are always great for building connections between brain cells and they help a child with short term memory.

Supplies
Clipart or photos of Valentine scenes (I purchased mine, but the place is no longer in business)
Cardstock paper
Paper cutter
Lamination
Scissors
Directions
Enlarge on a computer to 8.5×11"
Print out on cardstock. Trim
On a paper cutter, cut 3-5 vertical sections
Laminate (Lakeshore Learning)
#7 Painted Wooden Valentine's Hearts

You can use this as a filler activity—an activity that your grandkids/kids can do on their own while you get the next activity ready to go.
Purchase wooden Valentine hearts; supply plenty of tempera paints in Valentine colors and a splash of glitter! After they've dried, give the grandkids/kids a bunch of Valentine stickers to stick on their hearts.
These are perfect to hang on a Valentine tree!
Supplies
Wooden Valentine's hearts
Tempera paints—pink, red, white
Paintbrushes
Glitter
Valentine's stickers
I purchased most of these at the Dollar Store
Directions
Paint the wood heart different colors of pink, red, white
While still wet, sprinkle glitter on
Let dry
Stick Valentine stickers over the heart
Hang on a Valentine tree
#8 Activities for Valentine's Day: Reading Valentine's Day Books

Here are some fun books to read to your grandkids/kids for Valentine's Day.
Looking for more fun activities to do with your grandkids or kids? Check these out:
Here's How to Make Super Fun Homemade Musical Instruments with Grandkids
Warning: The Most Fun Snow Activities for Grandkids 
The Most Fun Snowflake Activities for Grandkids & Kids
What fun activities for Valentine's Day have you done with your grandkids or kids? Please share in the comment section below


Want to remember this post? Post, "The Most Fun & Amazing Activities for Valentine's Day" to your favorite Pinterest board.