Inside: Here is the best cinnamon rolls recipe that you and your kids and grandkids will ever make. They are to die for! Plus, your children will learn the tips and tricks of working with yeast. It's simpler than it seems. Don't forget to read the tips at the end—they're valuable teaching tools for kids!
Best Cinnamon Rolls Recipe to Make with Kids & Grandkids!
Have you ever made a recipe with your children or teens that required yeast? When kids master the art of using yeast in bread, rolls, cinnamon rolls, etc., their "kitchen confidence" soars! I started making yeast bread when I was 12 years old. I also taught my sons how to use yeast with confidence and now I'm teaching my grandkids. Your kids can too. It takes a bit of practice and a few tricks, but the result is worth it.
Here is the best cinnamon roll recipe given to me by a longtime family friend.  Have fun making these rolls with your kids. Be sure and read the tips and tricks at the end.
Best Cinnamon Rolls Recipe! (in 2 parts)
The Best Cinnamon Rolls Recipe: Healthy Smart Kids in the Kitchen!
This is an amazing cinnamon roll recipe that I've made with my sons since the 1970s. Your children will learn all about yeast and what ingredients make things rise.
Author:
Sharlene Habermeyer
Ingredients
⅔ cup instant dry milk
½ cup sugar
½ cup butter (1 stick)
1 ½ cup warm water
2 teaspoons salt
2 eggs
2 packages active dry yeast
7 cups flour (may need to add a bit more)
Instructions
In a large mixing bowl mix together the dry milk, sugar, butter, water, salt and eggs and yeast.
Add 2 cups flour to the mixture above. Mix well
Add the rest of the flour (about 5 cups) to form a soft, pliable dough.
Put the dough into a large bowl that you have coated with butter or shortening.
Let rise until double—about 2 hours
Punch down and let the dough rise again for about 30 minutes
During these 30 minutes, prepare the filling for the rolls (see below)
The Best Cinnamon Rolls Recipe: Healthy Smart Kids in the Kitchen!
Here are the rest of the directions for the cinnamon rolls. This is how to assemble them
Author:
Sharlene Habermeyer
Recipe type:
Cinnamon rolls
Ingredients
1 stick butter, melted
A mixture of cinnamon and sugar: 1 cup sugar, 2 tablespoons cinnamon mixed together
1-2 cups brown sugar
Raisins (optional)
Frosting:
1 (1 pound) box of powdered sugar
3 Tablespoons milk
1 teaspoon vanilla
Instructions
Directions to Assemble the Rolls
Divide dough in half
Roll out and spread with ½ the melted butter
Sprinkle generously with sugar/cinnamon mixture and brown sugar
If you are using raisins, put 2 cups of raisins in a pot; cover with water and bring to a boil on the stove. Let boil for 8 minutes. Drain. See the tip below of why this is an important step.
Sprinkle raisins over the dough
Roll the dough in jelly-roll fashion. Using a very sharp knife, cut the rolls making them about 1 or 1 ½ inches thick.
Place on a greased cookie sheet and let rise until double—for about 45 minutes
Bake at 375 degrees for 12 minutes
Frost as soon as the rolls come out of the oven
to make the frosting: mix the powdered sugar, milk and vanilla; spread on hot cinnamon rolls


Here are three kitchen tips to share with your children and grandchildren. They will help you make the best cinnamon rolls!
Healthy Tip #1: What is Baker's Yeast?

Baker's yeast is a leavening agent (actually a sugar-eating fungus) that is used in bread, etc. It causes the bread to rise and become lighter and softer.
There are 2 main types of yeast used in making bread, rolls, etc.:
Active Dry Yeast
Instant Yeast (used in bread machines).
Active Dry Yeast is available in grocery stores. It's made up of fine granules and can be added to your recipe right from the package. However, I still like to "test" my yeast using hot water and a little bit of sugar. This step, however, is NOT necessary—you can just add it directly to the dough with the dry ingredients.
Instant Yeast is bread machine yeast and has a finer granule than Active Dry Yeast so that it mixes quickly with the other ingredients. Like Active Dry, it can also be added directly to the other ingredients. No testing of the yeast is necessary.
A Tried-and-True Method for Testing Yeast
Here is an easy way to check if your yeast is "active" and fresh. Today, yeast no longer needs to be "tested." However, try it at least once so that your children can see the yeast "grow" in the glass container. It's educational and interesting to watch.
Here's how to do it (I'm using the measurements in the recipe)
Yeast & Water
2 packages of active dry yeast
½ cup warm water (should be around 110 degrees)
½ teaspoon sugar
Directions
Pour the hot water (110 degrees) into a glass measuring cup. Add the sugar and stir.
Yeast LOVES sugar—so it will rise even faster using a bit of sugar
Sprinkle the yeast on top of the water and sugar mixture and gently stir
Let the yeast mixture stand until it starts to rise to the top of the glass. This is the best way to test whether the yeast is active and fresh.
Healthy Tip #2: What is the best flour to use in bread, rolls, etc.?

I use to purchase "Better for Bread" flour, but not anymore. Most of the flours in the grocery stores are made from genetically modified wheat. These GMO flours have 40x the amount of gluten and cause problems if you or your children have gluten issues.
Try the Wheat Montana brand. It's an organic flour made from organic heirloom wheat berries. I have friends with celiac disease and gluten issues and this flour is a godsend for them.
You can get it at most grocery stores or Walmart. It's not more expensive than the GMO flours, either. Use it for all your baking needs.
Healthy Tip #3: How Can I Prevent the Raisins from Going Hard When Baked in the Cinnamon Rolls?

If you like to add raisins to your cinnamon rolls you need to "plump" them before using them or they will turn hard when baked in the oven. It's simple to do:
Measure the raisins you will be using.
Put them in a pot and cover with water
Place the pot on the stove and bring it to a boil.
Boil for at least 7-8 minutes
Drain and they are ready to use in your cinnamon rolls.
Use this as a springboard for trying other recipes that call for yeast. Your kids will love making these rolls and I promise that it will increase their confidence in the kitchen!
Books for Healthy Smart Kids in the Kitchen
If your kids like working with yeast and bread here are some great books to check out.
Have fun baking with your kids in the kitchen. Kitchen science is the perfect brain-builder for children of all ages!
Have you ever made cinnamon rolls with your kids or any other recipe that called for yeast? What were your experiences? Please share in the comment section below.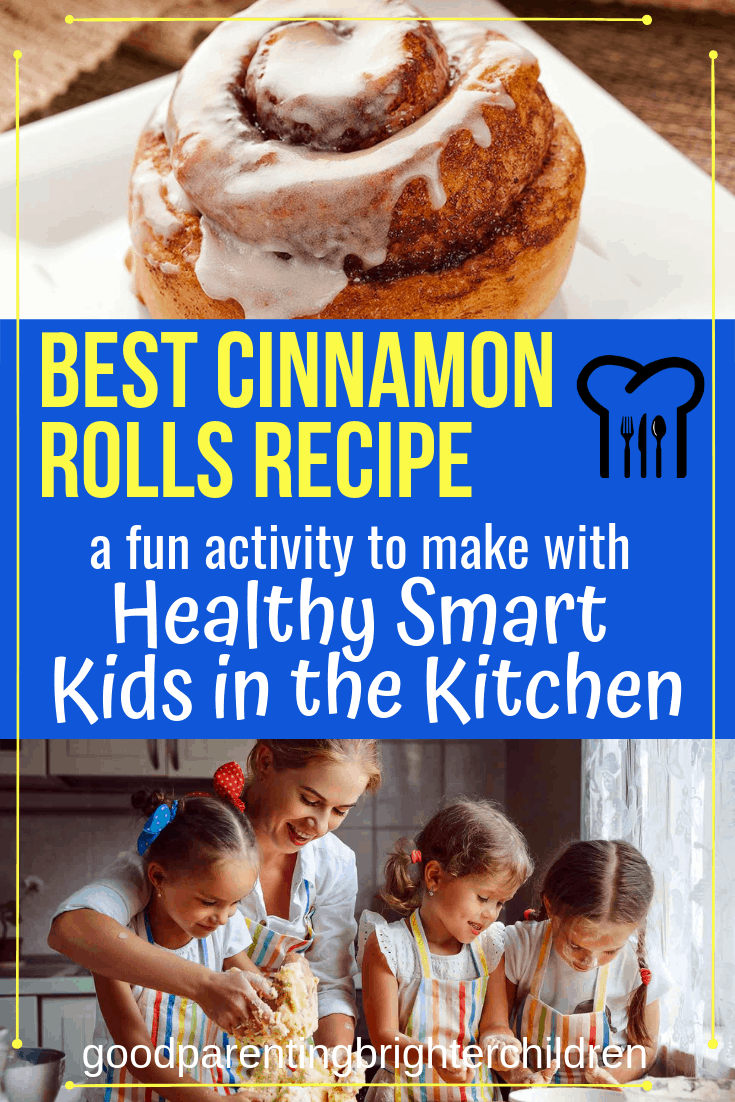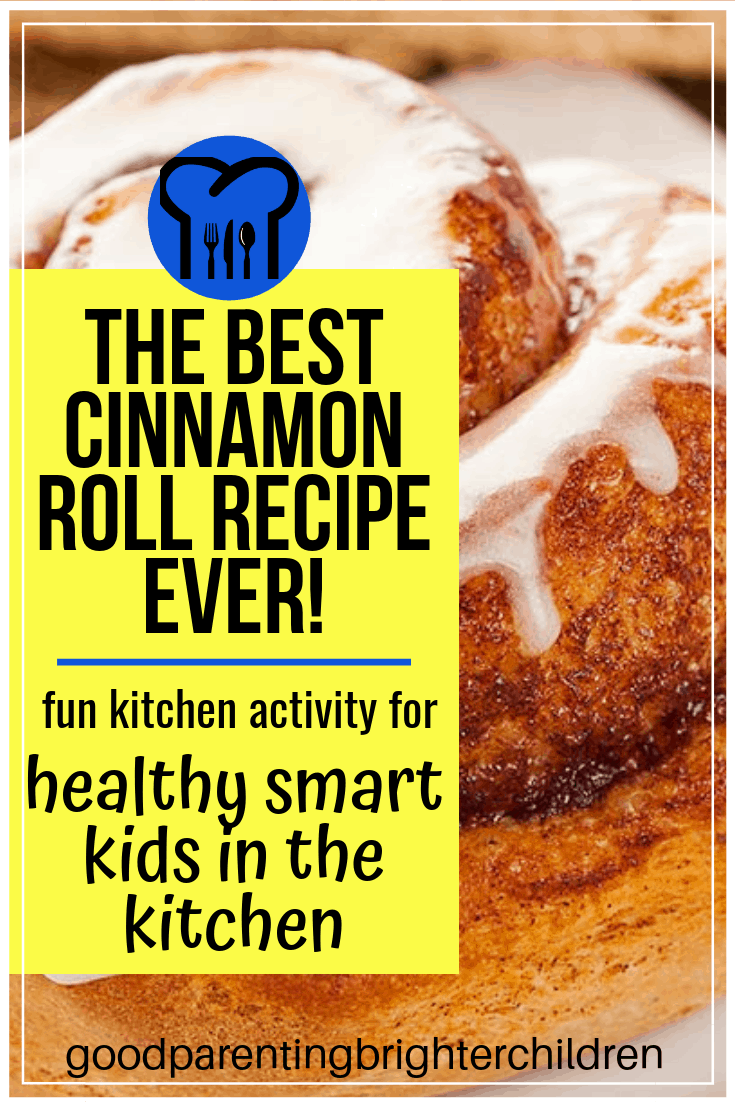 FAQ's
How long can you keep cinnamon roll dough in the fridge?
Once you put the yeast into your cinnamon roll dough, it will rise–even in the refrigerator. It will rise slowly, but within 6-8 hours it will be ready to use.
What's in a Cinnabon cinnamon roll?
The basics–dough, cinnamon, sugar, and frosting (made from shortening.) If you make your own cinnamon rolls, you can use better ingredients like butter, and non-GMO flour so that your finished roll will not cause gluten issues for some people. You can also add nuts or raisins to your dough.