Inside: This is a fun and interesting refrigerator pickles recipe. It's easy for kids to make; doesn't require a hot-water bath on the stove and teaches kids important facts about fermentation and what it does to veggies and for our digestion.
Refrigerator Pickles Recipe
Have you ever made pickles with your kids? If not, you need to! This refrigerator pickles recipe is extremely easy. Your kids will love making them and eating them. Plus, these pickles stay bright green so they look great in jars and make the perfect teacher or neighbor gift.
Your children will also learn some important kitchen skills and terms…like fermentation and lactic acid. And if you want to make this recipe really special…use the cucumbers, onions and green peppers that your children grow in their garden! (another reason your kids need to grow a garden)
Even if your kids are not wild about pickles, there is something about these refrigerator pickles that kids seem to like. Our son Brandon can eat an entire jar in one sitting (I wouldn't recommend it).
We've been making these refrigerator pickles for about 25 years. They say that "necessity is the mother of invention," Well, that's how we started making pickles. Every year we grow a garden with our boys. One of the vegetables we plant is cucumbers. And, we always have more cucumbers than we can possibly eat or give away to the neighbors, so I found this pickle recipe that used the kind of cucumbers we grow. Bingo!
This refrigerator pickles recipe uses Japanese cucumbers (they are also called English cucumbers). They are longer than most cucumbers; have thinner skin and are usually packaged in plastic in the grocery store. And, you do not have to process these cucumber/pickles in a hot-water bath. After preparing them, they go into the fridge. It's that easy, and they last for several months in the refrigerator.
This is a Marlene Sorosky recipe—I took several classes from her in Sherman Oaks, California and this recipe was one she gave out in her classes.
Hope your family enjoys these as much as we do.
The Best Refrigerator Pickles Recipe
Best Refrigerator Pickles Recipe: Healthy Smart Kids in the Kitchen!
An easy way to make delicious pickles with your kids. Another great recipe from one of my favorite cooks--Marlene Sorosky
Author:
Sharlene Habermeyer
Ingredients
7 cups cucumbers (approximately 3 large Japanese or English cucumbers)
1 ¼ tsp. salt
1 cup chopped green pepper
1 cup sliced brown onion
1 cup white vinegar
1 ½ cups sugar
1 Tablespoon celery seed
Instructions
Thinly slice the cucumbers. Do NOT peel them!
Mix cucumber slices with salt.
Let stand for 2 hours
Drain
Chop the green pepper
Thinly slice the brown onion
Add the green pepper and onion to the cucumbers
Combine vinegar, sugar, and celery seed. Pour over all.
Pack into canning jars
Refrigerate—let them sit in the refrigerator at least 1 day before eating.
They will keep in the refrigerator for several months.

There are lots your kids can learn making these pickles. Here are 3 valuable tips you can teach your kids and teens:
Healthy Tip #1: Fermentation
Fermenting vegetables start with a process called lacto-fermentation which is a method of preserving food using salt, whey or both. For instance, in this recipe salt is sprinkled on the cucumbers, onions, and peppers; stirred and allowed to sit for 2 hours.
During this time, the salt is causing a lacto-fermentation process to happen with the vegetables. They are changing. The nutrient content of the veggies is being enhanced; the minerals are becoming more bio-available and everything is easier to digest. (check out my blog on kids and digestion)
The main by-product of lacto-fermented vegetables is lactic acid, which keeps the vegetables perfectly preserved and when we eat the veggies, it promotes the growth of healthy flora throughout our intestine. It also increases vitamin levels of food.
Eating fermented foods is important for
A healthy gut
A way to increase our immunities
Helps to control inflammation
Essential in maintaining a healthy digestive system
Healthy Tip #2: Health Benefits of Japanese or English Cucumbers
Like regular cucumbers, Japanese or English cucumbers are loaded with important vitamins and minerals PLUS they are mainly water which helps to hydrate our skin.
When your kids come home from school, instead of reaching for that sugary carb—give them cucumbers and a healthy veggie dip. Cucumbers are a great pick-me-upper and will give your kids sustained focus energy as opposed to out-of-control energy produced by sugar. If you haven't read my blog about cucumbers, click here–it's loaded with important information on the nutritional value of cucumbers and why you want your kids to eat them.
Tell your teens—these veggies are great for the skin and will get rid of tired looking eyes by putting slices of cucumbers over your eyes. The skin of the cucumber is made of silica—an important mineral that keeps our skin elastic and young-looking.
Healthy Tip #3: Those Itty-Bitty Healthy Celery Seeds
The recipe calls for celery seed—don't omit them! They add a wonderful flavor to the pickles plus they are loaded with important vitamins and minerals. Anytime you eat the seed of something you are eating the lifeblood of that plant. Celery seeds are the lifeblood of celery.
Anciently they were used to improve the skin and to combat flu symptoms. Today we know that celery and celery seeds are:
Nutrient-dense and filled with calcium, manganese (the happy mineral) and iron.
Manganese is a mineral and supports bone structure and strength. We want kids with strong bones—feed them celery and celery seed
Can help with appetite control
Stem carb cravings
Helps with digestion
Books for Healthy Smart Kids in the Kitchen
If you enjoy making this recipe, here are some books about the art of pickling and fermentation. They include lots of recipes that ferment and pickle foods.
Have you ever made pickle with your kids? Do you have a favorite recipe you would like to share or any experiences your family has had with making pickles? Please comment in the section below.


Want to remember this post? Post, "Best Refrigerator Pickles Recipe: Healthy Smart Kids in the Kitchen" to your favorite Pinterest Post!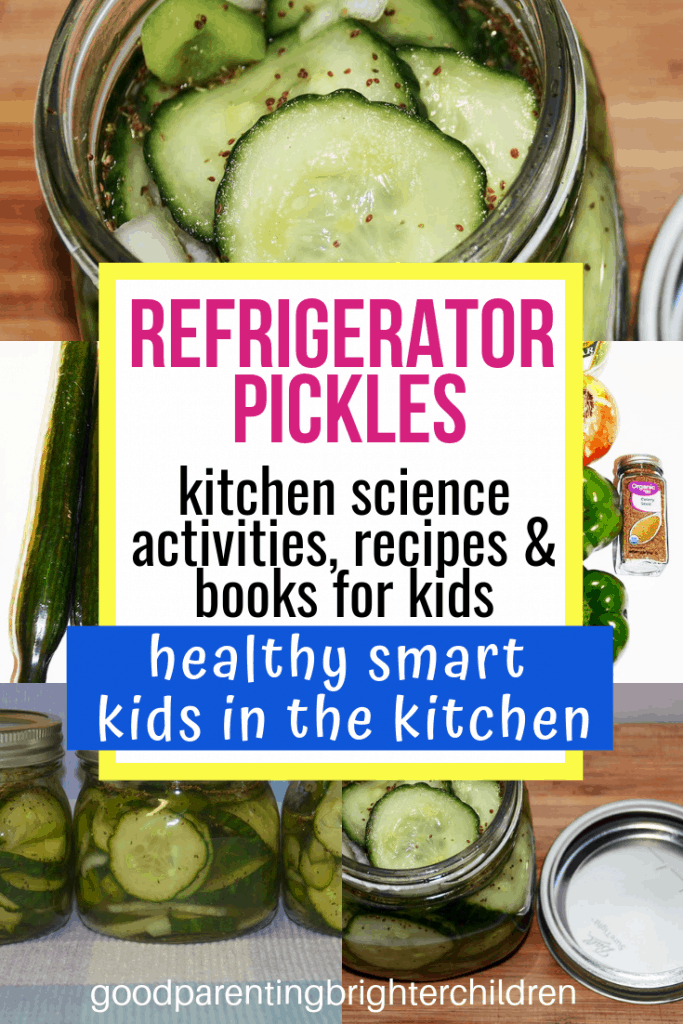 FAQ's
How long are refrigerator pickles good for?
Refrigerator pickles are kept in the fridge and have undergone fermentation, so most will keep for 2 months in the fridge. However, they are delicious and most don't last more than a week!
Do refrigerator pickles have to be refrigerated?
Yes, as the name indicates, refrigerator pickles DO need to be kept in the refrigerator. They do not undergo a hot-water bath that kills bacteria, etc. so, keep them in the refrigerator.
Can you make refrigerator pickles in plastic containers?
Yes, you can make them in plastic containers and if you want, store them in plastic containers in the fridge. However, most people like to put them in glass jars and refrigerate them.
A pickling cucumber is a smaller cucumber used and grown specifically for processing into pickles. Regular cucumbers are larger, have darker green skin and are used for eating fresh. However, some cucumbers like Japanese cucumbers are longer than regular cucumbers and can be eaten fresh or fermented and made into refrigerator pickles.