Inside: The health benefits of eggs are amazing and numerous. If you want a superfood to build your child's brain; make them smarter and give them sustained energy—feed them eggs! Here are some tips on eggs and why we should all eat them—every week!
Health Benefits of Eggs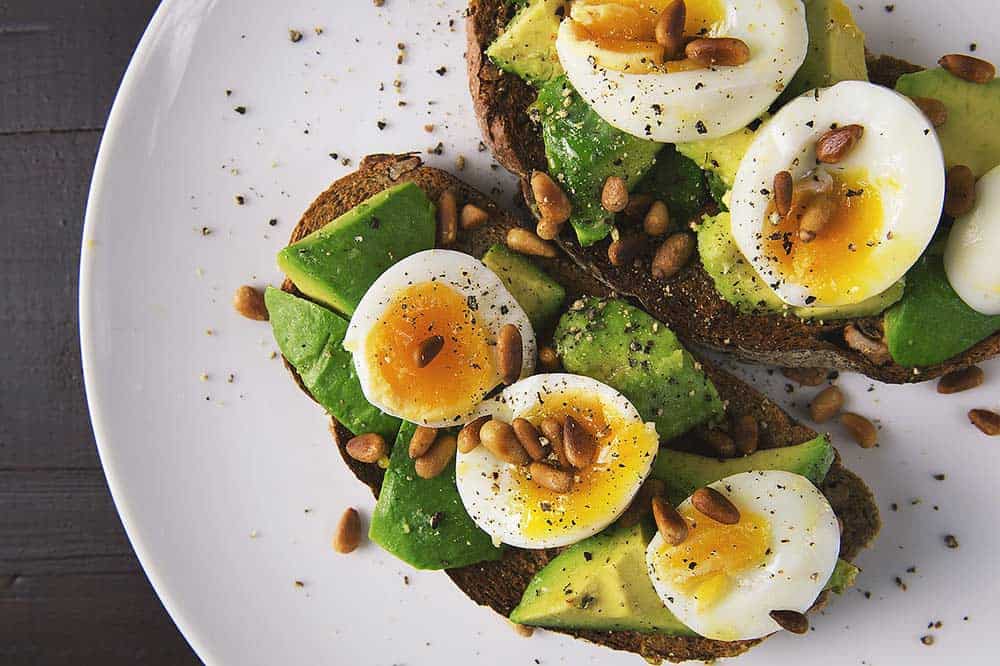 I'll let you in on a little secret: I HATE eggs! Yes, hate them! Hate the texture, hate the smell; hate the taste. BUT, I eat them anyway. Why? They make you smarter. They make kids smarter. Eggs are a superfood and the health benefits of eggs are astounding.  And science says so.
In the movie, "Julie & Julia," (about the girl that takes Julia Child's cookbook and cooks/bakes every recipe in the book in one year) Julie says that when she tried an egg for the first time, she thought they were wonderful; they had an amazing taste and texture, and she loved them.
"Yum," she said.
"Yuck!" I said.
But, here's the rub—the health benefits of eggs are numerous–they contain so many important vitamins, minerals, and amino acids, they are considered a superfood. So, whether you like them or not, find creative ways for you and your kids to eat them (and not just in cookies and cakes).  Eat them every week.
And—eat the whole egg and not just the whites. The yolk is where 90% of the nutrients are.
Here are half-dozen reasons why we all need eggs (especially our kids)—and I added a 7th for good measure:
7 Amazing Health Benefits of Eggs for Kids:
#1: Eggs are Full of Protein 
Eggs have 6 grams of high-quality protein. Egg protein will help your child concentrate and focus better and will give his/her sustained energy for several hours afterward. Because of this, they are an excellent breakfast food for kids.
#2: Eggs are Rich in Choline 
Eggs are called "brain food" because of choline, an essential vitamin-like nutrient that helps to develop the brain and enhances memory. Some studies show that 90% of Americans do not get enough choline in their diets. If you want smarter kids with better functioning brains—that's right—feed them eggs.
#3: Eggs are Gluten-free 
Many kids and adults today have gluten sensitivities. If you or your kids need a gluten-free diet—you can still eat eggs.
#4: Eggs contain vitamin B12 
Vitamin B12 supplies energy for the body and protects the brain and improves mood. It is not easily absorbed, especially in pill-form. Eating foods that contain vitamin B12 is the best way to absorb this vital nutrient.
#5: Eggs have 9 Essential Amino Acids  
Amino acids are the building blocks of protein. "Essential" meaning the body can't make them and we have to get them from food. Amazingly, eggs have all nine of these essential amino acids.
#6: Eggs are High in Cholesterol 
A single egg contains 212 mg of cholesterol, which is over half of the recommended daily intake of 300 mg. Keep in mind that cholesterol in the diet doesn't necessarily raise cholesterol in the blood. And 70% of the people who eat eggs do not see a rise in their cholesterol—at all.
#7: Eggs contain Lutein and Zeaxanthin
These two carotenoids are antioxidants that contribute to eye health. They counteract some of the degenerative processes that can affect our eyes as we age such as macular degeneration and cataracts. Eat the yolk, since this is where most of these antioxidants are found.
Not bad for 77 calories!
Bottom line:
Eggs are a perfect food. Make them your children and teens. Try different ways of fixing them so they are palatable to your family's buds. And take note of how you and your children feel after eating eggs. Most people notice an increase in energy, a feeling of satiety, (feeling full but not uncomfortable), and mental clarity.
Health Benefits of Eggs: Where to Purchase Your Eggs
Look for eggs hatched by free-range chickens. This means the farmers allow the chickens to freely roam around the yard and peck at food, as opposed to keeping them cooped up in a chicken coop (no pun intended). These are happy chickens and happy chickens produce healthy eggs that have deep orange yolks (as opposed to most egg yolks that look anemic yellow).
Suggestion:
If you don't have a Farmer's Market where you live, try to find someone who raises chickens and sells the eggs. If you don't have a farmer nearby, check out:
Trader Joe's
Whole Foods
Harmon's
Sprouts
or other specialty stores in your area
Ask for free-range eggs. Look at the yolks, compare them to other egg brands and try to get them as dark yellow or orange as possible. One of the health benefits of eggs is a deep orange yolk.
A Favorite Recipe with Eggs
Here's a bonus tip for you and your kids to make together in the kitchen. It's one of my kids' favorite recipes that contain six eggs. But first, an explanation of where I got this recipe.
Do any of you have recipe books that you purchased 100 years ago, that are falling apart, but you don't want to throw them away because your family's favorite recipes are in those crumbling pages? Well, this is one of those recipes.
The cookbook is titled, "Marlene Sorosky's Cookery for Entertaining;" copyright 1979. Although out of print, her recipes are amazing. I took many cooking classes from Marlene in Sherman Oaks, California for many years and I own most of her cookbooks (you can find them "used" on Amazon). Our family favorite: "Apple Puffed Pancake."
Here is the recipe and I hope it becomes one of your family's favorites! If you will notice, it has six eggs and very little sugar. It's full of health benefits of eggs!
Also, I have a wonderful quiche recipe (also from Marlene Sorosky) that I got in one of her cooking classes. This recipe is part of my "Healthy Smart Kids in the Kitchen" series and includes health benefits of eggs plus different kitchen tips, cooking science, and books for parents helping their kids learn to cook and bake. Click here to get the recipe and read the blog.
Apple Puff Pancake
A delicious "pancake" made with 6 eggs, plenty of apples and spices
Recipe type:
Egg & Apple Pancake
Ingredients
6 eggs
1½ cups milk
1 cup flour
3 Tablespoons granulated sugar
1 teaspoon vanilla extract
½ teaspoon salt
¼ teaspoon cinnamon (I use more like 1 teaspoon)
¼ pound (or 1 stick) of butter
2 apples, peeled and thinly sliced (Granny Smith apples work great)
2-3 Tablespoons brown sugar
Instructions
Preheat oven to 425 degrees.
In a blender or large bowl, mix eggs, milk, flour, granulated sugar, vanilla, salt, and cinnamon until blended. If using a mixer, the batter will be slightly lumpy.
Melt the butter in a 12-inch fluted porcelain quiche dish or a 9x13" baking dish in the oven. (I use a 9x13 pan).
Add apple slices to the baking dish.
Return to oven until the butter sizzles. Do not let the butter get brown
Remove dish from oven and immediately pour batter over the apples.
Sprinkle with brown sugar
Bake in the middle of the pan for 20 minutes or until puffed and brown
Serve immediately. Serves 6-8.

So, here's the scoop on eggs. Add them to your diets and your kids' diets and watch their brains soar!
Last, do you have any great egg recipes to share that are favorites with your kids?  Please comment below…
Click here to view the 2-minute video of this blog.
This blog is included in my "Tidbits of Wisdom for Parents" YouTube video series. If you would like to view the video click here.


Want to remember this post? Post, "Here are 7 Amazing Health Benefits of Eggs for Your Kids" to your favorite Pinterest Board!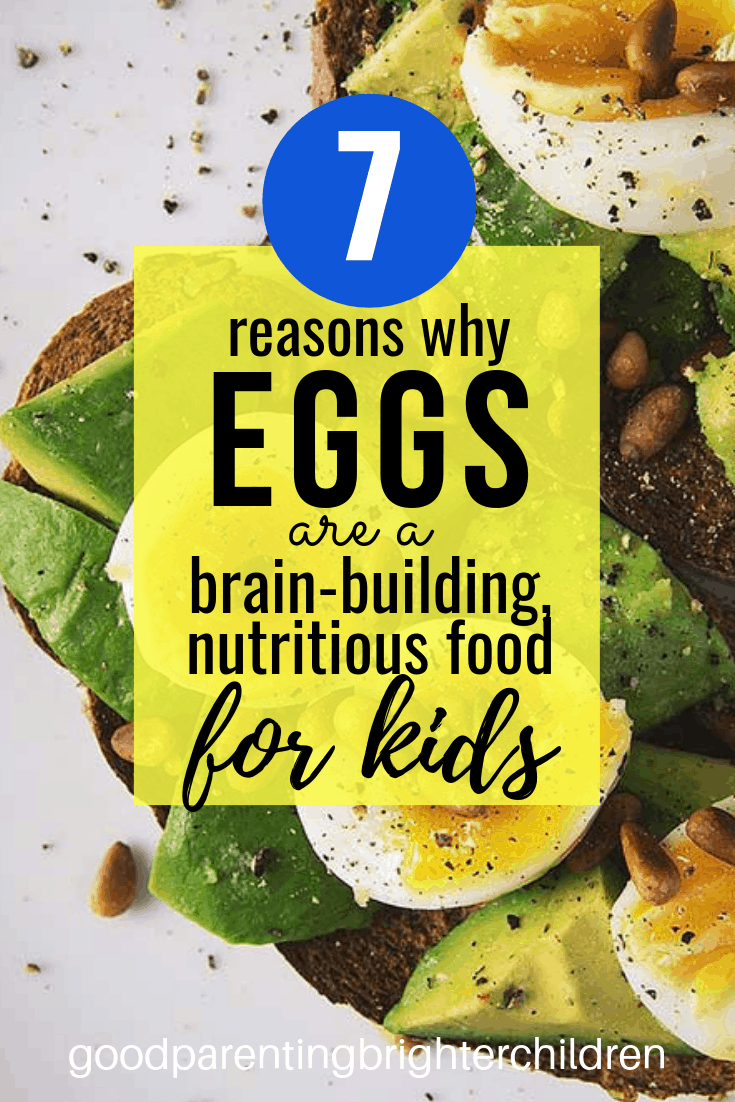 FAQ's
Is it bad to eat eggs every day?
No. In the past, eggs were given a bad rap for being high in cholesterol, and people were told to avoid eating them every day. A single egg contains 212 mg. of cholesterol which is over half the recommended daily intake of 300 mg per day. However, cholesterol in the diet doesn't necessarily raise cholesterol in the blood. And 70% of people who eat eggs daily do not see a rise in their cholesterol–at all.
Are eggs good for your health?
Eggs are amazing for health! They contain 6 grams of high-quality protein. They are rich in choline–an essential vitamin-like nutrient that helps develop the brain and enhance memory. They are gluten-free and contain all 9 essential amino acids. Eggs are rich in vitamin B-12, the vitamin that provides energy; protects the brain, and improves our moods. And they contain lutein and zeaxanthin–two antioxidants carotenoids that contribute to eye health. Not bad for 77 calories!
What are the benefits of eating boiled eggs?
The benefits of eating boiled eggs are the same as eating any eggs. They contain high-quality protein for sustained energy; vitamin D for bone health, choline that develops the brain and helps with memory; all 9 essential amino acids and lutein and zeaxanthin for eye health
.
Is it good to eat 2 eggs every morning?
Some nutritionists suggest eating only 7 eggs per week. However, considering an egg is only 77 calories, contain important nutrients, and does not raise cholesterol in the blood, it's probably fine to eat 2 eggs in the morning. Plus, the protein in eggs will give you sustained energy all day and the choline will enhance your brain function.